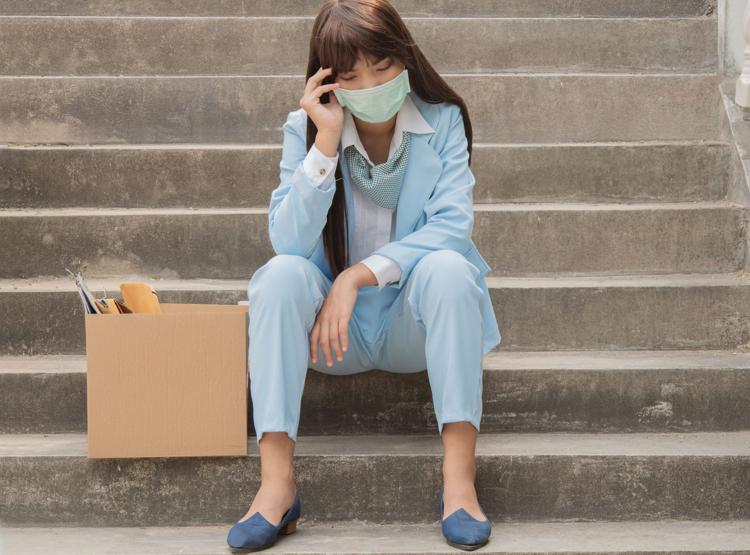 Correction: Prior story stated that the office of Congressman Gerry Connolly had not gotten back to Ms. Haefele. Upon further research, Connolly's office and Ms. Haefele are not in the same jurisdiction, and her case was sent to Rep. Jennifer Wexton.
Kerstin Haefele was working as both a substitute teacher at Fairfax County Public Schools and as an enumerator with the U.S. Census Bureau when the pandemic hit. After losing both her jobs, she filed for unemployment in April, but like many other Virginians, she has still not received any benefits from the Virginia Employment Commission (VEC). 
According to the VEC, 248,942 unemployment claims have been filed in Northern Virginia since March 15. In the commonwealth of Virginia as a whole, this figure was at 822,300 as of June 11. The VEC says that about 75% of these claims have been approved and those people have received payment. 
However, according to a Richmond Times article, 80,000 claims remain under adjudication, a review process by VEC hearing officers to determine if those claims are valid and meet eligibility for benefits. 
Originally from Germany, Haefele moved to the U.S. and got an MBA at the Wharton School of the University of Pennsylvania as well as a Master of Art in International Studies. She worked in consulting in New York City, but she later moved with her family to Virginia in 2003. They now live in Fairfax County. 
At the end of March, Haefele filed for unemployment. She explains that she followed the filing rules to file in one state only, and opted to file with Pennsylvania first, due to her job at the Census Bureau. When Pennsylvania declined her claim in early May, she filed with the VEC, but feels that Virginia should acknowledge her original claim date of April 4. "A person should not be punished" if they follow the rules, she says.
"When I filed with Virginia, there was a comment section where I did mention that I filed with Pennsylvania, but I abided with what they said," she says. 
She received an email from the VEC that stated she would receive an extra $600 per week under the CARES Act. She says that by now, she should've received about $11,000. 
"I have received nothing," she says. 
So, she tried to contact five VEC offices, with no luck. "I first contacted the Prince William County office and left two messages and filled out a form," she says. "Then I contacted Charlottesville, Winchester… I have heard nothing. So, I started contacting politicians." 
Starting on June 16, Haefele reached out to the offices of Governor Ralph Northam, Congresswoman Jennifer Wexton, and several members of Fairfax County Board of Supervisors.
She has heard back from the office of Fairfax County Board of Supervisors member John Foust, chairman McKay, and Senator Favola. "Interestingly, delegate Samirah was contacted by the office of chairman McKay, and I received a call from his chief of staff Ms. Callie Ricketts. There is movement now, but still, this is week 15 of not being paid," she says. 
Haefele explains that she has two daughters, and one of them is in need of mental health services, but she cannot afford it during this time. "My husband is still working, but his company had a 10 percent pay cut because of the pandemic. It is affecting us," she says. 
Although she is pleased by the actions of Senator Favola, Congresswoman Wexton, and Fairfax supervisors Foust and McKay, she is less pleased by the lack of response by Governor Northam.
"While I think it is a fair question about whether confederate figures should be displayed in front of government buildings, I think it is more important to tend to urgent needs of contemporary Virginians," says Haefele. 
Haefele, like many Virginians, continues to wait for her unemployment payments.