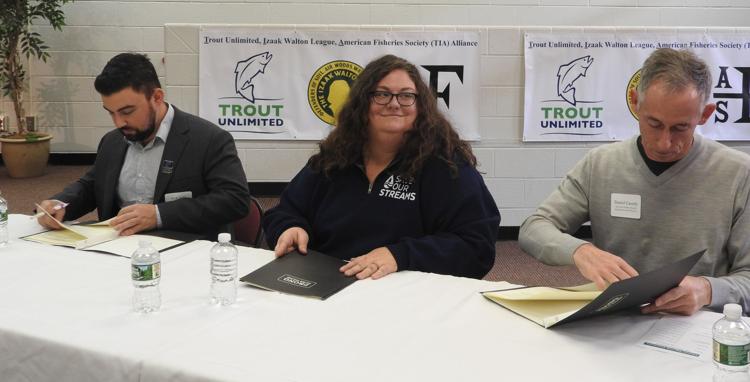 Trout Out of the Classroom started with six teenage girls and an enthusiastic scientist-turned-educator.
A former field ecologist who now teaches science at James Madison High School (JMHS) in Vienna, Dr. Kirk Smith developed a model for determining whether a particular stream might make a suitable habitat for trout as a graduate student in George Mason University's environmental science and policy department.
In his graduate thesis, which was published in 2012 by the research journal Ecological Indicators, Smith pointed to five core metrics, including water temperature, dissolved oxygen content, riffle or run quality, distance to the nearest road, and the amount of surrounding land for agriculture, that indicate a stream's potential for supporting sustainable brook trout populations.
The index was designed to be straightforward enough that it could be calculated by volunteers, not just professional scientists, but it was not until a couple of Madison students approached him about six years ago that he got the chance to put his theory into practice.
Smith pitched his idea to the students, who wanted to find ways to apply what they were learning in the classroom to the outside world, and from there, Trout Out of the Classroom was born.
"The reason why I developed this model was: I wanted to find a way to get volunteers in the field," Smith said. "I didn't think there should be this wall that divides scientific work between scientists and interested citizens, so I tried to break down that barrier and provide access to volunteers to actually participate in valid science."
Trout Out of the Classroom is a twist on the national conservation nonprofit Trout Unlimited's Trout in the Classroom program, where students raise trout or salmon eggs in their classroom until they become juvenile fish or fingerlings and can be released into a nearby stream or river.
According to Smith, about 250 schools in Virginia participate in Trout in the Classroom.
The brook trout has been designated Virginia's state fish, and more than 400 streams or parts of streams contain the species, according to the Virginia Department of Game and Inland Fisheries. However, warming waters and pollution from roads, agriculture and other human activities have reduced the number of waterways suitable for trout, which need year-round cold water to live.
A report by the Eastern Brook Trout Joint Venture found that less than 9 percent of the areas that historically supported brook trout in the U.S.'s eastern seaboard remain intact, and the species was lost in 33 percent of the region's surveyed watersheds.
As a result, many fish from Trout in the Classroom programs are released in streams where they will be unable to survive long-term.
Trout Out of the Classroom aims to rectify the situation.
Under the guidance of Smith, who serves as a faculty advisor, club members visit rivers and streams to analyze their suitability using Smith's index and other techniques picked up from science classes. They then share the data with scientists and government agencies, including the VDGIF, the U.S. Forest Service and the Virginia Outdoors Foundation.
The students' work with Trout Out of the Classroom has garnered attention not only from other schools, but also from professional scientists and conservationists and even Virginia's governor, who invited the group for a visit, Smith says.
The Washington Post profiled the students' trout revival efforts in April when they went to monitor Catharpin Creek near Haymarket, where they had released some 50 fingerlings in the spring of 2017.
Madison's Trout Out of the Classroom has grown to include between 20 and 30 students, and the club has started incorporating stream restoration and a population survey method called electrofishing into its activities, along with its usual water quality testing.
After expanding the program to West Springfield High School and Fairfax's W.T. Woodson High School, the students are now ready to share what they have learned with an even wider audience.
With the support of Trout Out of the Classroom, Trout Unlimited and fellow conservation groups Izaak Walton League of America and the American Fisheries Society (AFS) convened in Madison's Warhawk Hall on Nov. 17 to sign a charter establishing the TIA Alliance (TIA is the first initial of each of the organizations in the alliance (Trout Unlimited, Izaak Walton League, and American Fisheries Society), an agreement that will take the program model developed by Smith and his students nationwide.
"Completely student-run, [Trout Out of the Classroom] is a tangible way of getting high school students involved in real-world scientific research," University of Virginia freshman and former club co-director Hania Abboud said. "…We wanted to bring the same experiences to a broader population of students so that they too can develop the same knowledge and appreciation for conservation research."
According to the newly signed charter, the TIA Alliance will "promote awareness of and appreciation for water quality monitoring and fisheries management…by facilitating the engagement of volunteers, specifically youth and young adults, in mission-oriented, natural resource conservation activities."
Trout Unlimited, Izaak Walton, and the AFS are the founding members, but other organizations can be added in the future if their goals are consistent with those of the partnership.
The alliance will be governed by a board with a representative from each member organization, and the charter instructs the groups to meet for at least one conference every January to report and coordinate their activities.
While all three nonprofit organizations are dedicated to environmental conservation, they each have a slightly different focus that will carry over into their responsibilities as part of the alliance.
"Each of us is doing some slightly different things with the same goals: protecting the rivers and spreading knowledge and the need for conservation," said Tony Hill, a board member for Trout Unlimited's Northern Virginia chapter. "We realized that…if we all work together, we could have a much, much bigger impact than doing it separately."
Trout Unlimited, for instance, has been tasked with expanding its Trout in the Classroom program to include more field activities, including water quality monitoring, while encouraging interactions between its chapter volunteers, students and natural resource managers.
As directed by the charter, the Izaak Walton League, a national organization founded to promote outdoor recreation and natural resource protection, will provide training, equipment and other resources such as its national stream health database to support Trout Unlimited's Trout in the Classroom program.
Where Trout Unlimited and Izaak Walton more typically work with local communities in the field, the AFS takes a more academic viewpoint as the oldest and largest organization dedicated to fisheries as a profession in the world.
Because of the TIA Alliance, high school students will now have the option of obtaining student memberships to AFS, and the organization's chapters will provide venues for students to participate in activities like field studies, surveys, sampling, and scientific paper presentations.
"I think we all have a basic responsibility to be at least aware of and respect the environment," AFS deputy executive director David Cassidy said. "This is, I think, a great opportunity for the three organizations to partner and do something for the future of not just fisheries, but also for science and career development."
In addition to promoting environmental stewardship and encouraging students to get involved in conservation efforts, the scientific approach developed by Trout Out of the Classroom and now spread through the TIA Alliance represents a shift in how schools are treating education.
Fairfax County Public Schools adopted a vision called Portrait of a Graduate in 2014 that outlined skills students should cultivate in order to succeed in the future, highlighting priorities like communication, ethical and global citizenship, and critical thinking.
Education can no longer be confined to standardized tests and textbook lesson plans, JMHS Principal Greg Hood says.
"Kids really need to be involved and interacting with their education, and this alliance, this work that's going on is really just exactly that," Hood said. "It gives students the opportunity to not only learn what they're doing in the classroom, but to apply it and see it happening in the outside world and then making a difference to the outside world."
After all, that desire for a more hands-on learning experience is the very impulse that spurred Madison students to approach Smith and start Trout Out of the Classroom in the first place.
As the program continues to find traction in other schools and communities, Trout Out of the Classroom participants emphasize that its value lies not just in the results they produce or the importance of protecting and restoring trout populations, but in the mindset and process behind the club, which can be applied to any issue.
For example, students on the West Coast could similarly collect and share data on salmon populations, and students in Pennsylvania could analyze the effects of coal mining on water quality, Abboud suggests.
JMHS senior and Trout Out of Water president Mary Waclawski says the club's ultimate goal is to inspire students to take an interest in the environment and be proactive in addressing whatever challenges they see in their local community.
"It challenges us to see the world through the eyes of a scientist and take action to conserve, protect, and restore our local lands and water," Waclawski said. "It is our hope that the TIA Alliance will provide students with the resources and training required to implement an action plan so they can make a tangible difference in their local watershed by participating in citizen science."