Given the frequency with which it occurs, gun violence has become a near-constant topic of discussion in U.S. national politics, but it is particularly urgent in Virginia right now as state legislators prepare to convene on July 9 for a special session to address the issue.
Gov. Ralph Northam ordered the special session on June 4 after a shooter killed 12 people in Virginia Beach on May 31, arguing that measures such as universal background checks and a ban on bump stocks and suppressors could help prevent future tragedies.
In addition to mandatory background checks for all purchases and an assault weapon ban that would include bump stocks and suppressors like the one used by the Virginia Beach shooter, Northam has proposed extreme risk protective orders, a one-gun-a-month limit, child access prevention laws, a reporting requirement for lost and stolen firearms, and an expansion of local authority to regulate firearms.
Fairfax County elected officials expressed general support for the governor's proposals when the Board of Supervisors passed a resolution on June 25 calling on the Virginia General Assembly to adopt "common sense gun safety legislation."
Introduced by Lee District Supervisor Jeff McKay, the resolution was approved by nine out of 10 county supervisors with one abstention and was subsequently delivered to the county's General Assembly delegation.
"We must enact gun safety laws to protect our families and communities, and right now the state does not allow individual counties to do that," McKay said. "No child should be afraid to go to school or to their local park. I was pleased to present this resolution and receive the support of the Board of Supervisors to bring our concerns to Richmond."
But most of Northam's previous proposals have come before the General Assembly in the past with no success.
It is unclear whether this session will produce different results as a result of the erstwhile momentum towards gun control measures.
While Northam and Democratic legislators tour the state to rally support for gun control measures, Republican lawmakers have proposed an alternate agenda that emphasizes punitive sentencing for gun-related crimes.
In the wake of the mass shooting at Virginia Beach, suppressors or silencers – devices used to reduce the sound of a gunshot – have attracted increased scrutiny.
A survivor of the Virginia Beach shooting told The Virginian-Pilot that she initially mistook the shots she heard for a nail gun used in construction, and the confusion made her and her colleagues slower to recognize and react to what was happening than they might have if the sound was not muffled.
While Virginia Beach Police Chief James Cervera told ABC News that he was unsure whether the use of a silencer affected the deadliness of the Virginia Beach shooting, concern about the potential for suppressors to affect the behavior of victims and first responders has led to a rash of legislation aimed at further regulating the devices.
As Virginia lawmakers consider Northam's proposed ban on silencers, their federal counterparts introduced similar legislation in Congress on June 24.
Led by Sen. Bob Menendez (D-N.J.) and co-sponsored by Sens. Tim Kaine (D-Va.), Dianne Feinstein (D-Calif.), and Richard Blumenthal (D-Conn.), the Help Empower Americans to Respond Act prohibits the import, sale, manufacture, transfer, and possession of gun suppressors.
The HEAR Act would also create a buy-back program for silencers and give individuals a 90-day period to comply with the ban, while exempting some law enforcement personnel and authorized testing or experimentation.
On June 21, Rep. Jennifer Wexton (D-Va.) introduced the Empowering Law Enforcement for Safer Firearm Transfers Act to give local law enforcement authority to block the sale or transfer of weapons regulated under the National Firearms Act, a list that includes short-barrel rifles and shotguns, machine guns, and gun silencers.
Originally enacted in 1934, the NFA requires certain firearms to be registered with the Secretary of the Treasury through the Bureau of Alcohol, Tobacco, Firearms and Explosives. People who want an item covered by the act must pass a background check, pay a $200 tax, and notify the chief law enforcement officer, or CLEO, of the jurisdiction where they live.
The requirement that the CLEO approve or deny all transfers was removed in 2016 after NFA background check requirements expanded and "placed an undue compliance burden on law enforcement," according to Wexton's office.
Wexton's bill would reintroduce the CLEO by imposing a 90-day window for the officer to block a transfer or sale if they determine the applicant poses a danger to themselves or others, or if there is a "reasonable likelihood" that they intend to use the weapon for non-lawful purposes.
"My bill is a balancing act, because I'm not asking for them to be banned," Wexton said after hosting a gun safety town hall in Chantilly on June 22. "I'm not asking for them to be confiscated. What I'm asking for is to bring the local law enforcement back into the process."
Gun defenders, however, oppose the proposed bans of silencers, or suppressors, and say further regulation would slow down an already-demanding process for people who want the devices for legal purposes.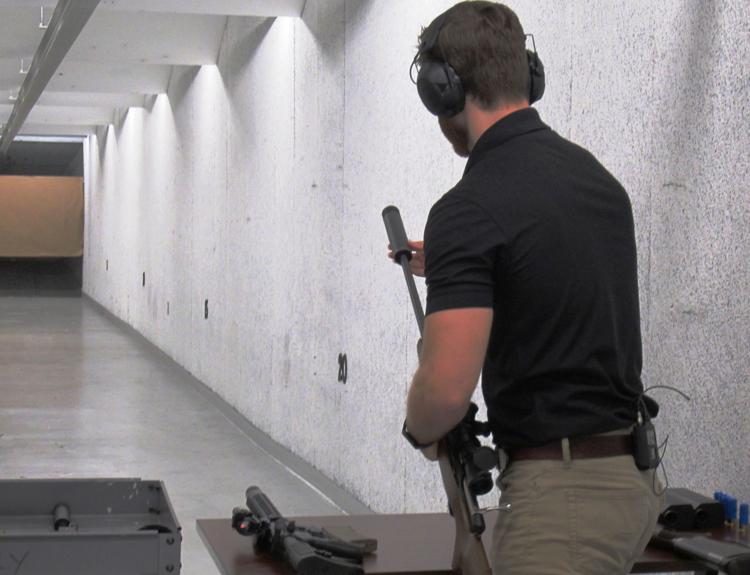 Silencer purchases are currently legal in 42 states, including Virginia.
Despite the moniker, silencers do not completely mute the sound of a gunshot but instead reduce it by 25 to 30 decibels, according to American Suppressor Association executive director Knox Williams, who says that a building's design and the construction materials used within can do as much to muffle or distort the sound of gunfire as the use of a suppressor.
According to the National Rifle Association's Institute for Legislative Action director of research and information Josh Savani, gun users should ideally use a suppressor to supplement ear buds and earmuffs to protect their own hearing and that of anyone nearby.
"Earmuffs and earplugs as hearing protectors versus suppressors only protect the person wearing them," Savani said. "…Suppressors don't just reduce the potential for hearing damage with a user. They also reduce it for any people that are bystanders of the [shooting] range."
The difficulty in getting a suppressor prevents many gun owners from buying one, Savani says.
Giffords senior policy advisor David Chipman disputes the characterization of silencers as hearing protection aids.
Before joining the gun safety advocacy organization named for former Rep. Gabrielle Giffords, Chipman worked as an ATF special agent for 25 years, and he has a permit to carry a concealed handgun in Virginia.
Chipman says he was never issued a silencer as a law enforcement officer and that the devices are primarily used in an offensive capacity, such as a military stealth mission like the U.S. Navy SEAL Team Six's raid on Osama Bin Laden's compound, where the distorted sound made it harder for guards to locate them.
"That's a new claim," Chipman said of the notion that silencers help protect hearing. "…I can tell you, a gun sounds different when you're being shot at, rather than at a range at a demo. So, bottom line is we've had a law in place since 1934 that regulate silencers, and at Giffords, we think that that should stay unchanged."
Chipman was one of three panelists assembled for Wexton's gun violence prevention town hall, which was held at J. Michael Lunsford Middle School and drew about 300 attendees.
Joined by Brady Campaign to Prevent Gun Violence vice president of policy Christian Heyne and McLean pediatrician Dr. Barbara Boardman, Chipman says requiring background checks on all gun purchases and proper training for firearm owners would address gun violence without taking the weapons away from people who use them to hunt or for self-defense.
"We have to understand that guns are used every day by law-abiding people who don't cause harm, and guns are also used every day to hurt people," Chipman said. "…What do we do to promote responsibility and stop harm? That takes a conversation where people come to the middle and stop staying out on their extremes."
The NRA remains staunchly against any legislation that might limit gun ownership, dismissing the special session called by Northam as "a political stunt."
"None of his gun control proposals will prevent criminals from accessing firearms and committing crimes, nor would they have prevented what happened in Virginia Beach," NRA spokesperson Catherine Mortensen said. "If the governor was serious about improving public safety, he would address the underlying issues like our broken mental health system."
A national poll conducted on Jan. 14 by Quinnipiac University in Connecticut found that 56 percent of U.S. voters support imposing stricter gun laws compared to 40 percent who oppose such actions. Opinions largely fall along political party lines.
According to the poll, 92 percent of voters, including 89 percent of Republican respondents and 95 percent of Democrats, support requiring background checks for all gun buyers.
Moms Demand Action for Gun Sense in America volunteer Ami Neiberger-Miller is not sure what to expect from the July 9 special session, but she and other gun violence prevention activists plan to bring about change one way or another.
"If it's not going to happen, we're going to flip the seats," Neiberger-Miller said. "We're going to try to elect other people who will support gun-sense policies and who will vote for safer communities, and if you're not going to vote for a safer community, then maybe you shouldn't be in office."