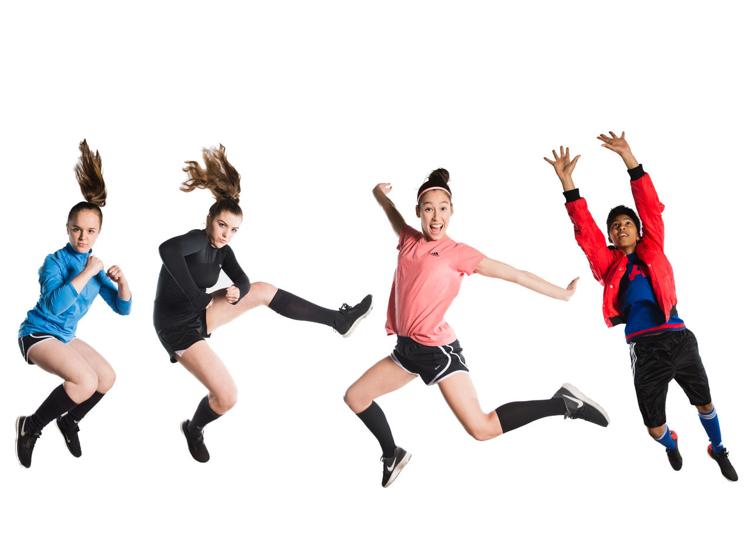 Anytime you get a group of high school junior girls together, the conversations could range from anything from boys to food to selfies, but when those girls are part of a win-now, demanding soccer team, that talk becomes serious, fast.
That's the scenario of Sarah DeLappe's 2017 Pulitzer finalist, "The Wolves," playing NextStop Theatre through Feb. 24, under the direction of Kathryn Chase Bryer.
The story follows this group of 16- and 17-year-old girls who have been playing soccer together for almost a decade, over the course of six different game days. They are on the cusp of some important changes in their lives and dealing with some serious issues, and they talk about the battles they face on and off the field.
"You don't see this type of honesty on stage very much," Bryer said. "For me, when the moment the play starts, it feels like real life. The intricacies of the language and the rhythm are just fascinating."
A production of "The Wolves" was staged at Studio Theatre in D.C. last year, and it's where Bryer first saw the play.
"I absolutely loved it," she said. "I thought it was one of the best scripts I had read in 20 years. It was amazing. Shortly after that, [NextStop's Producing Artistic Director] Evan Hoffmann called me and asked if I would be interested in directing the show at NextStop and I jumped at the chance because I love the show so much."
But Hoffmann had a bold idea. The Studio production, just like all the professional versions that have been done to date, used twenty somethings for their cast. For NextStop's show, they would cast real teenage high school girls from around the area.
"I felt that was unique, interesting and challenging," Bryer said. "I do have an education background and taught and directed teenagers for the first 20 years of my career, so I felt comfortable to jump back into that world."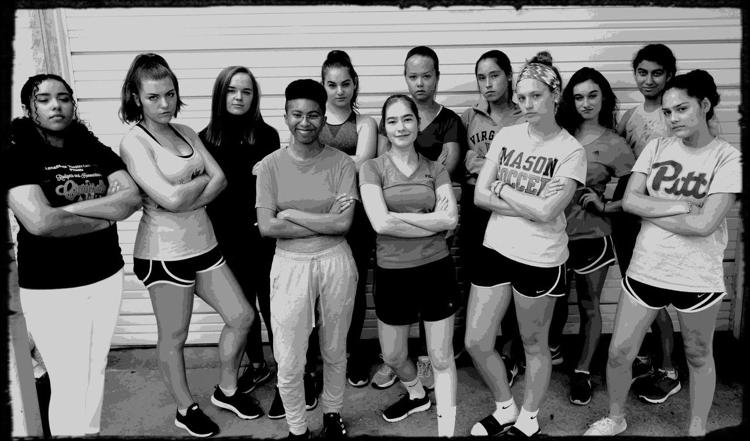 Local high schoolers from the area in the cast are Caroline Coleman from Urbana; Dominique Kalunga from South Lakes; Vivian Lemons and Maya Tischler from Oakton; Jordan Hundley from Chantilly; Teryn Cuozzo from Tuscarora; Jordan James from Robinson; Makayla Collins from Annandale; Rachel Lipetz from Marshall; Ella Stammera from Woodson; Naomi Bertha from JEB Stuart; and Kylie Miller from the Metropolitan School of the Arts. Leading them is
Vanessa Lock Gelinas, who play their coach.
"We cast them in June and then we got them together once a month to do acting workshops and give them some extra training so they would feel comfortable with jumping into this," Bryer said. "We also did a little bit of soccer, because not all the girls I cast played."
As associate artistic director of Imagination Stage, Bryer is no stranger to being around youngsters, and feels that helped her keep the dynamic in the rehearsal room similar to if she was working with all adults.
"We made it clear from the beginning that this is a professional production and they are getting paid, and their expectations are to be on time and do the work needed to be done," she said. "I have great respect for kids. The only difference for me as a director is they are not trained. They do theater at their high schools, but they don't know some of the acting terms or how to take information and put it in the show, so some teaching had to be done."
She wasn't surprised that they all picked up everything really quickly and is so impressed with what these young women are bringing to the stage.
"At that age—these are all 16 and 17 years old—you can be very self-conscious and it's hard to get on stage and expose yourself but you have to do that if you want to do theater," Bryer said. "This is a really serious play and they have to be willing to show vulnerability and expose themselves emotionally and have worked really hard on that. It's not easy."
Although a show of all girls, Bryer feels this is a play for all ages and everyone will get something out of it.
"It's fascinating to be able to look into this teen culture and the world of girls and younger women and understand how that it relates to our own life no matter how old or young or what gender you are," Bryer said. "There are lots of moments the audience will be connecting with these girls. The feelings and issues these girls are going through are universal."