Pastor, Fr. Matt Hillyard, OSFS started a new initiative at Our Lady of Good Counsel (OLGC) Parish in Vienna VA this month. Fr. Matt, with the help of OLGC Outreach Leaders, has come up with a unified vision to pursue a once-a-month OLGC Giving Outreach program that focuses on a singular cause each month during the calendar year. Each cause will be headed by coordinators and will be advertised parish-wide to encourage involvement by both church, school, and CCF. This plan is to promote fellowship and community service.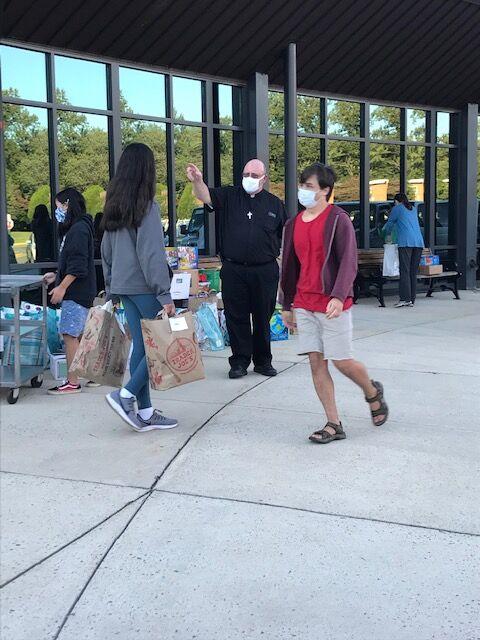 The goal is to conduct each drive on a single day each month (or weekend). The month's communications and liturgies will coordinate with the drive, the need, the mission, so that we are praying for the organizations and those that we are helping. During the month, we will showcase the organization - explain the mission and give a spiritual reflection on it. Someone may talk to the students at the school and CCF, so they are aware of what the organization is and how it affects those in need. 
This past weekend, September 19 & 20th, the Women of OLGC (WOLGC) organized its first-ever Drive-By Food Drive to collect non-perishable foods for the Committee for Helping Others (CHO) and Food for Others. CHO is a Vienna-based non-profit interfaith organization, which provides food, clothing, and furniture as well as emergency rent, utility, and medical assistance to people in need living in Vienna, Oakton, Dunn Loring, and Merrifield.  CHO also has a December Christmas Store to provide needy families with gifts and food cards for the holidays. Since March, CHO has distributed more than $75,000 in food and emergency assistance and has worked with Fairfax County to distribute county coronavirus funds. Food for Others is the Fairfax County food bank and estimates that 70,000 people in Northern Virginia live in poverty, with 30% of them being children. Currently, Food for Others serves 2,600 local families each week with baskets of food. The bulk of this food comes thru food drives.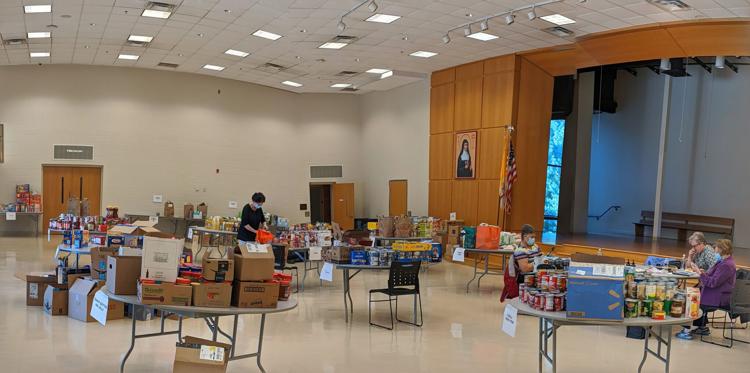 This weekend the parish came together to fill ten vehicles including two trucks, two vans and six cars to get all the food, personal items and diapers that were delivered to both CHO and Food for Others on Monday morning. Both organizations needed help and they are beyond thrilled with everything OLGC donated especially over $16,000 in cash, check and gift cards. 
WOLGC president, Jane Heishman was so thankful for all who made this drive incredibly successful and gives a special shout out to the OLGC Youth Ministry. The students were strong in number and strong physically, they loaded all the vehicles in about 30 minutes.