Arlington residents Kelly and Michael had long wanted a house on the water in the Lake Barcroft area, but-- after years of looking -- could not find anything suitable. There were the obvious challenges. With two young children just starting school, their house of choice had to meet long-term use requirements, perhaps well into retirement. Then, too, there was Lake Barcroft's enormous popularity.
First developed in the 1950's, the former farmland had evolved into a community of mostly contemporary homes situated around a 135 acre lake in northern Virginia. Available houses that fit the couple's criteria were few and far between.
Never people to give up easily, though, last year the Keely and Michael hired design consultant Roger Lataille of Sun Design Remodeling to help them evaluate rehabilitation possibilities of a circa 1950's mid-century modern style home actually situated on the lake.
Lataille had come with a considerable resume, having renovated over 30 Lake Barcroft homes over the last decade. Still, at just over 2,000 square feet, the favored house was still too small for the decades of occupation that lay ahead.
"We wanted a large master suite with a walk-in closet, bedrooms for both kids-- and a dedicated guest room," Kelly recalls. "In addition to our concerns about size, much of the interior seemed dated. Plus, I didn't have much exposure to this particular architectural style.Yet the waterside view was exceptional, almost one of a kind."
Sun Design Remodeling offered an attractive one-stop-shopping approach (as compared to an architect who would have to put plans up for bid), and Lataille was a fountain of inspired ideas that quickly percolated into a plan.
"They wanted a house that would work long into the future," Lataille recalls. "I saw the potentials right away, but this is not a solution that just any remodeler could execute. The style is classic, so our assignment was partly about adding new usable space, partly about preserving and enhancing a classic architectural language."
One key requirement was also a bit daunting: add a third floor for the master suite. This would entail reconciling the existing home's sloping roof-line and introducing an alternate structural solution. Structural solutions are particularly tricky in a house where an open floor plan is to be emphasized.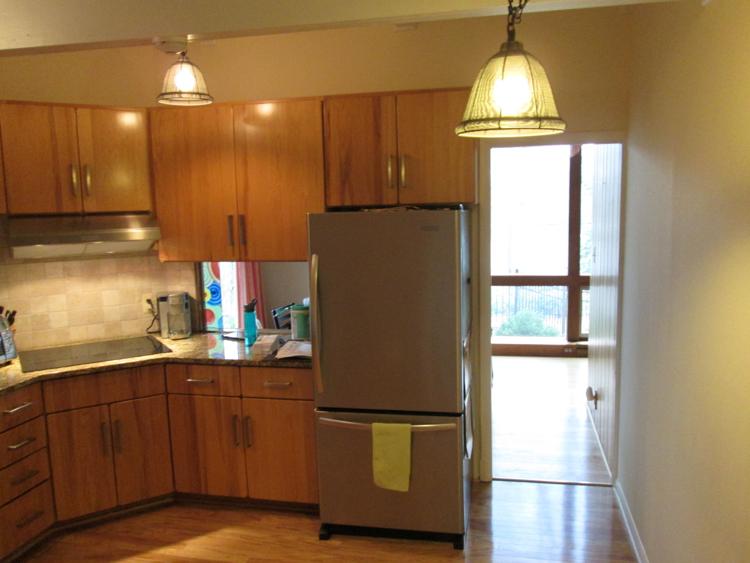 "It's a house that begged for bold visual continuum," Lataille allows. "But the existing interior was formed around a noticeably boxy floor plan...with an enclosed kitchen visually sequestered from the beautiful lake view-- and a wall between the living room and dining room. The contrast between the old plan and the one the owner's wanted provides fascinating perspective on how space-use expectations have changed in the American home in the past 25 years or so."
Not coincidentally, Kelly had also gradually decided that the colonial-style home the couple had owned in Arlington wasted lots of space. The front-facing living room, for instance, was seldom used; ditto the formal dining room.
"We wanted a plan matched to how we interact as family-- and the traditional model hadn't worked for us," she says.
Still, the best options for articulating an interior design style were still to be discovered.
Beginning at the top, a critical challenge was finding the best way to access the proposed master suite from the already space-restricted second floor.
"We needed about eight to ten steps to reach the top floor, but couldn't continue up the same stair well," the designer recalls. "In the end, we reduced a storage closet to gain the square footage needed for an ascending staircase."
To provide a stable platform on top of a sloping roof, an interim infrastructure, comprised of truss joists carefully calibrated to meet new load-bearing requirements, was introduced.
With the location of the master suite now resolved, the second level gains floor space that can be profitably redeployed. One by-product: the main hall was widened by almost two feet, enough to hold a closet designed to house a washer and dryer. The former master bedroom was conveyed to the owner's daughter and thoroughly re-decorated to taste; there's also a dedicated second level guest room.
Upstairs, the master suite boasts a compelling lake view through a twelve foot triple course window wall-- but the sleeping quarters are only about a third of the top level floor plan.
To the right of the bedroom, an adjoining walk-in closet provides 200 square feet of custom storage replete with shelves, drawers and closets. To the left, two bathrooms ("His" and "Hers")-- each with their own private entrance-- share a separately-accessed walk-in shower finished with mosaic walls and flooring, and a host luxe showering amenities.
Meanwhile, in the primary living area the most compelling feature is a steel "moment" frame which was designed to replace the old window wall, and provide the tensile strength needed to support the upper-level master suite.
By highlighting the elemental drama of woodland, lake and dappled light, the new window wall invites an interior design treatment that explores textural surfaces, period furniture design and contrasting lights and darks.
Overhead, large format structural beams wrapped in walnut-stained pine present a vivid contrast to the white tongue-and-groove ceiling. Waterfall Silestone counter surfaces and hardwood flooring neutralize and counter-balance, yet the mid-century accents of the stools, chairs and even a bright turquoise sectional in the living room present strikingly original intimations of a resurgent American style.
"Morgan Hutchinson (Sun Design's Specialty Designer) was invaluable in directing the finishwork process," Kelly observes. "For instance, Morgan found a resource for the furniture design that offered period prototypes we could customize to our requirements. This was a significant breakthrough in shaping the look we wanted."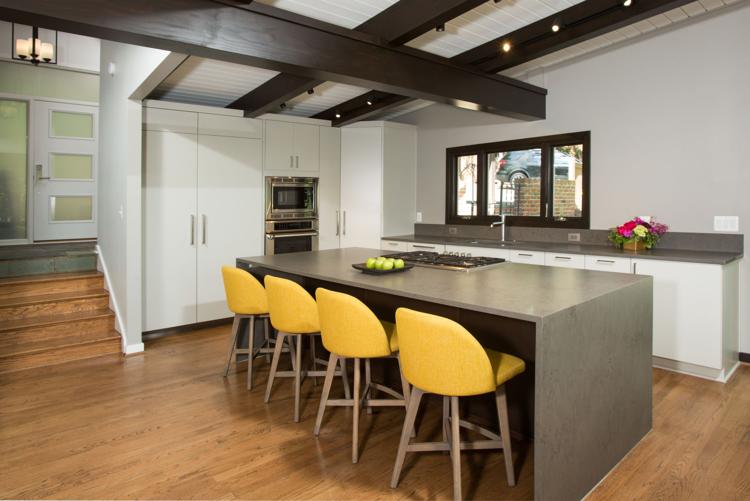 Adds Hutchinson:
"Finding a balance that respects a classic style and accommodates Kelly and Michael's personal tastes was the real assignment. The design explores unique rustic elements along with a new generation of kitchen innovations. The goal was to make statement that can last, yet be easily adapted."
Sun Design Remodeling frequently sponsors design and remodeling seminars as well as tours of recently remodeled homes. Headquartered in Burke, Sun Design also maintains an office in McLean. For more information: www.Sun DesignInc.com.
John Byrd has been writing about home improvement for 30 years. He can be reached @ 703-715-8006, www.HomeFrontsNews.com or byrdmatx@gmail.com. Send photos of interesting remodeling projects to: b2b@homefrontsnews.com.