Reggae titans UB40 and Shaggy are sharing a bill at Wolf Trap on Sept. 1, with both acts promising a fun night of top tunes from throughout their respective catalogues.
UB40 is celebrating its 40th year with this current tour, which it calls: A Real Labour of Love. Original founders Ali Campbell and Astro are both on hand and the night will find the band playing their greatest hits as well as some newer tracks.
"We're going to play as many hits as we can cram on stage in two hours," Campbell said. "There will be a few personal favorites, quite possibly a few tracks from our current album, but definitely something for everybody."
With a name taken after a British unemployment benefit form, UB40 literarily formed in a welfare line, and its multiracial lineup reflected the working-class community the band's members came from.
Over UB40's four decades, the band has sold more than 70 million records, releasing top hits like "Red, Red Wine," "(I Can't Help) Falling in Love with You" and "Kingston Town."
Still, the band continues to put out new music regularly and that's something that no one in the band thinks will ever stop.
"We don't believe in resting on our laurels. New music has never been a problem for us," Campbell said. "We want to continue to make good music and as much as everyone loves our hits, we want them to fall in love with these new tracks as well."
The secret to longevity of the band, in Campbell's opinion, is the music.
"Reggae music impacted all of us at an early age, and once you're bitten by the reggae bug, it's really hard to shake it off," Campbell said. "We were pretty confident before we ever recorded a record that we would be successful. If you don't believe you're good enough then why even start the adventure? We knew that what we had, people would enjoy."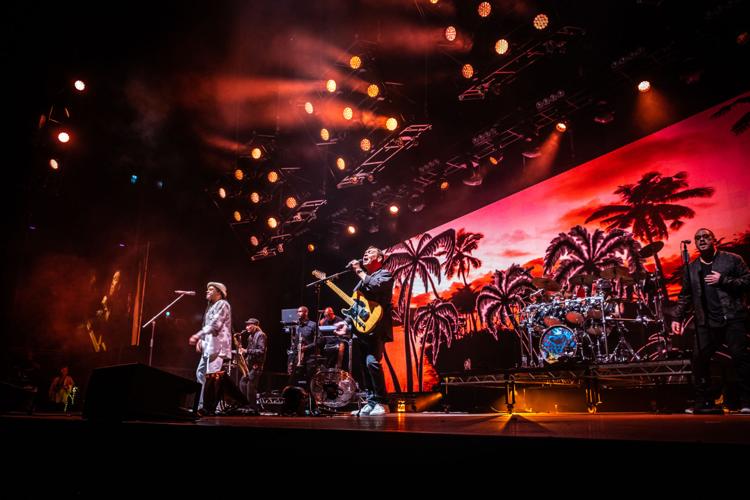 He remembers one of UB40's very first gigs, when the band was supporting Dave Edmunds and the Rockpile in the UK, and he asked one of the guitarists how long he'd been doing this, and it was about seven years.
"I was thinking it would still be great if we were on the road for seven years, and here I am 40 years later, and I'm still loving every minute of it," Campbell said.
Sadly, UB40 saxophonist Brian Travers won't be part of the 40th anniversary tour after being diagnosed with a brain tumor earlier this year. Campbell noted his spirit will still be a part of the band.
"We know he will be missed by all, but his health and wellbeing come first, and we are sure our friends and fans will join us in wishing Brian a full and speedy return to health, and return to us," he said.
Grammy winner Shaggy has found a great deal of success as well, being nominated for Reggae Album of the Year five times and hitting it big with songs like "It Wasn't Me" and "Angel." Last year, he collaborated with Sting on the album "44/876," which took home the Grammy for Best Reggae Album.
Later this year, he will play Sebastian in ABC's "The Little Mermaid."
During the Wolf Trap show, Shaggy will play the hits and songs off of his new album, "Wah Gwaan?!"
"It's going to be a night of great reggae music," Campbell said. "We're looking forward to getting to the States and playing again for our fans here."