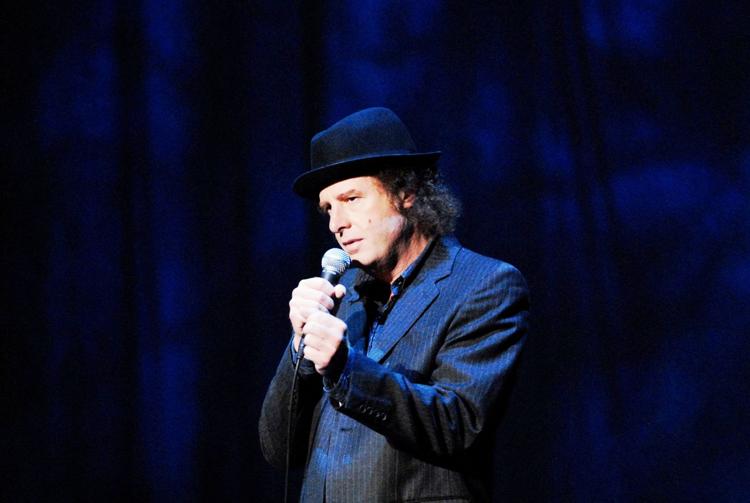 When I told comedian Steven Wright I had read somewhere that he had been called "The king of paraprosdokians," he laughed and said what most of you are probably also thinking:
"What the heck is that?"
According to dictionary definitions, a paraprosdokian is a figure of speech in which the latter part of a sentence is surprising or unexpected in such a way that causes the listener to reframe or reinterpret the first part.
When I explained this to him he replied, "Yeah well, I think it's important to many comedians that the audience not see what's coming." Adhering to that comedic concept is exactly what Wright does, and he still does it better than anyone else.
Wright says his mind-twisting, and often darkly ironic perspectives that take on life, love and the universe come from his own external observations and his own personal introspections.
His legendary deadpan comedic deliveries succeed in making you laugh, but then they also make you really think about what he just said. Often they are soaked in so much irony that you have to do a mental double take on what was just said…but before you really can, he delivers another.
The Academy-Award-winning prototype comedian continues to be emulated by up-and-coming comedians across generations, but he is the original, and still arguably the best at what he does.
One of four Scottish/Italian children, Wright was born in Cambridge, Mass. and raised in Burlington, Mass. Upon graduating from Emerson College, he held a bevy of odd jobs such as parking cars, painting dorms, delivering furniture and working in a Martha's Vineyard kitchen.
It was around this time that Wright attended an "open mike" audition and became a regular performer at Ding Ho's Comedy Club and Chinese Restaurant on Springfield Street in Cambridge. "Ding Ho's was an odd place," he recollects. "It was a former folk music saloon that became half Chinese restaurant and half comedy club."
It was here that he first unloaded his wildly philosophical takes on everything that he observed while performing all his previous labors, and also some of the big universal questions he had asked himself about life. "Have you ever painted rooms?" he asked me during our interview. "If you have, you know how boring it is. I thought of a lot of stuff, and came up with a lot of material while doing that."
It was at Ding Ho's that Wright got his big break when he was spotted by "Tonight Show with Johhny Carson" producer Peter Lassally, and was booked for his first "Tonight Show" appearance in 1982.
"That night changed my life," Wright recollects.
Carson enjoyed Wright's performance so much he invited Steven to appear again the following Thursday, an almost unheard of rarity.
His back-to-back appearances helped put his then-fledgling career into high gear. Wright soon found himself performing his off-beat routines on "Saturday Night Live," "Late Night with David Letterman," and numerous trips back to "The Tonight Show with Johnny Carson."
Wright expanded his comedy career to include comedy albums, film and television appearances.
His 1985 debut album, "I Have a Pony," earned him a Grammy nomination. In 1985, Steven starred in his first HBO Special "A Steven Wright Special." In 1989, Steven was honored with an Academy Award for Best Short Film for his film entitled "The Appointments of Dennis Jennings," which he co-wrote and starred in. Other stars of the film included "Roseanne's" Laurie Metcalf and British comedian Rowan Atkinson. In September of 1990, Steven starred in his second stand-up special for HBO called "Wicker Chairs and Gravity."
In 2007, he followed up 1985's "I have a Pony" with a new comedy album, "I still have a Pony," which also was nominated for a Grammy.
Steven has been seen in numerous films including "Desperately Seeking Susan," Mike Meyers' "So I Married an Axe Murderer," Oliver Stone's "Natural Born Killers," and Nora Ephron's "Mixed Nuts." Wright was also the voice of disc-jockey K-Billy in "Reservoir Dogs" and starred with John Cleese and Jack Palance in New Line's animated film, "The Swan Princess" as the voice of Speed, the turtle.
He also wrote, directed and stars in the 1999 short film, "One Soldier," the story of a man obsessed with the unanswerable questions in life. The film was screened at numerous film festivals and can be seen on the Independent Film Channel. In 1998 he played a supporting role in Dave Chappelle's "Half-Baked" and was also a featured voice in "Babe 2: Pig in the City".
When I told Wright that he was probably the only person to have ever been in movies with both Madonna (Desperately Seeking Susan) and Mickey Rooney (Babe 2: Pig in the City), he laughed uproariously and said "Now that's funny!"
I made Steven Wright laugh.
Now THAT is ironic, and yes…I had to do a mental double take to make sure it really happened.