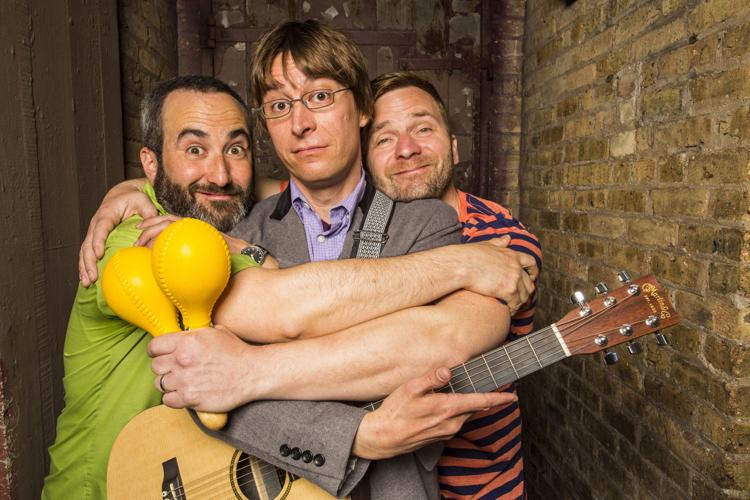 What children's songs did you grow up with? I grew up with "Sesame Street" songs that were co-produced in Arabic, and as a mother, children's songs in Arabic and in English were godsends that made my parenting experience a piece of artwork. They put me in a playful mood and my children would just join in and connect. Songs are the best way to put babies to sleep and to kindle the magic of language or the love for learning.
Raffi and The Wiggles were family favorites, and I picked up many folk songs while attending library events with my children in all stages of their growth.
Speaking of children's music, I had the opportunity to interview three-time Grammy-nominated artist Justin Roberts, who has been performing and creating songs for children for twenty years now. He grew up with "Schoolhouse Rock!" and as a preschooler, he "would sit in front of a record player and listen to music all day long," which made his teacher worry about his social skills. Interestingly, he discovered his interest in writing and performing for children while working at a preschool during his college years. Now, becoming a father is another turning point: what kinds of songs does he sing to his baby boy? He is coming to Jammin Java this weekend and we had this fun conversation over the phone:
I'd love to know, why do you want to sing for children?
ROBERTS: Why do I want to sing for children? That's a good question. I guess ... It's something that I sort of fell into a long time ago. I was performing in a band for adults, and I took a day job as a preschool teacher. And I have always enjoyed being around kids. I think they're funny and interesting. And I started singing songs with kids, and then starting writing songs in the classroom. And I just found I have a knack for it. And so I started writing songs for children at the same time I was playing in a band for grownups, and I made one recording thinking I wasn't going to be a children's musician. And I went off to graduate school here in Chicago. And the record kind of took off, and since then I've made 13 records for kids, and traveled to most of the United States, and a few places outside of the United States. And I've been doing it ever since for about 20 years.
Wow. So what did you study?
ROBERTS: I went to graduate school in religious studies at University of Chicago.
While I was there, I played a couple local kids shows just for fun with the new record being out, and was doing some shows in Hyde Park where University of Chicago is located, and would have professors there with their kids; it just like it was something different, and it got a great response, so sort of decided to leave graduate school, and pursue that instead.
Interesting. So how was your childhood?
ROBERTS: It was great. I grew up in Des Moines, Iowa, in the middle of the country. And I grew up in the 70s, and the 80s, which I guess was maybe the time where kids had a little bit more freedom. But I have pretty fond memories of things like little league, and fall nights going on trick or treating. And my first day of school, and things like that. And I think a lot of those memories play into the songs that I write, because a lot of the images come back to me when I'm writing songs about specific experiences that kids go through.
Do you have siblings?
ROBERTS: I do, yeah I have an older brother, and a younger sister.
Do you remember a singer for children that you enjoyed as a child?
ROBERTS: As a child probably the main thing I remember is the "Schoolhouse Rock!", educational videos that were on television. People like Bob Dorough, and other songwriters who wrote "Multiplication Rock," and things like that. So those were a big part of my childhood, but I also had an older brother who was a huge music fan. And so I grew up listening to the Beatles, and I on my own discovered the Beach Boys, but in terms of specifically songs for children I think my main experience would have been the Schoolhouse Rock stuff.
And then I think a lot about the books I read as a kid, Maurice Sendak's books, and "The Little Prince," and "Where the Sidewalk Ends," and things like that, that play with language. And I think a lot of that inspires me.
And which children's singers do you admire now?
ROBERTS: Local Chicago artist Ella Jenkins, who has made recordings for Smithsonian since the, I believe late 40s, or early 50s. And she's someone who I've had the pleasure of getting to play next to occasionally in Chicago. And I just celebrated her birthday with her earlier last year, which was really fun.
In terms of contemporary people, I mean I could name a whole slew of people, but I really enjoy The Pop Ups from New York City, and the Okie Dokie Brothers from Minnesota, and people like Dan Zanes, and Laurie Berkner who were starting around the time I was in the late '90s, make wonderful music for kids.
Wow. I noticed that one of your songs, "Willy Was a Whale," reminds me of The Wiggles.
ROBERTS: Yeah, that's one of my more popular ones. That's actually a song I wrote when I was in graduate school, when I was studying for about nine hours a day. And I would find myself taking a break, and writing really silly songs. And so I wrote the chorus to that in a basement apartment, taking a break from studies. Musically I think that song is probably closer to someone like Elvis Costello than The Wiggles, but I guess it depends on what you've listened to.
Also, I like Raffi. I don't know if you like him or not...
ROBERTS: He's obviously the person who made children's music a real phenomenon. I mean there are people like Pete Seeger, and Ella Jenkins doing it before him, but I think he was the one that made it his entire career. And he's been a great spokesman for children in general. I think he's a very political person, and pretty interesting guy aside from the songs he writes.
So, what do you think children need, or what do you want children to feel through your songs?
ROBERTS: I mean I guess the main thing for me is, I think sometimes we have a vision of children that's fairly limited, that may be just about the pure innocence, and wonder of childhood. Which I think is certainly a part of it, but for me kids experience the same things that grownups do, and go through the same kind of pain, and growing experiences that may be require a wider variety of subject matter.
I mean it's fun to write sillier songs like "Willy Was a Whale," but I've also written songs about a loved one passing away, and a song about divorce. And I've written a song about getting lost in a mall. And I find sometimes those songs, which maybe some people might find a bit too melancholy for kids, sometimes reach certain children very strongly, or they reach an adult very strongly. Who maybe has a memory of that; and I think treating kids as little human beings who have all of the same kind of capacity for emotional depth that we do, is probably the main thing that I try to do in my songwriting.
How did fatherhood change you?
ROBERTS: Well that's been pretty fascinating obviously. It's been a long time coming, but it's been-
How old is your child? I mean how many children-
Roberts: I only have one. He's five months old, so it's a brand new experience.
Congratulations.
ROBERTS: Thank you.
I know the feeling. Did you fall in love with him?
ROBERTS: Ah, it's amazing, yeah. Yeah, incredible. The funny thing, I think has been, everyone's like, I can't wait to see what kind of song you're going to write for your child. And so far I've been writing the simplest, silliest thing.
Burping songs, or just like whatever's happening in the moment, just singing that to him, and making him laugh.
And he likes it.
ROBERTS: Oh he loves it, yeah, yeah. And I find myself singing really simple melodies, and
that's been really a blast, but on top of that I've also been writing a lot of more serious songs about what it means to be a parent, and what it feels like. I wrote a song about the day he was born. And I had a neighbor on my block who has teenagers now. And she's like, right when you think you get a hold of something like that baby stage, they grow out of it, and it's something new. And she's saying, "I still will discover even with my 16 year old, that I can never stay ahead of where they are. They're always growing. Once you understand something, then they grow out of it."
So I wrote a song about that, and it's called "You Grew." That's sort of about never being able to get your head around, you know you feel, I mean nobody knows what they're doing. You try your best, and you read books, and you do what you think is right, but they're constantly changing just like we are. And I think that sort of humility being a parent is an important thing to embrace.
I think that because children are constantly changing, it keeps us enjoying the process, because we don't get bored. They are just never done becoming who they really are.
ROBERTS: Exactly.
So, what should we expect when you come to Jammin Java?
ROBERTS: We tend to have a really fun crowd in D.C. that a lot of them know my material, but there's always people that are new to it. And there's a lot of interaction with the audience, and getting the audience to sing along with call and response, or do hand motions. I mean I think the best thing about a kid show is that often kids don't know that there's some barrier between the stage and the audience. And the funny things kids come up and say to me in the middle of the concert, and just kind of the improvisation that happens in the moment is the thing I love about family shows. It's a very communal experience for everyone.