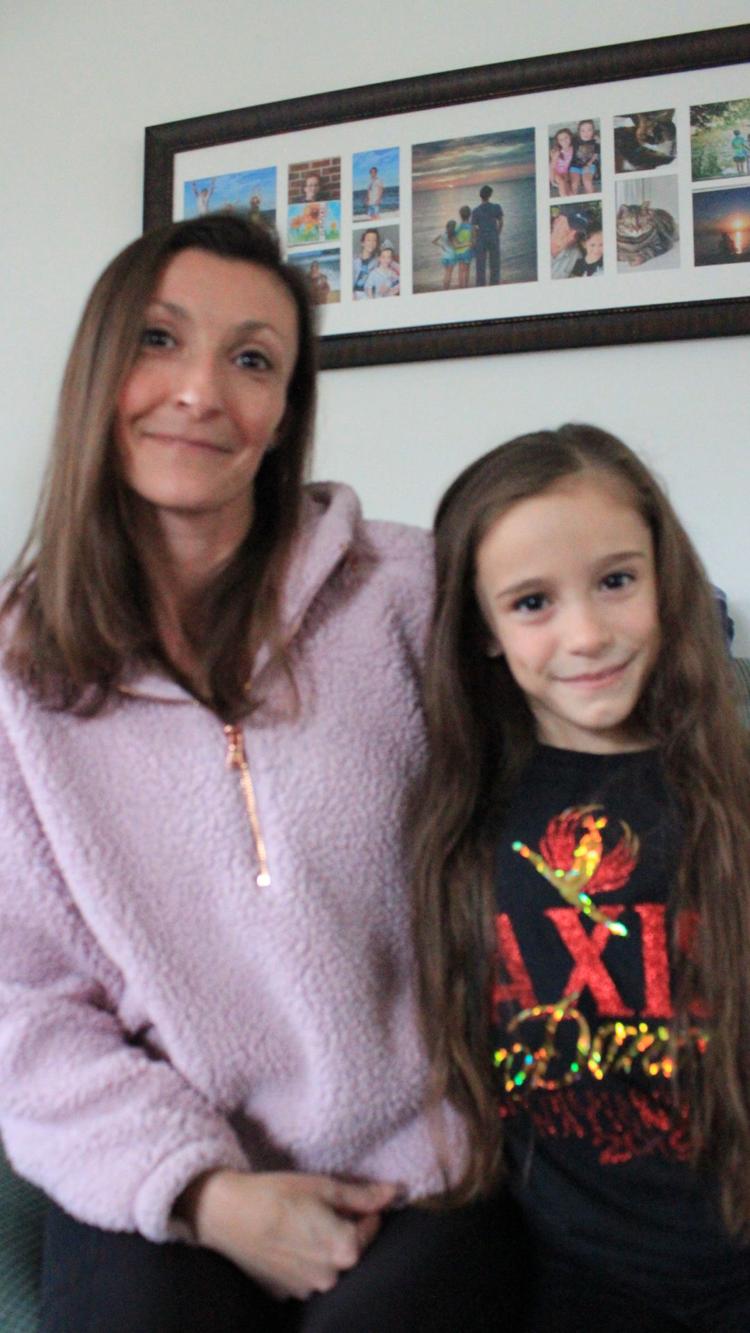 I was introduced to this confident, yet humble young dancer by a representative from her online public school. He wrote: "At just eight years old, Fairfax resident Joanna Surface has been named a "Breakout Artist" by the NUVO Dance Convention and has over 20,000 followers on Instagram. She's currently taking lessons in ballet, jazz, lyrical, acrobatics, and tap dance, and is traveling most weekends for invitational competitions around the country.
Joanna is performing solo at major venues this fall in New York City and Baltimore while training under top instructors at Axis Dance multiple times a week. Her performances have also earned her a spot as a brand representative for Astonish Custom Costumes, Inferno Dance, Fly Dance Competition and My Turn Athletics.
Joanna needed a flexible school schedule that would allow for maximum training time. Joanna's mother enrolled her in Virginia Virtual Academy (VAVA), an online public school that gives her the ability to work at whatever pace she needs without falling behind."
I met Joanna and her mother, Amanda, at their home in Fairfax and I was impressed with Joanna's comfort in front of the camera. Can you see it in the photo above? This is probably one of the reasons why she has 20,000 followers on Instagram.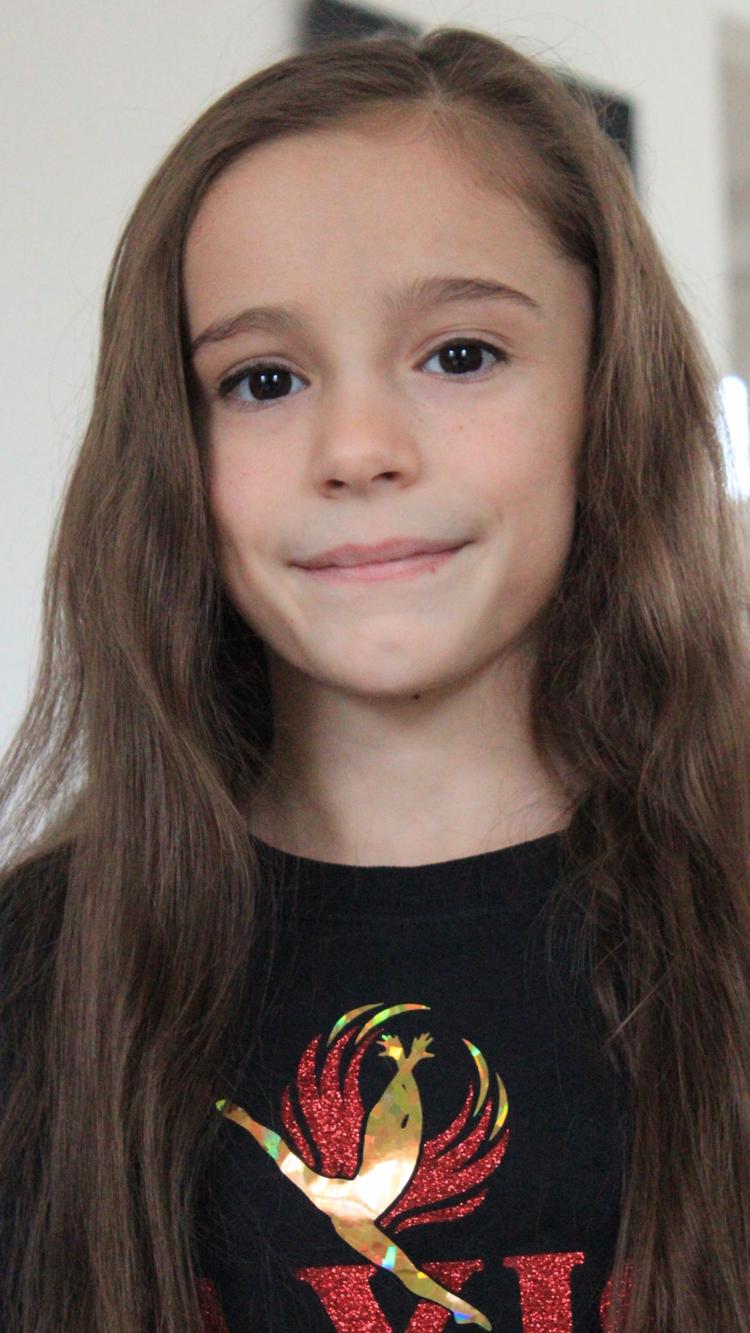 When did you start dancing?
Joanna: When I was two, I did baby ballerina. When I was four, I actually did real competition team.
What happened after that?
Joanna: Well, I'm still doing competition team.
How does dancing make you feel?
Joanna: It makes me feel really happy, and it's just really fun.
So when you practice, what do you do?
Joanna: Well, I do a warm up to music and then I practice my dances and I go, like, across the floor and warm up all my tricks.
What makes a great dancer in your opinion?
Joanna: Listening to the music and having the best technique.
Can you give me an example of having the best technique?
Joanna: Best technique is like pointing your feet, straightening your legs, all the little details.
What is the thing that makes you different than any other dancer, in your opinion?
Joanna: What do you think?
Mom: I think you're versatile; I think you're a good performer.
Joanna: Yeah.
Mom: You're fun to watch. I think you do have great technique. You're very flexible. She has good flexibility. She can do acrobatics. You can do turns. You're well-rounded. I would say well-rounded.
Joanna: Yeah.
Do you agree?
Joanna: Yes.
Mom: Yeah, you do ballet, jazz, tap, all the stuff.
Joanna: Yeah. Some dancers don't have all the stuff. Some people are really good turners, but they can't do acro. Some are really good performers, but don't have the good technique, really.
Where do you think this love for dancing will take you?
Joanna: Well, I really want to be a professional dancer and I hope it takes me there.
Do you want to do musicals, for example, theater, be on--
Joanna: Like Broadway?
Yes!
Joanna: Yeah, I would like to be on Broadway, too.
Wow. What is your biggest dream? Like, really big?
Joanna: There's this one television show called, "World of Dance." It would be really cool to be on it.
Who knows? Maybe you will.
Mom: Maybe.
What do you think you need to get there?
Joanna: Well, there's an audition, and that's not on television yet, I don't think.
Mom: They're auditioning now. You have to be nine to audition. You're not quite nine. You're eight. Maybe when you're older in a year, maybe you could try it.
What is your favorite song?
Joanna: My favorite song? I have a lot, but one of them is "So Am I."
How about your favorite dance style?
Joanna: My style? I like lyrical. Well, I like all of them, but my most favorite is lyrical because it's like a slower dance and I can listen to the music and feel the music.
What is your favorite book?
Joanna: My favorite book is probably "Pete the Cat."
OK. So, who is your favorite singer and dancer?
Joanna: So, my favorite singer? All right, probably...I have two. Ava Max and Billie Eilish. Dancers? I really like Eva Igo. Also, Briar Nolet. She was on "World of Dance."
Why do you like them?
Joanna: I like them because they're very talented and they were both on "World of Dance."
Mom: They remind me of you. They dance a lot like you.
Joanna: Yeah, because they're really well-rounded too.
Mom, why did you decide to enroll Joanna in VAVA?
Mom: Mostly the flexibility. The school here, the elementary school, they don't release the students in the afternoon until about 4p.m.. Her training with her teacher started at 2 p.m. So, just to get the extra training that she gets, it's just time. We can get all her work done in like three hours or more, three to four rather than sending her to school for seven hours. So, it just saves time.
Do you work from home, Mom?
Mom: I do. Well, I'm her learning coach, so I'm her teacher, basically, at home, but she does have online teachers, too. They actually have webcams, and they have Class Connect sessions where they see their actual teacher and do math and reading.
Do you organize Joanna's schedule?
Mom: They have a daily plan, too, so you know what you're supposed to do with her each day. Each class, it says what they're supposed to do, and we usually do that in the morning and early afternoon, and then go into the studio later in the afternoon to the evening.