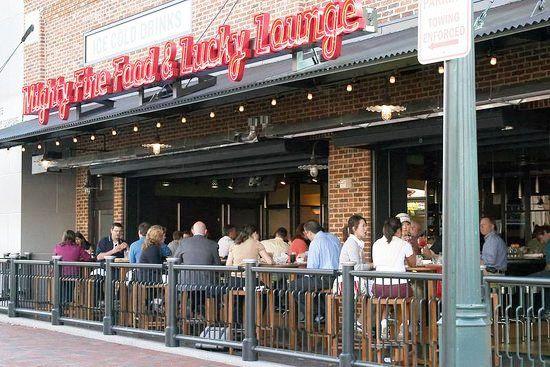 Reston Town Center property owner and manager Boston Properties has agreed to a settlement with Jackson's Mighty Fine Food & Lucky Lounge, bringing an end to the restaurant's lawsuit over the mixed-use development's paid parking system.
Under the agreement, Jackson's guests will get an alternative pay system that allows them to receive parking validation if they enter their vehicle license plate number into one of Reston Town Center's orange garage pay stations or on a tablet inside the restaurant.
In other words, garage parking will be free for Jackson's customers, though street parking will follow the same rules that apply to all other visitors.
"Jackson's Mighty Fine Food & Lucky Lounge and Boston Properties have reached an amicable agreement to settle their dispute regarding the parking system at Reston Town Center," the property owner said in a statement. "…Both parties look forward to continuing their 10-year relationship at Reston Town Center."
When contacted for further comment by the Fairfax County Times, a Boston Properties public relations representative said the company was at that time "not inclined to elaborate beyond what was released."
Jackson's general manager Orson Williams directed a request for comment to the corporate office of Great American Restaurants, which operates Jackson's.
Great American Restaurants did not return multiple requests for comment from the Fairfax County Times.
After having free parking in the first 26 years of its existence, Reston Town Center adopted a paid parking system on Jan. 3, 2017 that requires visitors to use garage pay stations or download a mobile phone app called Park RTC in order to pay.
Boston Properties first announced that it would charge for parking on Aug. 9, 2016, explaining the change as a means of curbing the use of parking spots by commuters using the nearby Wiehle-Reston East Metro station or the planned Reston Town Center Metro station.
The new system was originally scheduled to be implemented in September of that year, but community complaints prompted the property owner to postpone its launch.
When the paid parking system initially went into effect, Reston Town Center charged $2 per hour for garage parking and $3 per hour for street parking, which was limited to two hours in length.
Garage parking would remain free on weekends, major holidays, and during special events like summer concerts.
Visitors, tenants, and merchants criticized the switch to paid parking as an unnecessary cash-grab by Boston Properties that would negatively impact vendors and the sense of community at the town center.
Jackson's sued Boston Properties on Mar. 23, 2017 with a lawsuit that argued the paid parking system as a violation of its lease, which included terms that in essence guaranteed free parking to its customers.
In addition to seeking $500,000 in damages, Jackson's called for an elimination of the paid parking system as part of its lawsuit.
On June 13, 2017, a Fairfax County Circuit Court judge issued a preliminary injunction that prevented Boston Properties from enforcing paid parking for visitors who went to Jackson's.
At the same time, several other Reston Town Center merchants led by Red Velvet Cupcakery owner Aaron Gordon created the Reston Merchants Association as they contemplated potentially taking legal action, though Jackson's did not count among the group's members.
Boston Properties eventually caved somewhat to public pressure when it announced in May 2017 that, starting on June 5 of that year, it would no longer charge for garage parking on weekday evenings and the first hour of parking would be free.
Now, garage parking at Reston Town Center is free on weekends and on Monday through Friday from 5:00 p.m. to 3:30 a.m., and when rates are in effect, the first hour is free, though parking activation is still required.
Street parking still follows the same hourly rates except on Sunday, when it is free but has a two-hour maximum.
However, these changes came too late for some merchants.
The Reston Merchants Association reported on Feb. 28 that many of its members continued to see declining sales in the second half of 2017 after Boston Properties relaxed its paid parking rules.
Several tenants, including Iceberry, M&S Grill, Appalachian Spring, Capital One, Il Fornaio, and Bebe, had already closed their doors over the past year at that point.
Red Velvet Cupcakery brought its eight-year tenure at Reston Town Center to an end on May 27 after reporting a 37 percent drop in income over the last two quarters of 2017 compared to the previous year.
With Gordon gone, the Reston Merchants Association appears to have gone quiet.
"I can't make any comments, unfortunately," one Reston Merchants Association member told the Fairfax County Times. "I haven't heard from anyone in a while, though."