Dr. John Deeken is officially president of the Inova Schar Cancer Institute, Inova President and CEO J. Stephen Jones announced on Wednesday during a dedication ceremony for the healthcare provider's new 438,000 square-foot facility in Fairfax.
"I am pleased to announce John's appointment today, as we dedicate the Inova Schar Cancer Institute's flagship facility," Jones said. "His personal dedication to this project, from concept to today, has been focused on our patients and their families. I am confident with John as our leader we have the best team in place to provide world-class cancer care to every person we have the privilege to serve."
Deeken first joined Inova in 2013 after receiving his doctorate from Georgetown University and completing a residency there in internal medicine.
He was initially named acting president of the Schar Cancer Institute, but Jones said on Apr. 24 that Inova's leadership had decided to make the appointment permanent. Deeken will also serve as medical director of the Inova Schar head and neck cancer program.
"We've got a lot of work to do, a lot of great things we can do here," Deeken said after the announcement. "But I'm honored and humbled and look forward, as a Fairfax County resident, to continue to offer what we can to our patients here to make sure they stay here for their care and to make this the nationally recognized cancer center it deserves to be."
The Inova Schar Cancer Institute is part of the Inova Health System's massive Center for Personalized Health campus, which occupies 117 acres of land of Gallows Road in Merrifield that previously belonged to Exxon Mobil.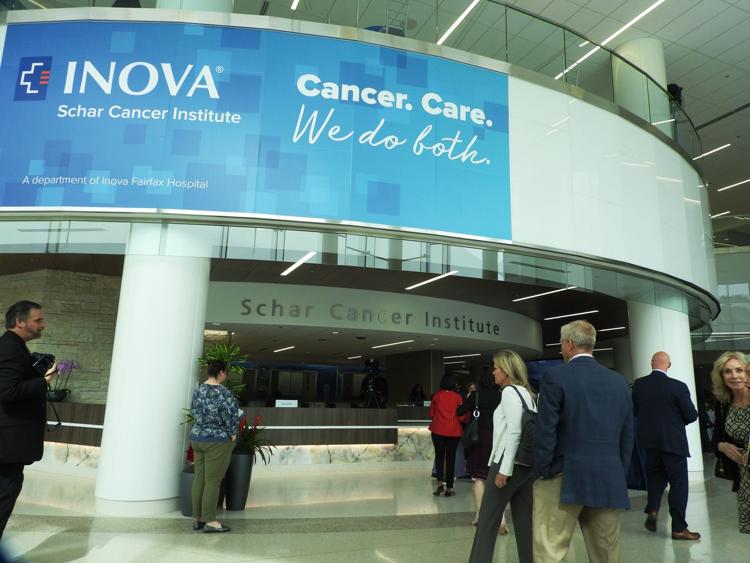 Totaling 1.2 million square feet of office space, the Inova Center for Personalized Health features a translational medicine institute, clinic, genomics and bioinformatics research institute, technology and innovation facility, and a conference center, along with the Schar Cancer Institute.
Named after philanthropists Dwight and Martha Schar, who donated $50 million to help establish the building, the Schar Cancer Institute will provide advanced cancer care and research, including a relatively new form of treatment known as proton therapy that targets cancerous cells without affecting the surrounding area like chemotherapy.
In addition to medical services and research, the institute will house portions of Inova's longtime Life with Cancer program, which offers counseling, education, and other support services to patients and their families.
The institute is expecting to have "a few hundred" patients when it opens its doors on May 13, Deeken says.
The goal of the Schar Cancer Institute and the Center for Personalized Medicine as a whole is to offer a more integrated, comprehensive approach to delivering healthcare by putting services on a centralized campus so that patients do not have to travel to receive different kinds of care, according to Inova.
Sen. Patrick Leahy (D-Vt.), whose wife Marcelle is a melanoma survivor, told attendees of the dedication ceremony that it is not enough for medical research to receive funding. People also "have to have access to innovative therapies. That's why the Schar Cancer Institute is so important."
Fairfax County Board of Supervisors Chairman Sharon Bulova says she is excited that Inova chose to purchase the former Exxon Mobil campus in 2015 after the energy corporation left.
"What looked in the beginning like it could've been a bad, sad thing with Exxon moving out, it created incredible opportunity for Inova Health Systems," Bulova said. "So, this is a huge victory and a great new opportunity for us."
In addition to providing a more convenient location for Northern Virginia residents to receive cancer treatment and other medical services, Fairfax County leaders see the Inova Center for Personalized Health as a step forward for diversifying the economy in the region, which relies heavily on the federal government and its related contractors.
The Schar Cancer Institute will have 500 employees, according to The Washington Post.
"We're very excited about the new type of workforce it will draw here, but also the research and development dollars," Fairfax County Economic Development Authority interim president and CEO Catherine Riley said. "Right now, we're not known as a research and development center, but I think this will help us achieve that and get to that point."