It is the latter half of October and Fairfax Little League Baseball is tying the loose ends. The season was shortened to adapt to COVID-19, forcing the league to play an all-new ball game that no one had foreseen. While there were fewer players on the diamond than in years past, plenty of the kids in Fairfax County came out to play America's pastime. The fall portion of the season ends later this month. 
One of these players is seventh grader Miles Eichler, who's been playing ball since Single A. Eichler is finishing up his time in Majors while attending Flint Hill in a virtual and in-person sense. His father, Roy Eichler, credits baseball for "keeping him active, he's a very social kid," Eichler also added that "baseball helps these kids stay social they are supposed to be outside. Not inside on their Xboxes."  
Miles was elated to play this season. Because without baseball, "I'd go insane," he explained. He added that the ability to play outside and not video games helped him cope with COVID-19. But the strain of school and sports does linger. "Sometimes I have practice at night and I worry if I can finish it on time," Miles explained. Miles' team is in the tournament going on right now for the league. He feels like the team could "get by the first few games."  When asked about the value of being with his teammates, Miles said that "it taught me not to take them for granted, life is boring without friends."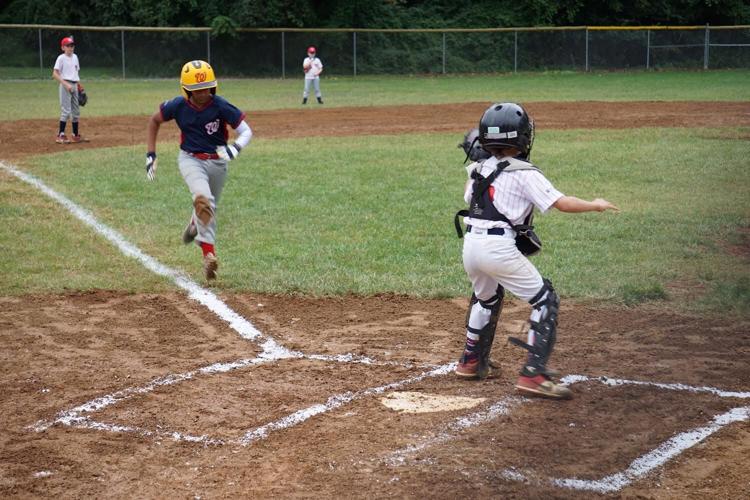 The Eichler's have also helped the kids socialize by inviting other players and teams to their home for socially distant movie parties since their back yard is "pretty big," according to Mr. Eichler. However, some kids didn't join in for baseball. 
"Some parents were scared to let their kids play, but Fairfax has done a great job in keeping everyone safe," Eichler explained. The Eichlers didn't decide to join in until recently. Eichler's wife is severely ill and feared the risk of infection from the Coronavirus.
Erin Hildreth has been a member of the Fairfax Little League board for two years now. She works in Public Relations and has an 11-year old son playing ball. 
While many have been greatly affected by COVID-19, the Hildreths have been doing okay for the most part. "My husband and I still work, but from home," Hildreth added that," We've had to cancel family trips and ask family not to visit. It's been tough." Hildreth was nervous at first about letting her son Emmett play. "The first few practices made me nervous. But we knew that this was good for Emmett," she explained.
Fairfax's Little League wanted to make sure they could play ball. But they also knew they had to be smart. They made sure players sat 10in apart in the dugouts. Coaches had to wear masks all the time. The players also had to wear masks in the dugouts too. "Everything went great for the most part," Hildreth said. "But the kids had to be reminded not to congregate," she added. Despite this, things ran smoothly, "We felt no frustrations this year," Hildreth stated. 
As for 2021's spring season, Hildreth is hopeful. But she's not ready to see the season end soon. "We're in tournament play, so it's a one and done deal," she said. "We're counting down the days til it's over. If we can find a safe way to play in April, we will be back next spring," she concluded.