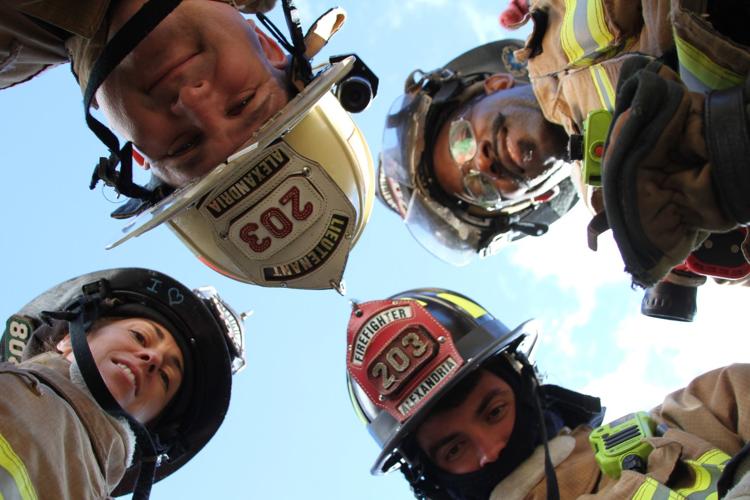 Seven northern Virginia students are national winners in the 2018-19 National PTA Reflections arts contest after winning first-place awards in every other tier of the multi-level competition. The Parent Teacher Association (PTA) celebrates their 50th anniversary of hosting the Reflections program for students across the world!
Throughout the City of Alexandria, Arlington County and Fairfax County, K-12 students choreographed dances; made films; wrote poems, stories, and essays; composed music; took photographs; and created paintings, sculptures and multimedia pieces, all based on this year's contest theme, "Heroes Around Me." At each level of the contest, the top winners advanced to the next level. Northern Virginia's national winners first won the contests at their own schools, and then took top honors in the city or county contest, the Northern Virginia District contest, and the Virginia state contest.
This year's contest theme, "Heroes Around Me," left a lot of scope for personal expression.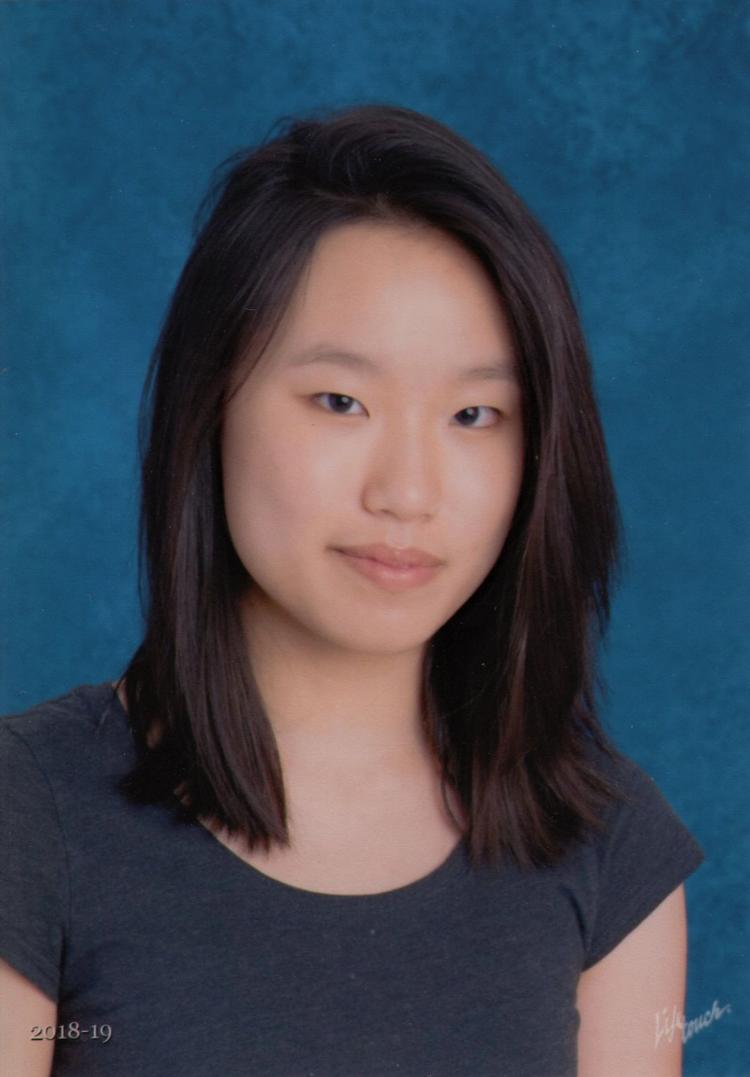 Anna Chung
Anna Chung, a sophomore at Fairfax's Thomas Jefferson High School for Science & Technology, was one of only seven students nationwide to win Reflections' top honor, the Award for Outstanding Interpretation of Theme. Anna won the award in the Literature category for a poem, "The Helper," about a girl whose hero is always there for her. "Her grandpa bought her a telescope and put it on the roof for squinting on muggy, firefly nights," the poem begins. As the girl grows up, she makes mistakes and sometimes gets depressed. But her grandfather is always there to teach and encourage her, and to pull her "back into the light," until she achieves her goal and flies into space as an astronaut. In her required Artist's Statement, Anna explains that the story is fictitious, but that "there are special people who always drag me out of my failures and inspire me to fly."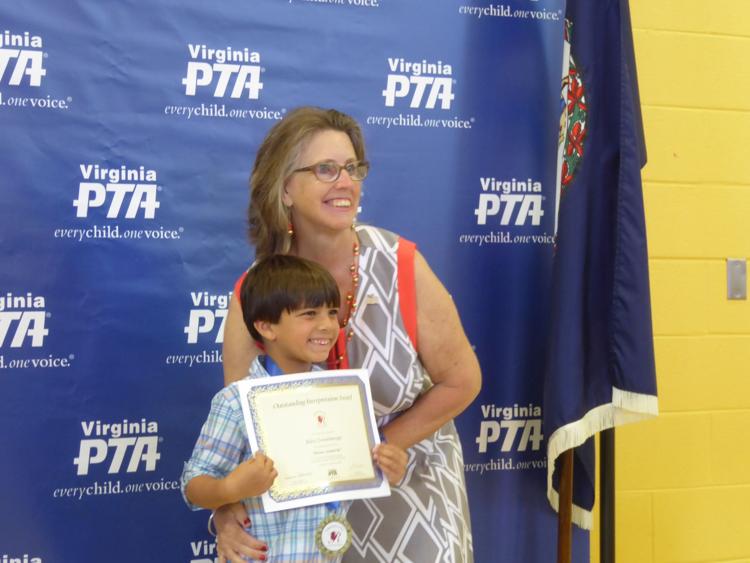 Riley Zwiselsberger
Several winners cited first-responders as their heroes. Alexandria first-grader Riley Zwiselsberger came up with one of the most pertinent interpretations of the theme in his Photography entry, which shows a ring of firefighters looking down at the unseen photographer in the center of the circle. He explained in his Artist's Statement that he asked the firefighters to stand in a circle and took the photo while lying on the ground looking up at them. His photo won an Award of Merit (equivalent to a third-place win) in the national contest's primary division. Riley attends Charles Barrett Elementary School.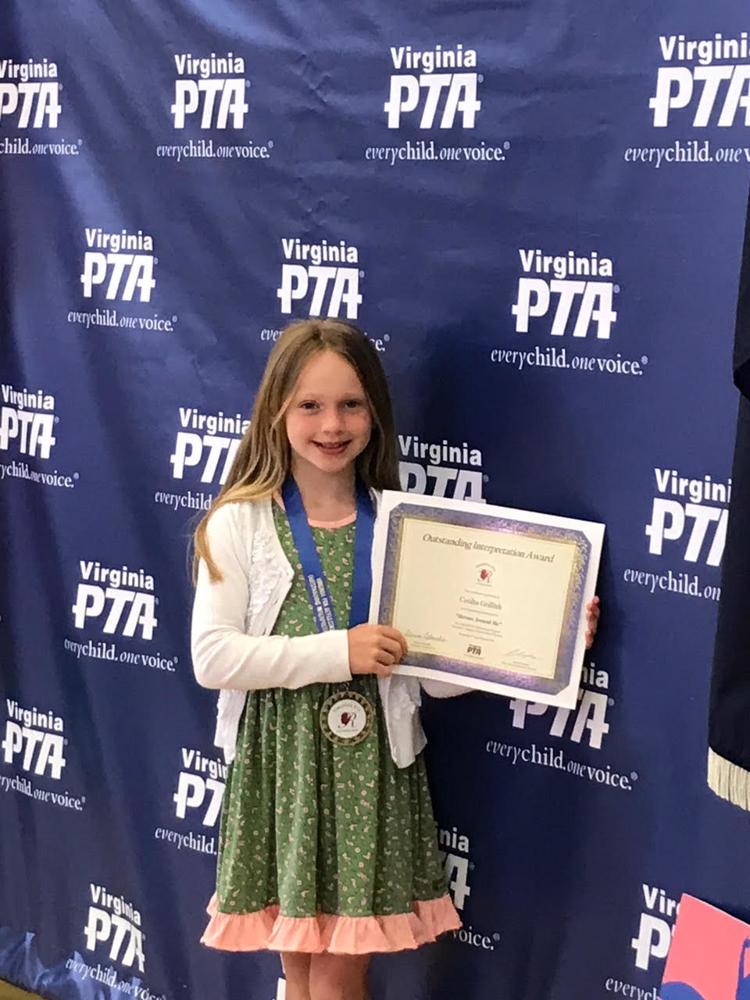 Cecilia Griffith
Cherry Run Elementary School second-grader Cecilia Griffith also took first-responders as the topic of her Literature category entry, which won an Award of Merit as well. The Fairfax student dedicated her poem, "Firefighters Save the Day," to her father, who is a firefighter. It begins, "There's a fire I am scared / but I calm down because I know they are there," and goes on to talk about her trust in the courage and skills of her heroes.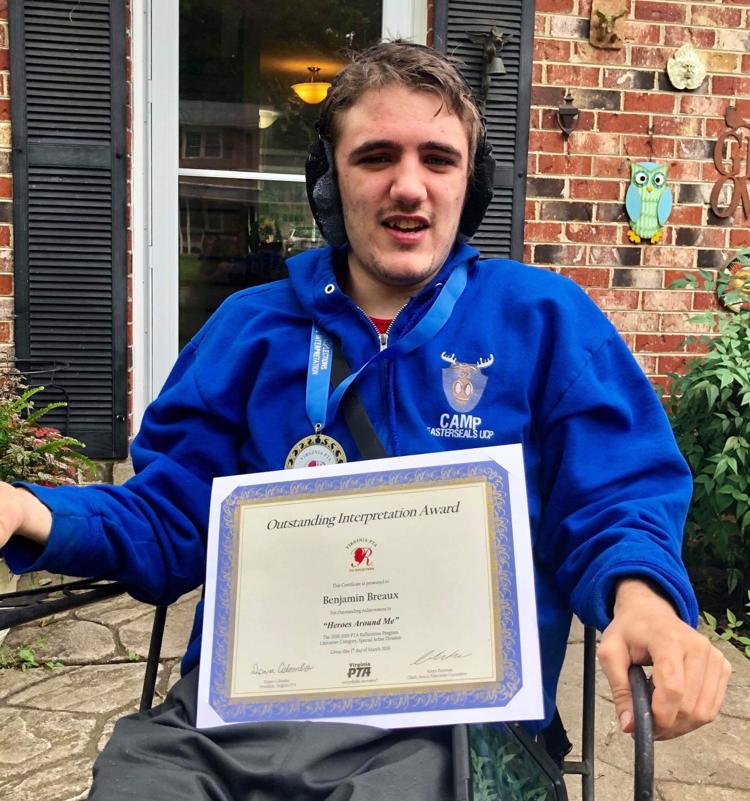 Benjamin Breaux
One of the most articulate explorations of the subject came from Benjamin Breaux, a Fairfax County 18-year-old who won a National Award of Excellence (second place) in the Special Artists Division for Literature. He writes about heroes as the people around us who choose to act with kindness and forgiveness rather than hate, and who stand up for what is right. Benjamin, who has autism and communicates by pointing to letters on a letter board, wrote, "I witness my peers in the nonspeaking autistic community bravely – and without hesitation – continually battling against preconceived assumptions about our abilities, our allegiances, our potential, and our desires to be an integral part of society."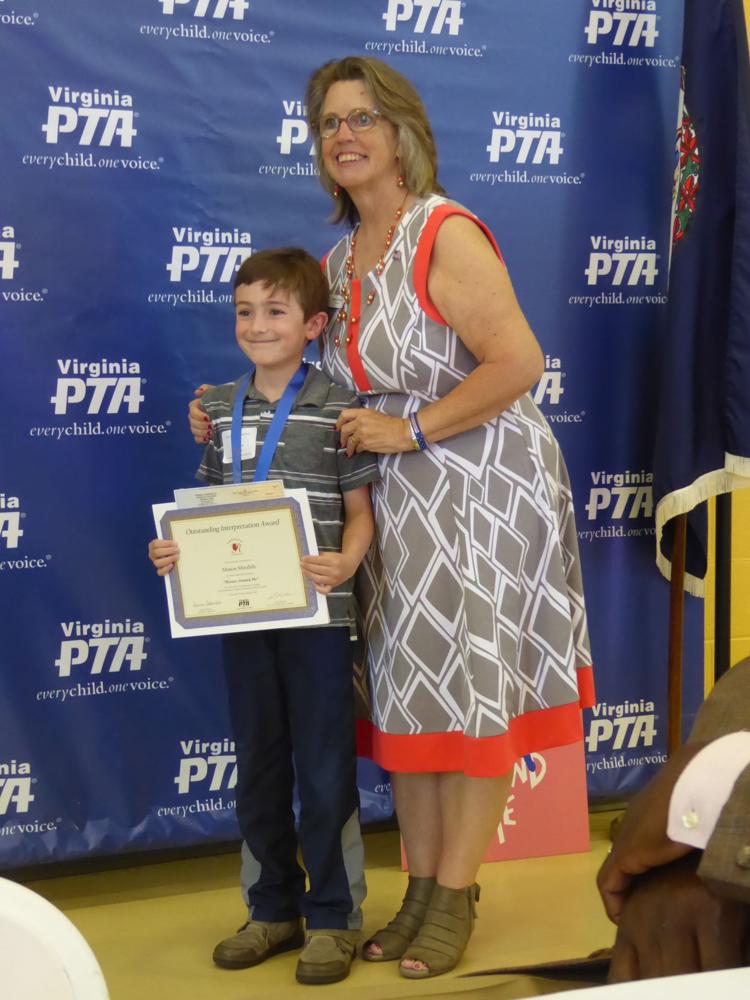 Mason Mirabile
Another student whose work celebrates the heroism of ordinary people is Mason Mirabile, an Arlington third-grader at Discovery Elementary. His film, "Through Your Eyes," also won an Award of Excellence. Mason's highly original four-minute movie was filmed using black and white, low camera angles, and intentionally blurry footage, as if seen through the eyes of Mason's newborn baby brother. The film shows Mason and his parents playing with the baby and taking care of him, all from the infant's perspective. "His family are heroes to him even if he doesn't know it," Mason explains in his Artist's Statement. "We are his heroes because we change diapers, feed him, play with him, read to him and hold him…. One day he can watch it and see how much work he was, and how much we loved him."
Music Composition is one of the most difficult categories for articulating an interpretation of the theme, especially if the music is instrumental. Two northern Virginia students overcame that obstacle and won National Awards of Merit, one at the high school level and one in the primary division.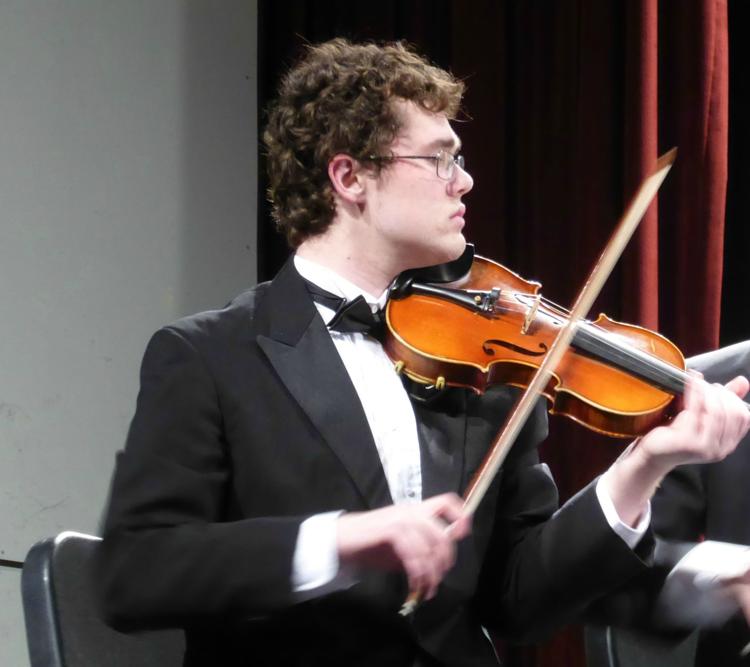 Jonathan Morgan Petrini
Jonathan Morgan Petrini, a junior at T.C. Williams High School in Alexandria, composed a piece called "Kaleidoscope" for string quartet. "Bach and Beethoven created art that makes people feel and think, art that has inspired us for generations; to me, they are heroes," he says in his Artist's Statement. "Recently I had the opportunity to compose for professional musicians. To hear my work brought to life was inspiring; to a composer, musicians can be heroes."
01 Kaleidoscope—Jonathan Petrini https://videopress.com/v/1mod3EGg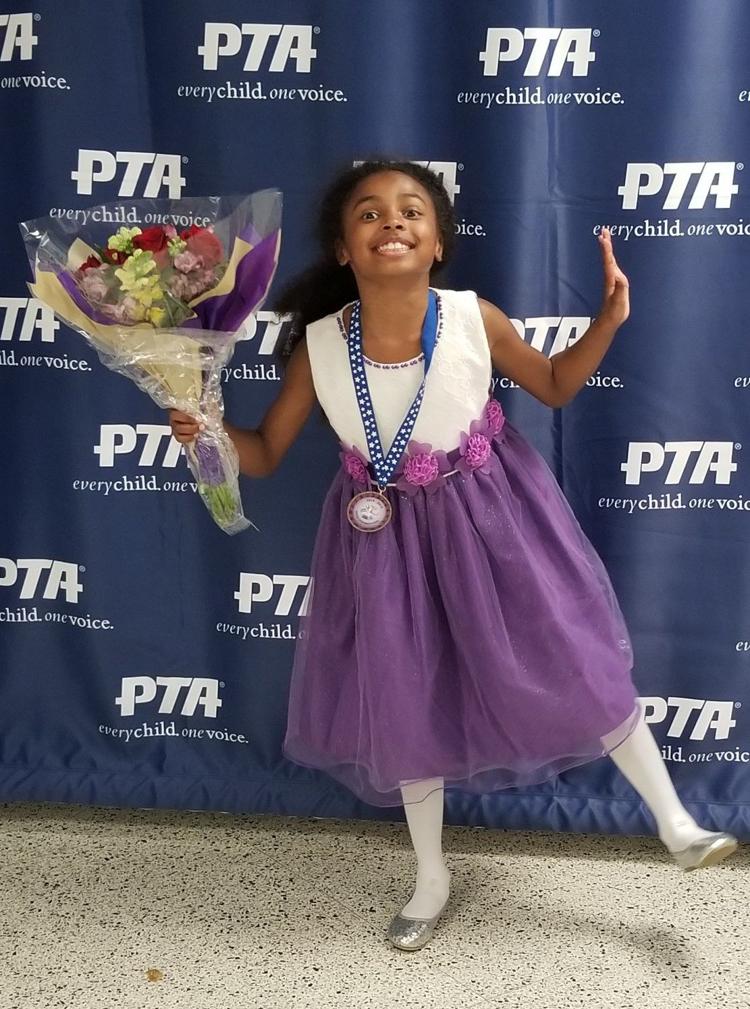 Madison McBeth
Madison McBeth, an Arlington second-grader, calls her piano composition, "Clouds of Heroes' Faces," and was inspired by the shapes of clouds. "I was thinking of clouds with faces of heroes," she explains. "And the song feels like there are a bunch of brave heroes flying around." Madison attends Arlington Montessori School.
Entries at every level of the National PTA contest are evaluated by judges who are experts in the arts categories they're judging: Dance Choreography, Film Production, Literature, Music Composition, Photography, and Visual Arts. In each category, entries are separated into the grade-level and Special Artist divisions, and are judged on three criteria: creativity, technique, and interpretation of the contest theme.
This is the fiftieth year of the popular national contest, which draws more than 300,000 entries from around the world, from 5,000 PTAs. National award winners will be honored June 22 at the National PTA Convention and Expo in Columbus, Ohio.
Next year's theme will be "Look Within." 
For more information, visit https://reflectionsalexandria.com/2019/06/07/nova-students-win-national-honors/
Was it easy to apply for the Reflections art contest?
Parent Eunha Yang-Chung shares her experience with Fairfax County Times: "It was when my daughters, Anna & Bella, were in kindergarten at Hayfield Elementary School. We saw a newsletter mentioning the winners of the Reflections program within the school. I remember thinking that it's unfair that it wasn't even promoted. At least not properly, because I never heard of it. The two kindergarten winners were daughters of the teachers at that school. I went to the website to learn about the Reflections program and read all the rules.
My daughters participated in 1st grade. They brought home 2 trophies and 3 medals. In fact, Anna's twin sister Bella's drawing won 1st in northern Virginia, if I remember correctly. Anna's poem won 1st in northern Virginia in middle school. The girls have entered every year and did very well. When they started high school, Bella decided to enter and Anna didn't. In sophomore year, Anna entered and Bella didn't. They didn't want to compete with each other.
I do want to mention that when the girls started 3rd grade in Springfield Estates Elementary School, the PTA was very good about sending out flyers as well as reminders to get the students involved in the Reflections program. I definitely saw more students getting involved; I'm glad my competitive side got me to read the rules on how to apply. After the first year, the girls wanted to submit their drawings, essays and photos. They definitely looked forward to it each year. Going to a STEM high school, they needed a bit of encouragement to continue with the tradition. They felt they didn't have time to work on creative/artistic things. So sad! I disagree. I think the Reflections program is a wonderful way to get the kids get in touch with their hidden talents. Thank you for such a wonderful thing you do for the students."