"WOOF, Samson, we need to talk about one of my least favorite topics. It's painful to think about or to talk about. It's sad. Arf. I avoid discussions of it sometimes because it's kind of a personal, but as a cat, you should know about this too so you can tell your cat buddies!"
"HISS! Meows, what do you want to talk about? Is it really that bad?"
"Well, maybe bad is the wrong word ... it's a good thing in the long run, but … and a necessary thing, but some aspects of life for you changes …"
"Noah, I've already had the father-son talk or the birds and the bees talk!"
"WOOF! Well, not quite that; did you know February is Spay/Neuter Awareness Month?"
"HISS! HISS! HISS! What?? Do they have to have a month to remind me of the saddest day of my life? The day I lost my… well, you know… you, uh."
"Yes, I know, good buddy. (OUCH!) Barkingly, it's good to remind the humans though. Many do not understand it's better for us to be spayed or neutered than not!
By spaying or neutering your pet, humans can help reduce the number of homeless dogs and cats in the universe! WOOF! Did you know there are upwards to 8 million dogs and cats who end up at a shelter each year? Barkingly, not nearly as many are adopted out and the rest are euthanized. Those sweet animals would have made great pets for someone!"
"MEOW! I know spaying/neutering helps the cats and dogs to live longer, happier and healthier lives too. The statistics show that we average an 18-23 percent longer life compared to those who aren't spayed. It helps to curb their urge to roam too. This reduces their chances of getting into fights with other animals, getting hit by cars, and other injuries! Paws, it reduces the chances of the dog or cat getting infections and cancer too. The veterinary care costs of spayed/neutered pets are usually less than those who have not been done too! The cost of treating infections, cancer surgeries or visits after a dog or a cat fight is far more expensive than the cost of spaying/neutering surgery."
"WOOF! To me, that's enough reason to get a pet spayed or neutered. Barks, the process doesn't change the dog or cat's personality, but they will need a bit of time to rest afterward. Paws, I highly recommend on the day of the process to have your dog or cat's favorite resting spot cleaned and ready with fresh water, the best treats, and access to the TV remote control for a few days. Also, some toys that do not require any exercise. After all, they need extra special attention to the drama of losing something special! ARF!
Several animal agencies in Northern Virginia offer low-cost spay and neuter. Check with your veterinarian, a friend's recommended veterinarian, rescues or your local Humane Society for information.
My friends from PetConnect Rescue brought a few friends looking for "forever homes!"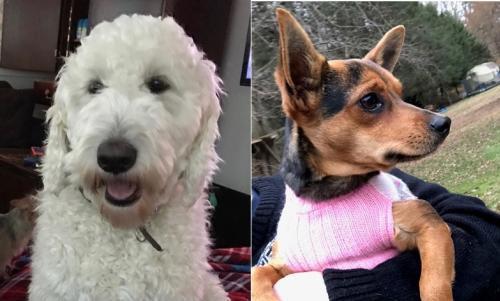 Barkingly, you've heard of Mutt and Jeff, Blondie and Dagwood, Charlie Brown and Snoopy? WOOF! Meet Sam and Tator! Sam is a 3-year-old Goldendoodle and Tator is a 2-year-old Chihuahua and they are the best of buddies! WOOF! Bonded buddies who must be adopted together!
The buddies have spent the last two years side-by-side, snuggling and romping together! They are house-trained, good with mini-humans, and with other dogs and pawsome in every way. They are good on a leash.
Sam and Tator are looking for a home with a yard for them to play and an adopter who is not gone most of the day. They are not suitable for apartment life! They want an adopter who will be home a good part of the day to help them adjust to their new home, including daily walks, cuddling and hanging out with their humans.
MEOW! Purr, my friends Bonnie and Clyde are bonded-buddies too! They will steal your heart and smother you with the pawsome cuteness you ever saw! MEOW! They must be adopted together.
Bonnie is human-oriented and loves to chat and give kisses! Clyde loves to romp around and engage in "Matrix-style" play fighting with Bonnie! Clyde is a bit more reserved and takes his cue from Bonnie.
They are best suited for a home with older mini-humans or adults only.
Contact PetConnect Rescue, http://www.petconnectrescue.org, email: info@petconnectrescue.org or call 1-877-838-9171.
About Me:
Noah writes about dog/cat adoption, humor, dog adventures and facts about dogs and cats at
www.fromthedogspaw.com. He is Dog to his human, Allen Pearson, Dog Photographer and Writer, www.allenpearsonphotography.com, www.allenpearsonphotographyjournal.com www.facebook.com/AllenPearsonPhotography, www.instagram.com/fromthedogspaw, www.facebook.com/fromthedogspaw.