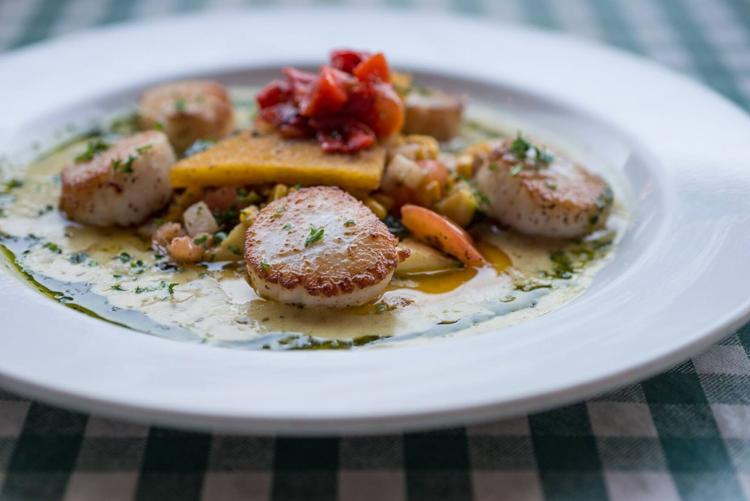 Like many other restaurants, Fairfax City's Hamrock's was forced to make major changes during the lockdown. Now, a month after the Phase 3 opening, the restaurant has implemented new strategies to keep its clients safe. 
Hamrock's is located in the city of Fairfax, in a big Victorian home built around the year 1840. In 2016, Bill Hamrock bought an existing business and changed its name to Hamrock's in 2017. Him and his wife Susie, a teacher at W.T. Woodson High School, are the owners. 
Hamrock, chef-owner, explains that the lockdown greatly affected his business. "Restaurants were basically forced to close on a day's notice," he says. Like many other restaurants, Hamrock's went from being a dine-in restaurant that served lunch, dinner, weekend brunch, and hosted private parties and business dinners, to a restaurant that focused on carry-out and delivery. 
"I immediately changed my menu," he says. "I added family meals that I thought were appropriate and that people would like to eat at home." When his restaurant closed for dine-in, Hamrock went door-to-door with his new menu and immediately started advertising on Facebook.
But now, many people are still not comfortable sitting indoors at restaurants. 
However, Hamrock is proud to say that his restaurant has adapted new ways to make every visit a safe experience for his clients. There is constant cleaning, there are hand sanitizers by both entrances, and he even had a company, Bianchi Fogging Services, come in and do a "Covid spray," cleaning the Victorian house.
As to outdoor seating, Hamrock's offers a wrap-around porch and courtyard seating. "My outside seating is as good as it gets in Northern Virginia," he says. 
To entice more customers, Hamrock created a "lobster night" on Sunday nights, which includes a three-course meal.  
It's been a hit, and more people are coming to try it out. But although he's seeing more customers, he expects the effects of the Coronavirus to linger on longer than expected.  
"It's a massive effect," he says. "This is going to affect us well into 2021." 
Hamrock's is now open for dinner seven days a week starting at 4 pm and Saturday and Sunday Brunch is available on weekends. Every item, including the lobster night deal, is available for carry-out and delivery. 
Full menus available at www.hamrocksrestaurant.com