One of the most beloved musicals of all time is "Grease," thanks in great part to the 1978 classic movie that saw John Travolta and Olivia Newton John play mismatched lovebirds Danny and Sandy as they sang their ways into the hearts of millions.
But before it was a movie, "Grease" was also a successful stage production, and made its bow on Broadway in 1972, garnering seven Tony noms thanks to an outstanding book, music, and lyrics by Jim Jacobs and Warren Casey.
Toby's Dinner Theatre is taking audiences back to Rydell High with its staging of "Grease," playing through July 28.
The story opens with Danny Zuko and Sandy Dumbrowski falling in love at a beach in Chicago though they know they are destined for different high schools. But fate brings them together and we see how their differences create problems trying to fit in the world of the Burger Palace Boys and Pink Ladies.
Under the direction of Mark Minnick, Nicki Elledge and Matt Hirsh take on the power couple of Sandy and Danny, singing all the great songs associated with the musical, such as "Summer Nights," "You're the One That I Want," "Hopelessly Devoted To You" and "Greased Lightning."
Elledge grew up watching the movie and has always been a big fan. Once she was cast, she re-watched it as a refresher and also watched the "Grease Live" special that was on a couple of years ago to get in the spirit of the show.
"The musical is different from the movie, but still has the same characters and most of the same storylines, so it was helpful to watch these again," she said. "I love how Sandy changes so much from the beginning to the end. Sandy is very wise and is willing to have the transformation to have the love she found over the summer."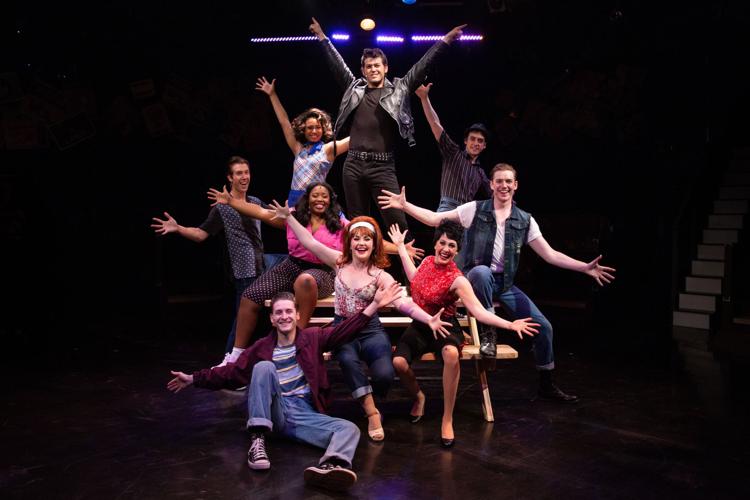 Some of the changes from the movie is you won't see the big drag race at the end (though of course, Greased Lightning is included!), some songs are different and the order that things happen is also different. But none of those take away from "Grease" on stage being the same fun ride it is when someone watches at home.
Still, Elledge's absolute favorite thing about the show is the music.
"I love singing that '50s style, and 'Hopelessly Devoted' is a really fun song to sing every night," Elledge said.
Elledge last performed at Toby's in "Beauty and the Beast" and is excited to be back in the space.
"My favorite part about Toby's is the patrons love the theater so much and are so supportive of the theater and it's really fun to be back and see the same people who came out my first time," she said. "Getting to go out and say hello to them is great and you don't get that same one-on-one interaction at every theater."
Originally from San Diego, Elledge first hit the stage at the age of 8 in the San Diego Junior Theater production of "Winnie the Pooh." She caught the acting bug and continued to do youth theater and school theater through high school. She attended DC's Catholic University to study music and theater, graduating in 2015.
Since then, she went on tour with the show, "Amazing Grace," worked at Signature Theatre a few times and done some other productions as well.
Hirsch and Elledge went to college together and are excited to be playing these iconic parts opposite one another.
"'Grease' is so much fun and lighthearted and I think we need that kind of show once in a while, especially in the summertime," she said. "The audiences are loving it and laughing a lot and I love to see people do the hand jive with us. I think everyone will have a great time coming to this show."