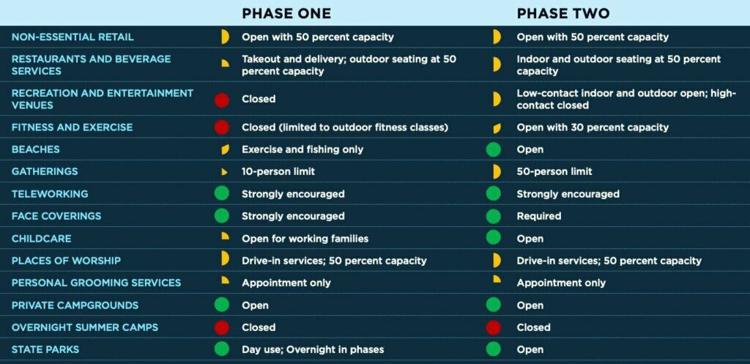 On Tuesday, June 9, Governor Northam announced that Northern Virginia and Richmond are set to enter Phase Two starting at midnight on Thursday, June 11. He also outlined a plan to allow Virginia schools to slowly resume in-person classes for summer school, continuing in the fall. 
The announcement of Phase Two came after the Governor announced that the commonwealth's positive tests were at about 10% and "trending downward." This is what Phase Two refers to:
The maximum number of individuals permitted in a social gathering is 50 people.
Restaurant and beverage establishments may offer indoor dining at 50% occupancy.
Fitness centers may open indoor areas at 30% occupancy, and certain recreation and entertainment venues without shared equipment may open with restrictions.
Swimming pools may also expand operations to both indoor and outdoor exercise, diving and swim instruction.
Guidelines for religious services, nonessential retail and personal grooming services remain the same as Phase One.
Overnight summer camps, most indoor entertainment venues, amusement parks, fairs and carnivals remain closed in Phase Two. 
All businesses should still adhere to physical distancing guidelines. 
In addition, the Governor also announced that preK-12 graders will return to school this fall. The phased reopening plan was developed by the Office of the Secretary of Education, Virginia Department of Health, and the Virginia Department of Education and follows CDC guidelines.
According to the press release from the Governor's office, these are the opportunities for in-person instruction in each phase:
Phase One: special education programs and childcare for working families
Phase Two: Phase One plus preschool through third grade students, English learners, and summer camps in school buildings
Phase Three: all students may receive in-person instruction as can be accommodated with strict social distancing measures in place, which may require alternative schedules that blend in-person and remote learning for students
Beyond Phase Three: divisions will resume "new-normal" operations under future guidance
Fairfax County Federation of Teachers (FCFT) member David Walrod said that "it is critical that as school districts consider adopting the state guidelines that they prioritize the health, safety and economic security of the educators that are carrying us through this crisis."
He continues, "final plans must protect the health and safety of our educators, students and communities." 
Walrod serves on the FCFT Executive Board as well as on Governor Northam's COVID-19 Education Work Group. He emphasizes that final plans must also offer options for vulnerable students and staff to continute distance learning, eliminating the digital divide, providing childcare for educators, and increasing mental health and social-emotional supports for students and staff.
"For any plan to succeed, educators must have a seat at the table and be part of the decision-making process. When the General Assembly meets in August, we urge them to increase funding for our public schools to ensure they can adequately carry out these plans and recover from this crisis," says Walrod.
Districts will submit their own reopening plans to the Department of Education, so each school system can "respond to the needs of their own locality," said Northam. 
Chief of Staff Clark Mercer said that youth sports can resume as well, with provisions to keep athletes apart. Examples include: Children can go to indoor karate classes but can't spar. Baseball players can't share helmets or bats.