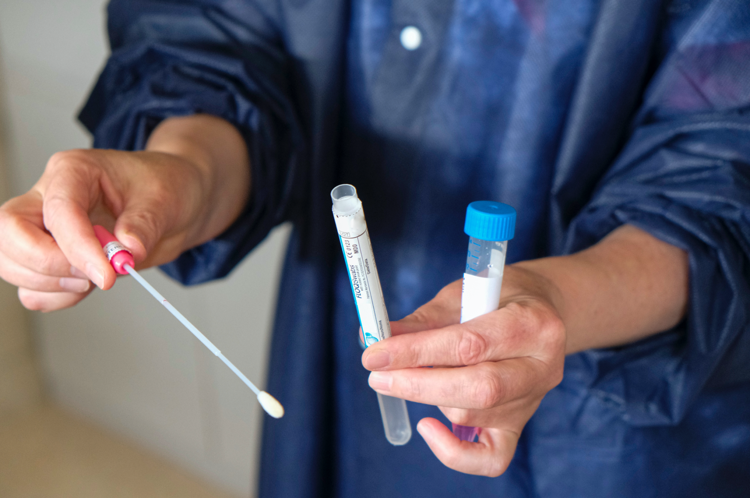 As students returned to George Mason University's campus Monday for in-person classes, they voiced concerns, along with faculty, over the validity of the at-home COVID-19 tests mailed to students.
GMU contracted the IT company Kallaco to mail at-home testing kits to 4,500 students moving to on-campus housing. Virginia Commonwealth University and William & Mary also contracted with Kallaco for their testing services. 
Residential students were required to quarantine for 14 days and complete these tests before returning to campus. They began to raise concerns about the tests, and Kallaco in general, at the beginning of August, through social media platforms such as Facebook and Reddit.
"I am staying away from campus," GMU Senior Carter Rainey told the Fairfax County Times. "The decision to delay going back has been because of Mason's response to COVID."
Members from GMU's chapter of the American Association of University Professors then began to investigate some of these complaints. GMU-AAUP expressed concerns with the company as early as Aug. 9 in a letter to the university's administration, where they called for fully virtual instruction in the fall. 
"We have been hearing multiple reports from students indicating a confused and haphazard process," the letter said. "Some students apparently received tests with no instructions, while others received instructions with no tests."
The letter points out that Kallaco was created six months ago in New Orleans and identifies primarily as a computer programming company. It also says only one person in the firm appears to have a medical background.
GMU President Gregory Washington responded through a letter of his own, saying the school had already moved forward with testing a majority of students that planned to live on campus.
"Our rationale was never for Kallaco to be a litmus test for whether it was safe for our students to return," Washington stated. Instead, he said the goals were "to get a baseline of how many students...were indeed infected" and to "limit as much as possible any student with a known infection entering the campus."
In an email to GMU-AAUP, the FDA stated that the test kit administered by Kallaco, the "TaqPath COVID-19 Combo Kit" from Thermo Fisher Scientific, is not authorized for at-home testing. CDC guidelines require this type of test to be administered by a healthcare provider in order to be considered valid.
"Students have now gotten a test result that may be inaccurate," President of GMU-AAUP Bethany Letiecq said. "And if you get a negative test result, you might feel more confident that you are negative and are perhaps less likely to social distance or less careful about wearing a mask."
According to Tim Gibson, Secretary of GMU-AAUP, Hampden-Sydney College also has been using the same testing kits. 
"But they used it in a way that was FDA approved," Gibson said. He says they are being administered by healthcare professionals, not students themselves.
Faculty members from GMU, as well as from VCU, reached out to the Virginia Department of Health on Aug. 20 requesting a VDH investigation into Kallaco.
"It seems odd to us that this young IT company, which has been awarded sole source state contracts with a potential value of over $4 million, has been entrusted with the critical COVID-19 testing for up to 28,500 students at our universities," the letter to VDH said.
GMU signed a sole source one-year contract with Kallaco -- with potential to be renewed for two more years -- for a total of $156,670. This amount includes a base fee of $25,000 for "standard implementation services," plus $131,670 in "software licensing fees" of about $30 per student for 4,500 students.
The sole source agreement states that the university could also pay up to an additional $490,500 "as-needed for testing."
The document also mentions GMU "pursued several options" for test providers, such as One Medical, LabCorp, Quest Diagnostics and Vault Diagnostics. The school ultimately decided on Kallaco because it offered "a comprehensive and timely solution" and a "lower cost than One Medical."
The agreement says Kallaco's services were between $200,000 and $300,000 cheaper than those offered by One Medical.
"It really looks like they're putting profit and a financial gain over the well being of their students," GMU Senior Cassidy Pollard told the Fairfax County Times.
The Saturday before GMU's first day of classes, Washington sent out a letter to students to address their concerns. He said the at-home testing kits were an extra "precautionary protocol" in the university's "safe return to campus" plan, and called some allegations about the Kallaco test kits "inaccurate and incomplete."
"Faculty have questioned the validity of home-collection kits, citing that these tests are not FDA-approved for "home use." Correctly, they are not," Washington said. "But that is not what we are using them for. These kits do not contain the capacity to produce results, only to allow for specimen collection."
But Gibson says the services Kallaco delivered seemed like more than just specimen collection. Students were required to produce a negative test, based on those specimens, to be allowed into their dormitory buildings on campus.
"That's not just collecting specimens," Gibson said. "That is acting on the information that those specimens provide. If the sample collection of the specimens is irretrievably flawed, the information cannot be reliable or considered valid."
The Fairfax County Times reached out to the GMU administration for further comment and did not hear back before the publication of this article. [1] 
Gibson said that GMU-AAUP plans to request a full internal investigation into the process through which Kallaco was selected as the testing contractor.