The hunt for a Democratic presidential nominee is getting heated, as the Feb. 3 Iowa caucus officially kicked off five months of voting around the country, leading up to the Democratic National Convention in Milwaukee, Wis., in July.
While the caucus outcome remained uncertain days later due to inconsistencies and technical issues that delayed the results reporting, the citizens who gathered at nearly 1,700 caucus sites around Iowa offered the first concrete glimpse of voters' actual thoughts on the 11 candidates vying for the Democratic Party's nomination after months of polls, debates, campaigning and speculation.
Virginia is one of 15 jurisdictions scheduled to host a primary on Super Tuesday, which falls on Mar. 3 this year. Absentee voting has been ongoing since Jan. 17, and the deadline for registering to vote is approaching on Feb. 10.
The Fairfax County Times has been preparing for Virginia's primary by publishing profiles on each of the Democratic candidates, first highlighting Colorado Sen. Michael Bennet and former Vice President Joe Biden, followed by former mayors Mike Bloomberg and Pete Buttigieg.
Going in alphabetical order by last name, Hawaii Rep. Tulsi Gabbard and Minnesota Sen. Amy Klobuchar are up next.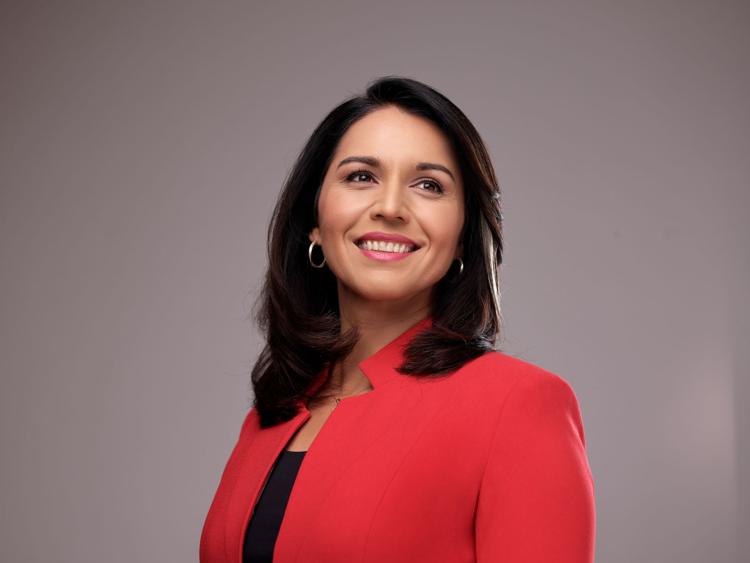 Tulsi Gabbard
Since launching her campaign for president on Feb. 2, 2019, Gabbard has emphasized her record of military service as she pledges to end deployments of American troops to fight wars overseas and to shift the country's foreign policy away from foreign intervention and conflict.
Born on Tutuila Island in American Samoa as the fourth of five children, Gabbard grew up in an interfaith, interracial family with a father raised in the Deep South and a mother who was born in Indiana and raised in Michigan.
The son of a U.S. Air Force sergeant, Gabbard's father works in the Catholic Church as a lector. Her mother grew up Methodist but later converted to Hinduism, according to her campaign biography.
When she was 2, Gabbard's family moved to Hawaii, where she learned to surf and gained an appreciation for service and the environment.
She co-founded the Healthy Hawaii Coalition, a nonprofit dedicated to environmental protection and community health, when she was 19, and at 21, she became the youngest person ever to serve in the state legislature when she was elected to the Hawaii State House of Representatives in 2002.
A year later, she enlisted in the Hawaii Army National Guard, and in 2004, she opted to join the 29th Brigade Combat Team's deployment to Iraq instead of seeking reelection, even though she was not included on the mandatory deployment roster.
Gabbard ultimately had two tours of duty in the Middle East. For her first tour, she worked as a field medical unit specialist for a year in Iraq, and she voluntarily deployed again in 2009 to lead a platoon on security missions and serve as a primary trainer for the Kuwait National Guard.
Gabbard continued her political career between her military tours, becoming a legislative aide to Sen. Daniel Akaka (D-Hawaii), and she was elected to the Honolulu City Council in 2010 after returning from Kuwait.
When she was elected to represent Hawaii's 2nd District in 2012, Gabbard became the first Hindu member of Congress, and she joined Sen. Tammy Duckworth (D-Ill.), who at that time became the representative for Illinois' 8th District, as the first two female combat veterans to serve in Congress.
Over the course of her four terms in Congress, Gabbard has maintained a non-confrontational stance on foreign policy that has sometimes put her at odds with both Republicans and other Democrats.
Currently a member of the House Armed Services Committee and the House Financial Services Committee, Gabbard raised eyebrows in January 2017 when she traveled to Damascus and met with Syrian President Bashar al-Assad despite the U.S. House's official stance condemning him for his regime's use of chemical weapons against civilians.
Gabbard was one of only three representatives to vote against a Mar. 14, 2016 resolution calling for the U.S. to document possible human rights violations in Syria to support future prosecutions for war crimes and crimes against humanity.
In response to criticism for her meeting with al-Assad, Gabbard has argued that it is necessary to meet with other world leaders, even adversaries, in order to achieve peace and security.
"Our current foreign policy is undermining our national security, depleting our resources, and exhausting our military," Gabbard said in her presidential campaign launch speech. "As your commander-in-chief, I will work to end the new cold war, and lead us away from the abyss of a nuclear war that could destroy our world in mere minutes. I will build partnerships with other nations based on shared interests, leading with a foreign policy based not on conflict but on cooperation."
Gabbard was also the only member of the House of Representatives to vote "present" on articles of impeachment charging President Donald Trump with abuse of power and obstruction of Congress on Dec. 18.
Gabbard's willingness to break from other Democrats has made her a target of suspicions from her opponents and some party leaders.
Former U.S. Secretary of State Hillary Clinton, who was the Democratic presidential nominee in 2016, implied in a podcast conversation with former President Barack Obama's 2008 campaign manager David Plouffe on Oct. 17, 2019 that Gabbard was being groomed as a potential spoiler third-party candidate not only by Republicans, but also by Russian agents.
Gabbard responded with a defamation lawsuit filed in the U.S. District Court for the Southern District of New York on Jan. 22, arguing that the comments were retribution for her endorsement of Vermont Sen. Bernie Sanders, who rivaled Clinton for the Democratic nomination in 2016.
"Clinton had no basis for making her false assertions about Tulsi," the complaint says. "Clinton's peddling of this theory has harmed Tulsi, has harmed American voters, and has harmed American democracy."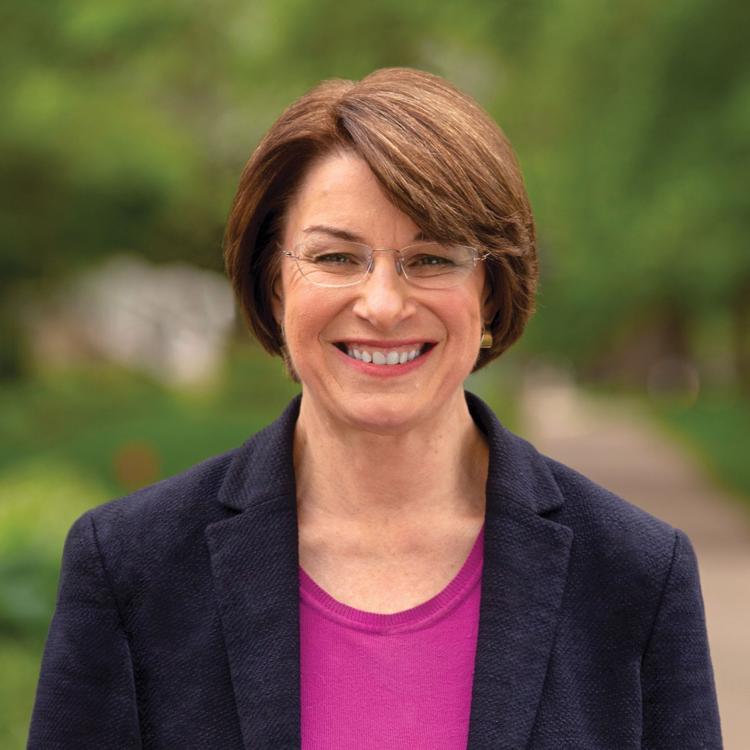 Amy Klobuchar
Where Gabbard has leaned into her military and foreign affairs experience, Sen. Amy Klobuchar (D-Minn.) touts her background and values as a native Minnesotan in an effort to appeal to Midwestern voters looking for a more moderate alternative to progressive frontrunners Sanders and Sen. Elizabeth Warren (D-Mass.).
Born in Plymouth, Minn., Klobuchar is the older daughter of an elementary school teacher and a Star Tribune columnist who divorced when she was 15. After launching her presidential bid on Feb. 10, 2019, she shared with the same Star Tribune, which used to employ her father, how his alcoholism affected her life.
For Klobuchar, being discharged from the hospital 24 hours after giving birth to her daughter, who was sick and put in intensive care, further cemented healthcare as a top priority.
In addition to supporting a public option for residents to buy into a state Medicaid plan as a path to universal healthcare, Klobuchar unveiled a plan to combat substance use disorder and support mental health services on May 3, 2019.
Proposals in her $100 billion plan include nationwide campaigns for drug use prevention and early intervention as well as suicide prevention and mental health awareness, prescription drug monitoring and drug take-back programs to address opioid addiction, expanded coverage for mental health and substance use, and support for diversion to treatment over incarceration for people with substance use and mental health issues caught up in the criminal justice system.
Klobuchar says she would pay for the plan by holding opioid manufacturers responsible for their role in the ongoing opioid crisis.
"I believe everyone should have the same opportunity my dad had to be pursued by grace and get the treatment and help they need," Klobuchar said in a Star Tribune interview published on May 4, 2019.
A graduate of Yale University and the University of Chicago, where she got her law degree, Klobuchar turned to politics after her experience giving birth inspired her to advocate for a law that would guarantee 48-hour hospital stays for new mothers and their babies.
As head of the Hennepin County Attorney's Office, the largest prosecutor's office in Minnesota for eight years, Klobuchar prioritized prosecutions of violent and career criminals and placed an increased focus on white-collar crime. She led a successful effort to pass Minnesota's first law making driving while under the influence a felony, according to her Senate biography.
Klobuchar became the first woman to represent Minnesota in the U.S. Senate in the state's history when she was elected in 2006.
Positioning herself as pragmatic and willing to work across parties, Klobuchar has emphasized healthcare and infrastructure throughout her three terms in Congress, which have also included legislation to end human trafficking, lift the trade embargo with Cuba and boost funding for science, technology, engineering and math education.
Klobuchar currently chairs the Senate Democratic steering and outreach committee and serves as the ranking member of the Senate Rules Committee. She also serves on the judiciary committee, the joint economic committee, the commerce, science, and transportation committee, and the agriculture, nutrition, and forestry committee.
On June 18, 2019, Klobuchar's campaign released an outline of 100 actions she plans to take in her first 100 days in office if elected president, starting with returning to the Paris Agreement to tackle climate change.
The list includes reviewing corporate mergers and increasing funding for antitrust enforcement, raising the minimum wage for federal contractors to $15, starting negotiations for comprehensive immigration reform with the goal of passing legislation in her first year, and bringing internet to every household by 2022.
Klobuchar is popular in her home state, where she most recently won reelection in 2018 with 60 percent of the vote, but she has come under scrutiny for her personal conduct after several media outlets, including Buzzfeed and The New York Times, reported in February 2019 that she creates a hostile work environment for her staff.
The Minnesotan senator allowed in a CNN interview on Mar. 14, 2019 that "one can always do better."
"If you are a boss, you have to have high standards, and that is what I have always had," Klobuchar said. "…I've had high standards for myself, high standards for our staff and mostly I'm going to have high standards for the country."
More recently, an Associated Press report published on Feb. 1 cast doubts on the outcome of a high-profile murder conviction that Klobuchar oversaw as Hennepin County attorney.
The AP found that a black teenager named Myon Burrell was convicted of killing an 11-year-old girl with a stray bullet and sentenced to life in prison by Klobuchar's office in 2002, despite a lack of evidence connecting him to the scene and gaps in the police investigation.
Though some snitches used by police for testimony have recanted and two other defendants in the case have confessed, saying he was not involved, the now-33-year-old Burrell has been tried and convicted of the murder twice, the second time after Klobuchar left the prosecutor's office, but he has maintained his innocence.
Civil rights activists and black community leaders in Minneapolis have urged Klobuchar to suspend her presidential campaign in light of the new questions surrounding the case, according to the Star Tribune.
Klobuchar told Fox News on Feb. 2 that she would be open to reexamining the case, noting that at the time, her office felt an urgency to find justice for the young victim, who was also African American.
"If there is new evidence, it must come forward, and it must be considered immediately by the courts," Klobuchar said.