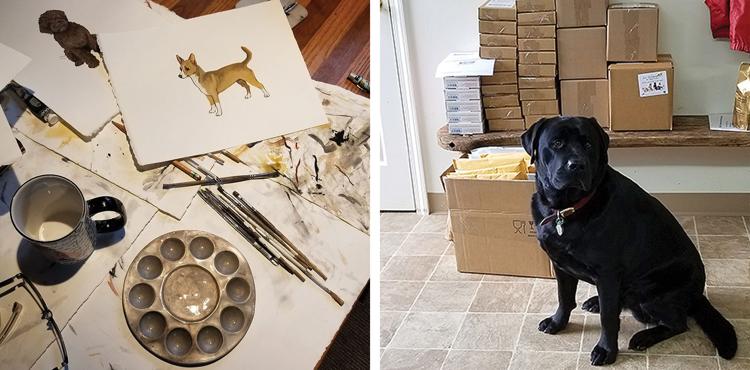 Pawlease note: We are not affiliated with Zeppa Studios. I receive no profits from their sales. Barkingly, I have not been given treats, money which as a dog I have no use for, nor delicious food to write about them. I simply like their products and support of dog rescue! Barks! 
WOOF! WOOF! Sunday, June 7 will be the Annual DogWalk and FunFest which benefits Lab Rescue's work rescuing Labrador Retrievers. Monies raised will assist with their Veterinary expenses. Barking, this year's event will be done virtually. If you would like to donate or learn more about the event, pawlease visit https://giving.lab-rescue.org/campaign/2020-virtual-dogwalk-and-funfest/c280327. It looks like they are getting to close to their goal of $200,000! Let's blow that away! WOOF! BARKS!
Barkingly, when I took a stroll through the Lab Rescue Virtual Marketplace, I found a pawsomely unique artist which I want to paw with you! It's Melissa K. Zeppa (M.K.) at Zeppa Studios (www.zeppastudios.com)! My human enjoys collecting realistic artistic designed products, especially coffee mugs- though Mom keeps asking him to clear the kitchen cabinet repeatedly- of Labrador Retrievers and Maine Coon Cats. Paws, the pawsome aspect of Zeppa Studios is the wide selection of dog breeds available on a variety of products for the home or office! WOOFS! 
M.K. of Zeppa Studios has been in the art of creating beautiful work featuring dogs, cats, and horses since 1989. While she doesn't consider herself a specific type of painter, she uses whatever paint requirements needed to get a project completed! WOOFS! Barkingly, she combines her painting skills with computer-aided technology to create pawsome work for the pet lover! Barks, she has a few with cats too. Depending on the product(s) you order, she will either scan the image onto the item or paint it directly on it.
Artfully and passionately designed, the personal touch doesn't get lost in her business either. She is willing to use the artwork of your pets and create products too. Paws, she accepts commissions to create a painting of your pet too.
Barks, the coolest part of Zeppa Studios is when you have questions about products, designs, or pawssibly creating a new design, you can contact the Lab Assistants who will get back to you with an answer! WOOFs! We Labs know best! Barks. 
Barkingly, an on-going portion of her sales is donated to Lab Rescue. WOOFs! To introduce you to Zeppa Studios, use the coupon 4LABS (15% off for shoppers and 20% to Lab Rescue) expires on June 14, 2020. 
Zeppa Studios is participating in the Lab Rescue Virtual Walk this year. To support their team pawlease visit https://giving.lab-rescue.org/fundraiser/2729403. 
To view products or contact Zeppa Studios, pawlease visit https://zeppastudios.com/! 
Pawlease meet a few Labrador friends looking for their "Forever Homes!" 
Duke, a Black Labrador Retriever prefers a rural or suburban single-family house with a fence.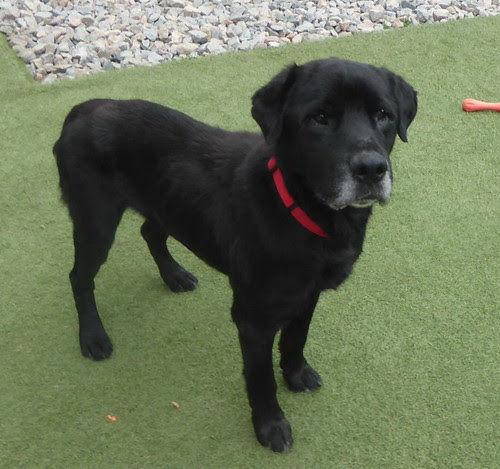 Duke, a debonair distinguished gentleman sporting a classy salt and pepper goatee with a silky jet-black coat is a pawsomely sweet, quiet, and gentle guy. He is a happy fella who isn't motivated by toys or balls but likes short walks. He is a talented escape artist who finds the vulnerabilities in backyard fencing. Good with dogs. No cats. A calm household would be pawfect! 
WOOFS! Clifford, a handsome Fox Red Labrador Retriever, prefers a rural or suburban single-family house with a fence! He is full of personality, loves being with his humans, being petted, retrieving, and playing keep away! He requires an active family who will provide the attention, training, and exercise he needs as walks will not be enough. Knows a few basic commands. Good with dogs, no cats.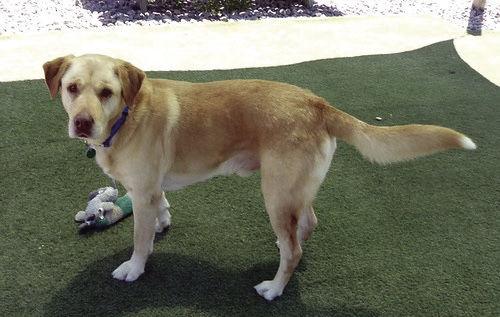 Guinness, a Black Labrador Retriever, prefers a rural or suburban single-family home with a fence! Barks, he is a pawsitively happy, lovable, and fun-loving guy who loves playing fetch! He loves his morning and evening walks. He knows some basic commands, is house- and crate-trained. He prefers female canine friends, so no male dogs in home. No cats.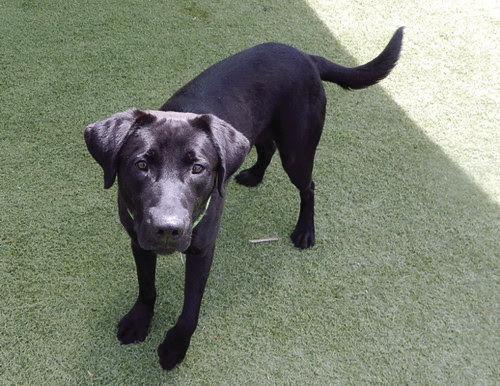 Due to his young age and energy levels, he has a Training Addendum with adoption. 
Lab Rescue of L.R.C.P., Inc. www.lab-rescue.org, (301) 299-6756, email info@lab-rescue.org.
About us! 
WOOF! MEOW! Do you enjoy our articles? Barks and purrs, pawlease follow us at www.fromthedogspaw.com by email! We paw about dog and cat adoption, humor, dog and cat adoption and facts about dogs and cats. Noah is Dog, Samson is Cat-in-Charge, to their human, Allen Pearson, Dog Photographer and Writer, www.allenpearsonphotography.com, www.allenpearsonphotographyjournal.com  www.facebook.com/AllenPearsonPhotography,  www.instagram.com/fromthedogspaw, www.facebook.com/fromthedogspaw.