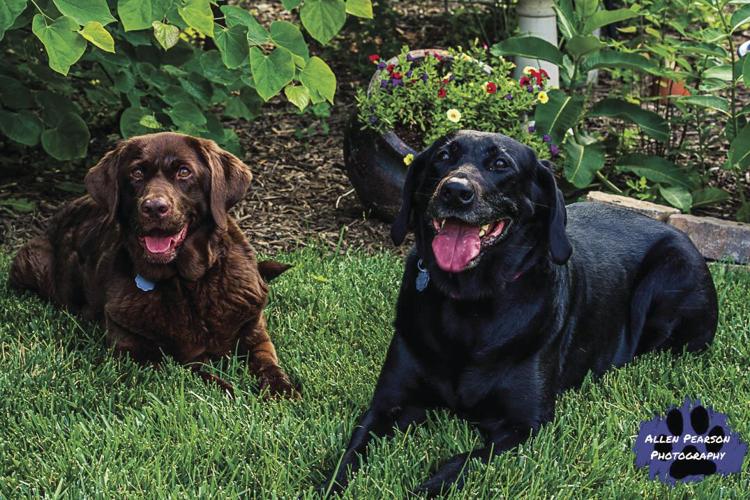 WOOF! BARKS! Five years ago, "from the Dog's Paw!" began freelance writing for the Fairfax County Times newspaper! We are thankful for this pawsome oppawtunity! With that, I thought it's time to share with you about us, "from The Dog's Paw" and "Allen Pearson Photography"!
WOOFS! Barks! Paws, a few years before I was adopted in 2009 by my pawsomely great humans, Dad started a photography business. He focuses on the simple beauty of nature. He spent several years sharing his pawsome artwork at pawlenty of outdoor art festivals and art exhibits. Then, I came along! WOOFS! I changed his life forever for the better in many ways!
After my adoption, he took 6 months off from his show schedule to train and get me acclimated to my new "Forever Home!" An art group he enjoyed pawticipating with moved its show from October to April. He had to pawticipate! Arf! Barks, during the show, he missed me incredibly! It was his last show! We began our journey together.
Barks, he soon began following his desire to photograph dogs and cats. Paws, recently Dad added railroad and church photography to his work. You can find his work at www.allenpearsonphotography.com. He sells products of his photography work and donates 10% of sales to a local dog/cat rescue.  Barkingly, he loves photographing for clients in Northern Virginia who want photographs of their dog or cats.
Paws, a special photography session called "Tributes Photography" was created several years ago after a colleague shared a dreadful experience with having her dogs photographed. The dog had a form of cancer that was on his face. Apparently. the photographer was very uncompassionate towards the dogs. The colleague later encouraged him to have a special photography session for dogs and cats with terminal diagnoses. Barkingly, the "Tributes Photography" session was created. Contact us through our website for more detail. Sessions limited to Northern Virginia.
After learning my human has quite a sense of humor, as I do, we created a blog at "www.fromthedogspaw.com" to share it. We began writing about our adventures, pet care, education tips, select dog/cat product reviews, and dog/cat cartoons. After my pawsome adoption experience, we began writing and photographing to assist other dogs and cats find "Forever Homes!" We began writing a weekly column "Friday's Friend" to share their photos and bios with rescue contact information. In 2018, Samson, my pawsome cat brother, joined us to handle cat writing and reviews! Pawlease follow us at www.fromthedogspaw.com. Most of our writings will feature dogs and cats needing adoption.
WOOFS! A few years ago, my human started a photography journal where he shares his recent work and a few other thoughts along the way too. If you love his work like I do, WOOF!, you will find a page about purchasing products. To receive his posts, subscribe by email at www.allenpearsonphotographyjournal.com.
Paws, if you are interested in products other than prints of images, we have a Cafepress store at www.cafepress.com/AllenPearsonPhotography. If you are looking for a product with an image from www.allenpearsonphotography.com, pawlease contact us.
Paws, our privacy statement on our websites is very simple. We do not share your information. Barkingly, if you pawticipate with our affiliate marketing, the merchant may receive information you submit. Paws, we may receive monetary payment based on your purchases. 
Barks, meet a few friends looking for "Forever Homes!" 
Sadie is a super sweet 3-year-old Yellow Labrador Retriever who is good with cats and other dogs. She is easy-going and content with neighborhood/trail walks. Great on a leash, not into speed walking! She doesn't play, is a low-energy girl, enjoys care rides, and pawfect for someone wanting a low-key companion. She is epileptic with medication to control seizures.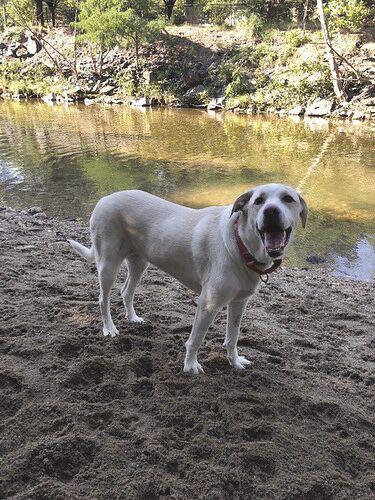 Sasha is an independent 7-year-old Yellow Labrador Retriever who is a pawsomely happy girl. She loves her humans or can entertain herself. A home quiet street with a fenced yard for zoomies and rolling around in the grass would be pawfect! She's treat-motivated, knows basic commands, walks well on a leash, enjoys car rides and walks.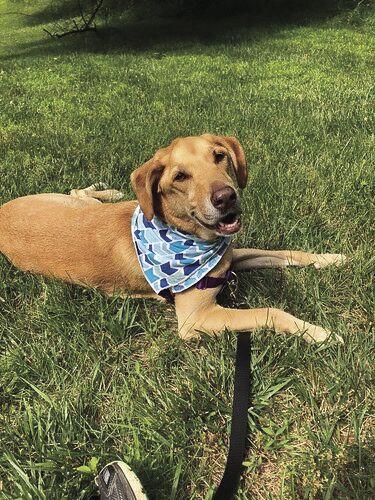 Lab Rescue of L.R.C.P., Inc. www.lab-rescue.org, call (301) 299-6756, email info@lab-rescue.org.
About us! 
WOOF! MEOW! Do you enjoy our articles? Barks and purrs, pawlease follow us at www.fromthedogspaw.com by email! We paw about dog/cat adoption, humor, their care and tips. Noah is Dog, Samson is Cat-in-Charge, to their human, Allen Pearson, Dog Photographer and Writer, www.allenpearsonphotography.com, www.allenpearsonphotographyjournal.com  www.facebook.com/AllenPearsonPhotography,  www.instagram.com/fromthedogspaw, www.facebook.com/fromthedogspaw.