This week, I am interviewing a pawsome lady, Sandy McCollum, a volunteer foster with Mid-Atlantic Great Dane Rescue League (MAGDRL).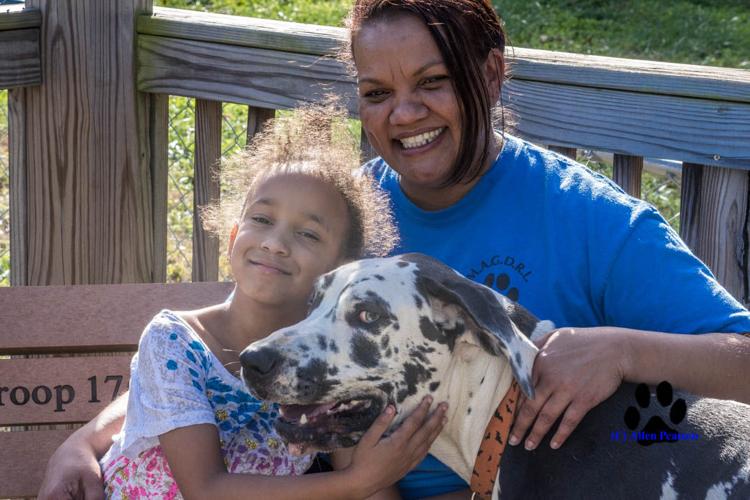 Sandy, pawlease share about yourself! "I retired from the Army in 2016 after almost 21 years of service. I have a passion for assisting animals and it resonates with my children as well. We have been actively participating in animal rescue for 10 years. Once we moved to Virginia, we adopted a Boxer and began our journey of fostering and other volunteer services.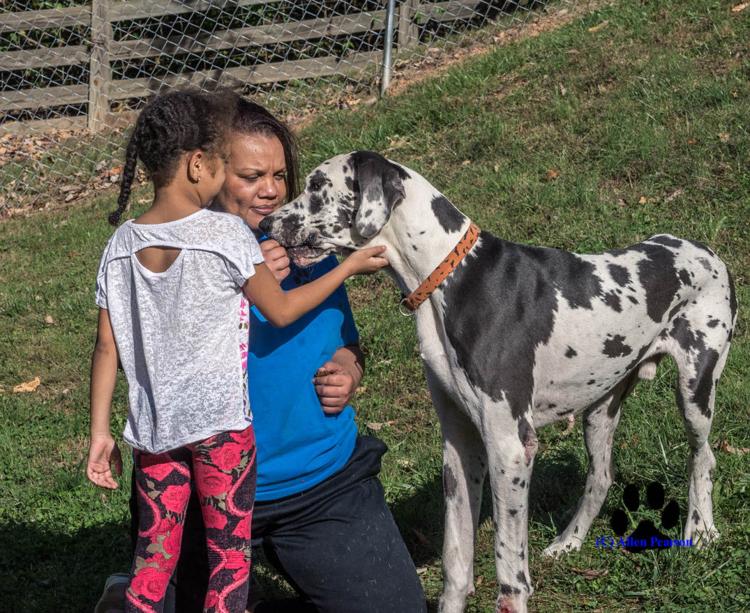 What got you into fostering Great Danes? Why Great Danes? "I was fostering for another organization and didn't want 'ankle biters' as with a young child, sometimes the smaller dogs get 'yippie.' The rescue loved me because most of their fosters wanted little ones and I was one of few who selected only large dogs (above 70lbs). I fostered several large dogs… Goldens, a Newfoundland (which I loved except for the grooming), Shepherds, a couple large Pit bulls and then came a Great Dane. He was a mix but a Great Dane all the same. I wanted to adopt him after two days in our home. The temperament, affection level, need for human contact, lack of excessive barking, tilt of his head when I scratched his head... the list goes on and on. I asked about adoption and they told me no because I was active duty military and they feared him being surrendered back should I move. Well that didn't sit well with me. We agreed to part ways. As a result of my Facebook groups (dog rescue site), I saw a post for a Dane named Aries. I contacted the rescue and spoke with Heidi Mirro. The conversation lasted almost an hour and even though I wasn't a good fit for Aries (daughter was too young) my love for this rescue and the respect volunteers had for both sides of the leash made it a no-brainer. MAGDRL was the place I would call home. I submitted my application, went through the foster approval process, and waited for a Dane. Soon, a post asks for a temporary foster for Hershey... I took her for three weeks which turned into a 'Foster Fail' (She adopted Hershey!) and I have never looked back! I have solely fostered Great Danes, having as many as five dogs in the house at a time. I am a VA Matchmaker, I do home checks, phone interviews, Dane evaluations and assist with anything else. It's rewarding (and challenging) and a piece of my heart goes out with each foster that finds their forever home."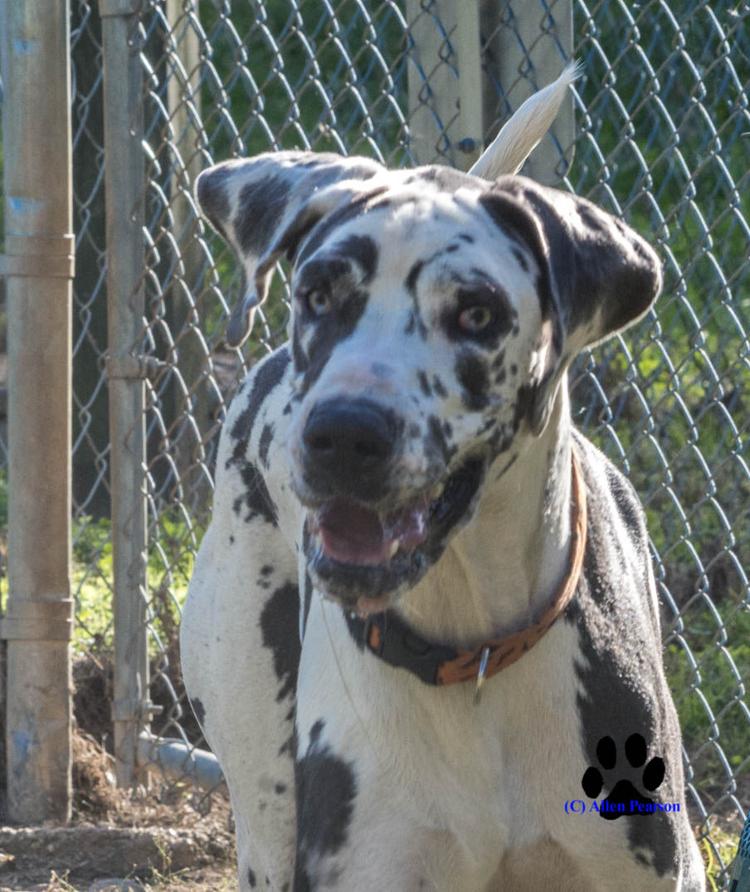 What is the funniest thing to ever happen to you while fostering? "One night I kept hearing noises coming from the kitchen. I was yelling at my teenage son, thinking he was getting yet another meal – parents of teenage boys can understand that! No response. I walk into the kitchen to find an entire pot of spaghetti that was left on the stove after dinner empty and that was not the noise. The noise was my sweet Hershey helping herself to ice out of the ice maker. She stood there with red lips (as she is a Harlequin so it really showed up on the white parts of her face) and gave me the look of 'Oh no I just got caught!' It was so funny I literally stood there for a moment with my mouth open and then busted out laughing."
In your own words, why should humans adopt a dog? "I don't believe humans should adopt a dog... I believe humans should open their heart and allow the Dane to pick them! That is the only way the family is successful and that is our goal. Once a Dane is adopted, we never want to see them returned to the rescue so the adoption process and criteria to adopt cannot be waived. Danes (or any of your favorite breed) are members of the family. They wag their tail in excitement to see you, wake you up with a smile, give unconditional love and are a member of the family."
Is there anything I didn't ask that you'd like to share?
"We must all speak for those that have no voice. If you cannot foster then donate, transport, and volunteer. There are tons of rescues begging for assistance. Be a part of the solution!"
Mid-Atlantic Great Dane Rescue League
To volunteer or meet Harvey: www.magdrl.org, (703) 644-8009, email coordinators@va-magdrl.org.
About Me:
Noah is Pawthor of www.fromthedogspaw.com- A blog about dog/cat adoption, humor, dog adventures and facts about dogs and cats. He is Dog to his human, Allen Pearson, Dog Photographer and Writer, www.allenpearsonsphotos.com, www.facebook.com/AllenPearsonsPhotos, www.instagram.com/fromthedogspaw.