"Dear Cat, You probably think the world is coming to an end since your crazy humans have decided to introduce a dog to your household. Quit throwing a hissy fit and put those sharp claws to rest. Turn on your pawsome, purring motor and welcome the pawsome fella to your home. Signed by, Your New Dog."
Purr! WOOF! And a Meow or two, cats and dogs can get along in a household if they are properly introduced. WOOF! Barkingly, never, under any circumstances, allow the two to work it out on their own. WOOF! Or HISS!!! Even among the best dogs, like me, and cats, like my cat brother, this can be stressful beyond belief, as many dogs see cats as prey and cats see the dogs as attackers, and there you have it! WOOF! Not to mention what could happen to you and your beautiful home.
Meowingly, if you are adopting a dog from a shelter, rescue or private party, ask if the dog has been raised with a cat and how the experience was. Barkingly, if you already have a cat, it's wise to look for a dog who has experience with a cat and does not look at them as prey. WOOF!
WOOF! Be sure the dog has some basic skills on a leash and knows some basic commands like "sit," "stop," "down," and "leave it!" These steps are a must if you want to have control over the dog when introducing him or her to the cat.
Begin with slow introductions, never fast or a free-for-all, by placing the cat in a room where it will be safe and the dog cannot easily get to him. Barks, do not use a room frequented by the dog and use a child gate or barrier that allows them to see each other. Keep the dog leashed and under control as they see each other through the barrier, keeping an eye on their behaviors. Should this be too exciting for the dog, close the door, and distract the dog's attention with a toy or food. Feed the two on their side of the door to allow them to associate each other's scents with something good. Should there be no aggression after a few minutes of meeting, close the door and praise them verbally and with treats. Another idea is to switch bedding blankets so they can get used to each other's scents without any over-stimulation.
When I first met my cat brother, I was curious. I had never seen a creature with so much hair and that looked like a raccoon. He wasn't interested in me, and that's a cat for you. Barkingly, I was interested in meeting and playing, but the cat took off, so I couldn't. My humans worked to introduce us over a period of several days. When they were not around, I stayed in my crate and he was upstairs. Eventually, after slow, attentive and cautious introductions, my cat brother and I met. We became best friends often checking on each other after storms, loud noises and veterinarian visits.
Slow and repeated introductions allow the dog and the cat to get to know each other. Each has their own unique personality, which allows them to solve issues as they arise. WOOF!
It's pawssible that the dog and the cat will get along from the start. If so, be sure to praise each with treats. Under human supervision, allow the two to get to know each other. Keep the dog on a leash and be ready to grab it should there be any reaction.
Consult your veterinarian or a reputable dog trainer for further training. It's your responsibility to make sure each is safe with appropriate care.
My pawsome friend "Cat Lady" brought a few friends who are looking to be adopted.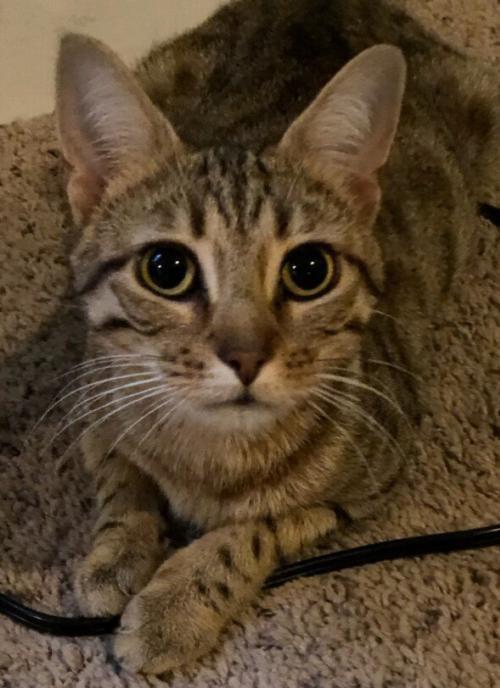 1-year-old exotic-looking Cairo, with her spotted coat and prominent cheekbones, has a pawsomely loud purr motor! She is meowingly friendly, loves attention and wants to be the center of your universe!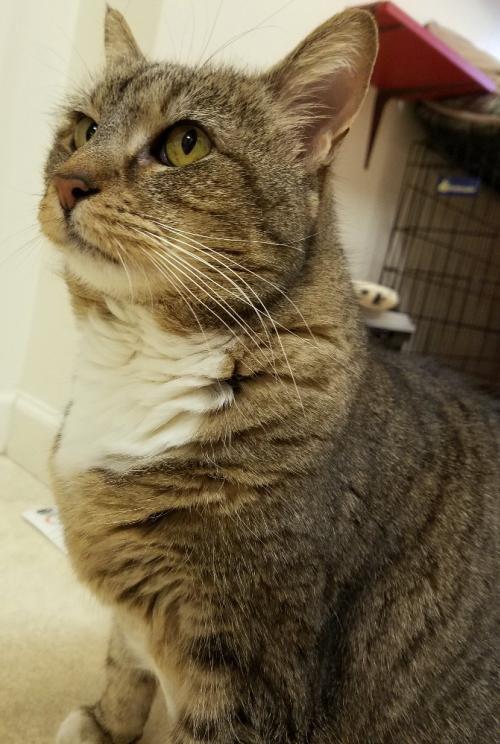 Maisy is happiest when she is sitting on her human's lap, curled up and purring away! She loves to play and is quite an acrobat when playing with her favorite wand toy! She is the perfect kitty for a human looking for a laid back, affectionate feline friend who likes to play occasionally. She needs a home without a dog.
PetConnect Rescue
http://www.petconnectrescue.org, email: info@petconnectrescue.org or call 1-877-838-9171
About Me:
Noah is Pawthor of www.fromthedogspaw.com- A blog about dog/cat adoption, humor, dog adventures and facts about dogs and cats. He is Dog to his human, Allen Pearson, Dog Photographer and Writer, www.allenpearsonsphotos.com, www.twitter.com/AllensPhotos www.facebook.com/AllenPearsonsPhotos, www.instagram.com/fromthedogspaw, www.facebook.com/fromthedogspaw, www.twitter.com/fromthedogspaw.