WOOF!! Barks, congratulations on getting a dog for Christmas! Having a dog in your life is a blessing and carries quite a bit of responsibility! BARKS, don't worry it's worth it! There are several things that every dog owner needs to do for their dogs.
Barkingly, your dog needs a license to be a dog! I know, it sounds silly, but it's true. I await the application at the end of December every year, hoping they do not forget that I want to be a dog for another year. Though I have a pawsome cat brother, and we get along great and I have two cat cousins who I love dearly too, I do not want to be a cat! They do a pawsomely meowing job in that role. I want to be a dog every second, minute, hour, day and year for the rest of my life. WOOF! I believe your dog feels the same way. It wants to be a dog too! WOOF! Barks. Dogs need to obtain a license by contacting this link: https://www.fairfaxcounty.gov/taxes/dog-license-information. The website will walk you through the procedures to obtain one.
Paws, to obtain a license, you will need proof of your dog's recent rabies vaccination. Barks, you should have received a rabies certificate when you received the dog. If not, contact them or visit a veterinarian.
WOOF! I love my dog ID collar with my contact information on it. Barks, and so do my humans, the police department and my neighbors! The ID collar has come in barkingly handy when I accidentally (OK, the scent was pretty pawsome) got out of the yard and found myself somewhere else. Paws, my ID collar has all my contact information except my email address, which I might have Dad add on the next one!
Last evening, my human was chatting with his friend Rich whose dog accidentally got loose. He went looking for the dog and quickly found him because a neighbor found the dog, took him to a Veterinarian and got the microchip scanned. Rich said he received phone calls and email alerting him to where his dog was. The microchip was by www.HomeAgain.com. Though microchips are pawsome, we do not recommend disregarding an ID collar and just using a microchip. Why? Paws, when a dog wandered into our garage with no ID collar, it took longer to find the owner who lived around the corner. If the dog had an ID collar, we could have taken the dog there.
Barkingly, a good dog training course is highly recommended. Though my human had several dogs before he adopted me, quite a bit of time had passed since he had last trained a dog. A few courses in obedience and learning about your dog will go quite a long way in helping you to bond with your new dog buddy. Barkingly, I had to take my human to several classes before I was able to get him trained well. WOOF! It worked well and we are inseparable too!
My friend Miss Sandy brought by a few friends who are looking for their "forever home!" and humans to love!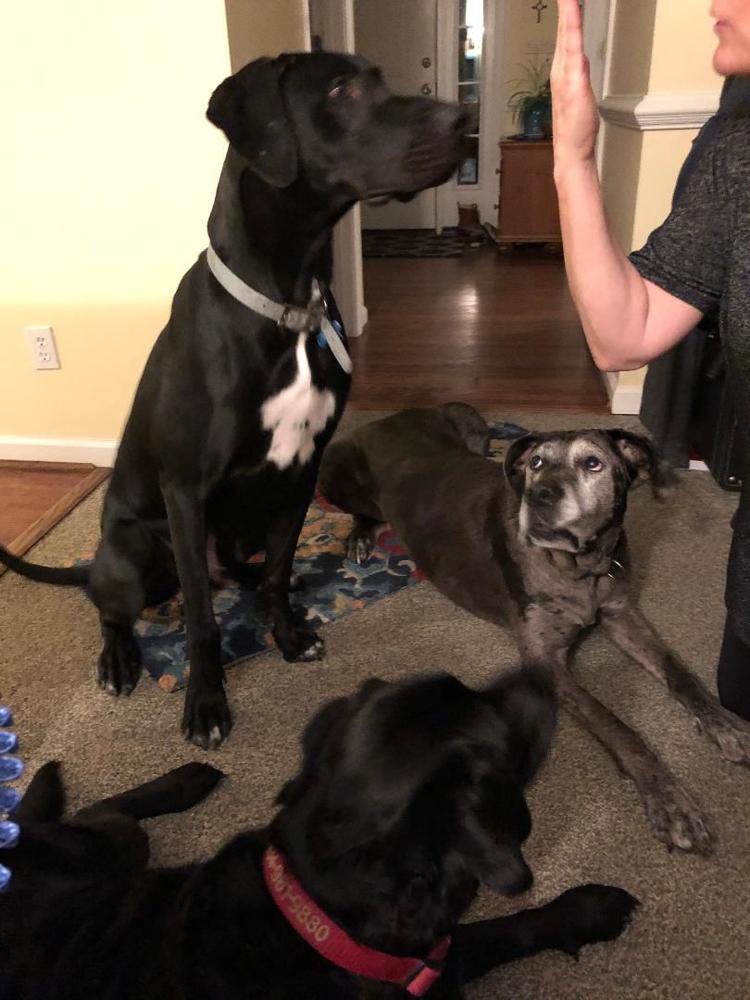 Duke is an approximately 1-year-old black Great Dane with natural ears and is full of puppy energy! He loves everyone he meets and loves playing! WOOF! He is house- and crate-trained. He is working on his house manners with his foster's Great Dane! Barkingly, he is learning walking skills, too. He is not for a first-time large breed dog owner. Duke is good with dogs, cats and mini-humans ages 8 and older.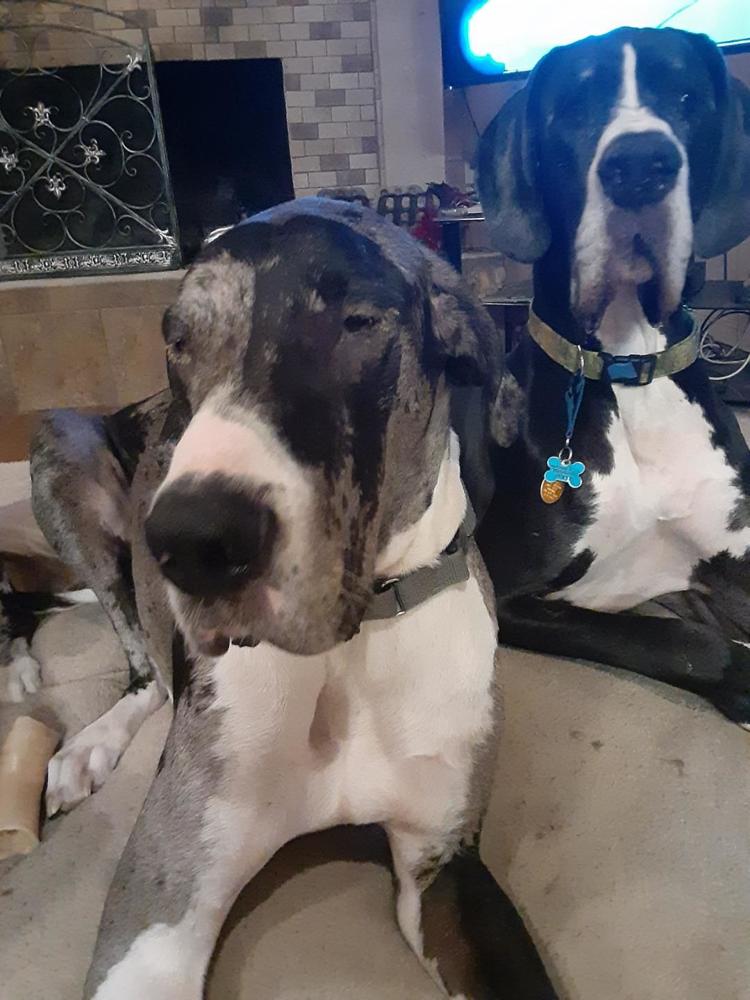 Bingo is an approximately 2-year-old mantle marked merle Great Dane and full of fun. Though he gets along with other dogs, he prefers to be with humans. He is a family dog! He is good with cats.
Bingo is very energetic and will need a firm hand. Giant breed experience required. He does not jump but could accidentally knock down mini-humans! He is learning basic manners and is house- and crate-trained. He is a quick learner!
Mid-Atlantic Great Dane Rescue League www.magdrl.org, 703-644-8009 is a hotline where you can leave a message or email coordinators@va-magdrl.org.
About us!
WOOF! MEOW! Do you enjoy our articles? Barks and purrs, pawlease follow us at www.fromthedogspaw.com by email! We paw about dog and cat adoption, humor, dog and cat adoption and facts about dogs and cats. Noah is Dog, Samson is Cat-in-Charge, to their human, Allen Pearson, Dog Photographer and Writer, www.allenpearsonphotography.com, www.allenpearsonphotographyjournal.com www.facebook.com/AllenPearsonPhotography, www.instagram.com/fromthedogspaw, www.facebook.com/fromthedogspaw.