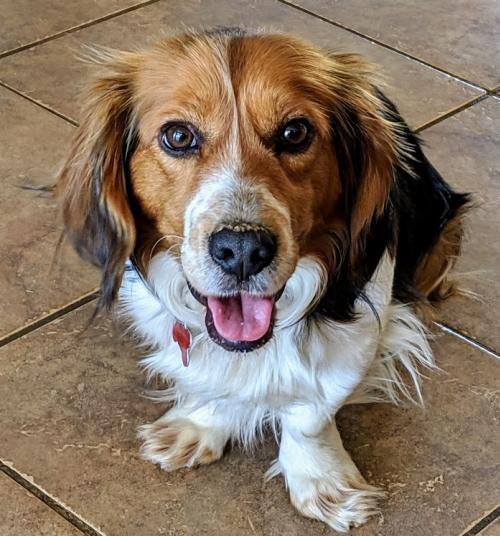 WOOF! Attention all pawsome dogs who read my stories each week! Yes, we dogs are pawsome and so are most of the humans we own! Barkingly, it's come to my attention that some humans are not doing their responsibilities responsibly. I know that it can be difficult to train a human so here are a few reminders.
Barks, your humans must make certain that you, as a dog, have a current ID and rabies tags on your collar and a microchip. Paws, to some, the microchip is enough; I recommend having the ID collar too since it provides quick identification to where your humans live, which could provide a quicker safe return.
Last summer, a chocolate Labrador retriever wandered into our garage. He had no ID collar or rabies tag. Without them, I had to be kept away so I would not have any issues, which made it difficult to find the human and to control us. Barkingly, he and I could have had a blast playing in the backyard if we'd known about his shots! If we had known the dog belonged to a neighbor around the corner, we would have taken him there.
WOOF! Humans should know their dog's temperament! How do they react around other dogs? Are they friendly? Do they want to dominate the dog world? Once the temperament is understood, the human needs to learn skills to control the dog during the walk. For me, I'm an easy going guy and usually politely meet other dogs and keep going. Paws, sometimes my human likes to have me step off the walkway, sit and wait for the other dog to go by.
Barks, tell your humans to put the device down, in the pocket, or leave it at home! This is your time. To create bonding moments, it needs to be you and your human. WOOF! When walking you, the human should be alert to what is coming down the path! Barkingly, like with mini-humans, it's hard to pay attention and keep control if their heads are buried in their devices. Your human should be prepared to make necessary adjustments in your walk should it become necessary, which requires attention. Barks, aren't we deserving of one-to-one time while walking? WOOF!
Pick up the poop! Seems there are quite a few humans who are not picking up the gifts their dogs produce in public areas like subdivision common areas, local parks and even private yards! WOOF! Barkingly, I've noticed it has gotten to be really gross! Paws, we dogs cannot pick it up so we rely on our humans. When they don't, it causes quite a few health, safety and grossness concerns. Pawlease instruct them to pick it up! Barkingly, it causes other humans to dislike us dogs too- and, it's not our fault!
When you are being walked and you see another dog has stopped to create a "gift," or maybe their human has started to pick up the project, how about stopping and giving them a minute to finish? Dogs are distracted by other dogs and it wouldn't be good if your human fell while trying to pick up your "gift."
Barkingly, veterinary care is of utmost impawtance! The human should take you to the veterinarian for an examination, vaccinations, and preventatives. The veterinarian will provide advice about your care and keeping you happy. Building a good rapport with your veterinarian is a pawsitive experience for all involved.
Barks! Grooming is impawtent too! A regular trip to the groomer keeps you looking great! I love going to see Abel Grooming near Warrenton to get all spiffy and presentable to other humans!
My friends from PetConnect Rescue have two friends for you to meet!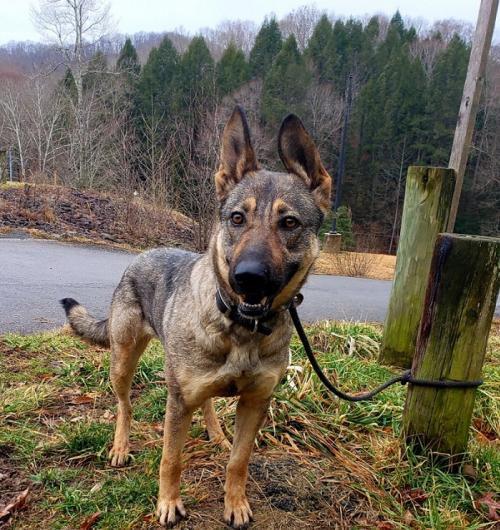 Chloe is a beautiful, sweet 1.5-year-old German shepherd mix who is shy initially, but warms up quickly. She loves her humans and is pawsome with other dogs! She has been pawsome with older mini-humans, but is not approved for mini-humans under 10-years-old. She is extremely smart, so she needs an adopter who will commit to training. She wants an active family who she can accompany on their adventures! House- and crate-trained.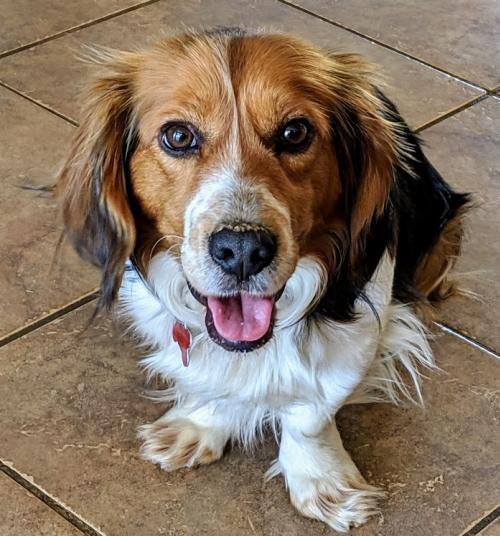 Meet the cutest, sweetest 3-year-old spaniel/beagle mix named Milo! He is sweet as sugar! He plays well with other dogs and humans of all ages. He's the pawfect size for cuddling!
Contact PetConnect Rescue http://www.petconnectrescue.org, email: info@petconnectrescue.org or call 1-877-838-9171
About Me:
Noah writes about dog/cat adoption, humor, dog adventures and facts about dogs and cats at
www.fromthedogspaw.com. He is Dog to his human, Allen Pearson, Dog Photographer and Writer, www.allenpearsonphotography.com, www.allenpearsonphotographyjournal.com www.facebook.com/AllenPearsonPhotography, www.instagram.com/fromthedogspaw, www.facebook.com/fromthedogspaw.