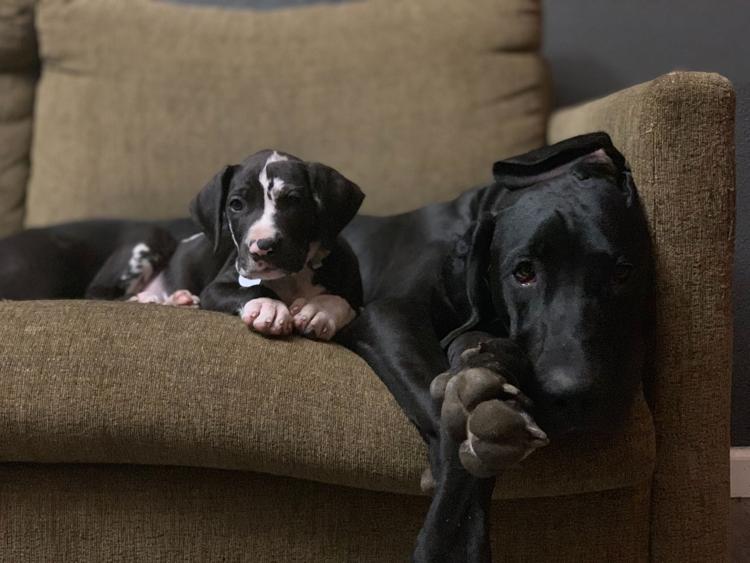 WOOF! Barks! Samson and I have our humans home quite a bit even without the quarantine. I know Samson, my cat brother, is anxious for Dad to go swimming so he can have a few hours of peace. Me? I'm good. I love taking Dad on longer and faster walks! Paws, it's great for us. Barkingly, I have a few dog pals whose humans are returning to the office which brings up some concerns!
Barkingly, since you have been home too many days to count, your dog has been relishing this pawsome oppawtunity having you around! Barks, it's grand for him because he loves your companionship and all the pawsomeness that you are! Barks, so it's pawssible your dog will experience anxiety at being home alone while you are working. Paws, think about it, here all day every day then gone all day the next and the next and so on. It is impawtant and pawssible to prepare for these challenges making it easier for everyone! WOOF!
Paws, as your schedule changes returning to work and your mini-humans to school, your dog will notice the changes too. Barkingly, your dog may show signs of stress, distress, or anxiety as these changes happen. Woofs, chewing on shoes, clothes, or furniture, excessive barking, doing "business" in the house, attempting to escape, and restlessness.  Woof, most of these can be attributed to the sudden changes in their daily routines.
Barking, with patience and some work there are pawingly easy ways to help your dog adjust. Think about your routine before work noting what you normally do to prepare to leave such as brush your teeth, shower, comb your hair, and dress in work clothes. Go through the routine and not leave the house a few times. Later, go through it again and leave the house for a few minutes. Barks. Stay out of the house longer allowing him to get used to you going out.
Paws, if the walking or feeding routines are going to change, begin making those changes too. Barks, begin taking shorter walks eventually eliminating mid-day trips or extra activities changing back to the previous routine. Woofs. If you have been taking your dog for long rides, you'll want to start cutting those back making them shorter too. Barks. 
A favorite toy of mine is a stuffed Kong! Barks, my humans fill it up with peanut butter and it keeps me distracted for a while. Providing one of these will help to ease the anxiety of your leaving the house for a while!
If your dog is used to the noise around the house, leave the television or music on all day. This will help make him feel less lonely and anxious. Woof, consider playing a DVD made for entertaining dogs or one of those pet cable TV channels. 
Woof, when you leave the house, paws, pawlease go quietly without long goodbyes or twenty-bazillion kisses and pets to your pawsome pups!  Just grab your stuff and go. My human gives me one of my favorite treats, says goodbye and leaves. I know he's leaving so I go curl up in his bed! WOOFs! If you leave quietly it will cause less anxiety or stress for your dog. 
WOOFS! BARKS! When you return home from work, make pawsitively certain that you give your pawsome dog attention and lovin's! A walk around the neighborhood is a great way to unwind from office stress and your dog will love it too. 
Woofs, if despite your best efforts, your dog doesn't seem to be able to adjust to the new schedule, consult with your Veterinarian or a dog trainer. Paws, consider a dog walker/sitter or doggie daycare.
Barks, meet a friend who is looking for her "Forever Home!"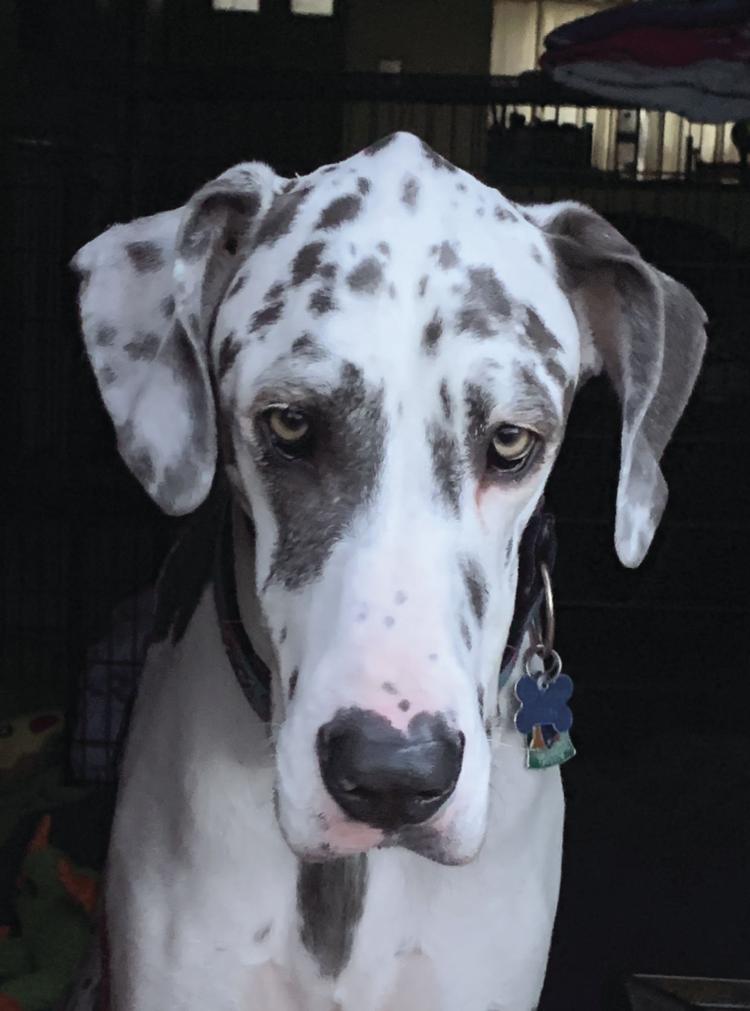 Chloe, a 3-year-old beautiful, very smart, Harlequin Dane enjoying life after her ACL surgery! She is energetic, loves playing with toys, being petted, cuddling, and going for walks. She is completely house- and crate-trained. Knows some basic commands! 
Chloe prefers a home with no dogs or cats. Due to her energy and playfulness, she's recommended for mini-humans ages 10 or older and no significantly older humans. She will have a training addendum with adoption.
Mid-Atlantic Great Dane Rescue League www.magdrl.org, call (703) 644-8009, email coordinators@va-magdrl.org.
About us! 
WOOF! MEOW! Do you enjoy our articles? Barks and purrs, pawlease follow us at www.fromthedogspaw.com by email! We paw about dog and cat adoption, humor, dog and cat adoption and facts about dogs and cats. Noah is Dog, Samson is Cat-in-Charge, to their human, Allen Pearson, Dog Photographer and Writer, www.allenpearsonphotography.com, www.allenpearsonphotographyjournal.com  www.facebook.com/AllenPearsonPhotography,  www.instagram.com/fromthedogspaw, www.facebook.com/fromthedogspaw.