Barks, We are affiliated with www.Kurgo.com and receive a small percentage of sales.
WOOF! With the Spring season comes being outdoors, even if the only outdoors is your backyard, it's a good idea to be prepared for emergencies! Barkingly, emergencies can happen with only seconds to react. Paws, being prepared helps alleviate stress and gives confidence in handling emergencies.
Paws, barkingly, an impawtent item to keep updated is your pet's collar ID and microchip! I highly recommend having an ID collar with your contact information and a microchip. Why? Paws, if your pets get lost a neighbor or friend, or barks, a nice policeman - like in my case, can easily identify your pet and bring them to you. Barks, include your dog's name with the last name, address, and phone number. Make sure it's easy to read without having to get close to your pet's face. 
Woofingly, my human maintains folders of impawtant information about me and my cat brother Samson. He includes copies of my rabies certificate, my vaccination medical history, recent photos, and a page of family member contacts listing everyone in the entire universe who could ever pawssibly help in any type of emergency and detailed information about me. Paws, the page barkingly includes every bit of descriptive detail of my incredibly handsome-self  Dad would ever need to share about me including color, weight, markings, weight, allergies, dietary care, familiar commands, behavior and peculiar habits, and any special instructions. WOOF!
A first aid kit and a class to educate you on the care of your pups in a variety of situations is pawsomely impawtent! My human and I took the online class "Dog CPR, First Aid+Safety for Pet Pros and Dedicated Owners" by Melanie Monteiro at www.udemy.com.  Barkingly, she includes a pawsome list of items for creating your own "Dog First Aid Kit!" Paws, or can order a "First Aid Kit" from www.kurgo.com who specializes in dog safety and travel. 
Woofs, my human keeps my medication in a specific area so that in an emergency he can grab and go. Barkingly, if you take your pet to an Emergency Veterinarian, you will need to share about your pet's medications. Keeping a list with you or having them handy to grab is best. Paws, I had to go for tests, not near our home. The Veterinarian instructed my humans to bring the medications with him. Always have them handy.  
Barkingly, purchase collapsible water and food bowls to keep with your pets First Aid Kit or handy to grab. These will come in pawsomely handy and easy to store or carry in an emergency. Keep a few bottles of water, treats, and food in sealable plastic bags too. 
Paws, when an emergency happens, often the humans are stressed which causes the pets to stress. As we don't always know or understand, keeping favorite toys, blankets, or any items provides comfort. These will aid in helping your pawed pal to relax. WOOFS! 
Barks, keeping a stash of towels and hand rags handy will aid in wrapping an injury. Paws, they are good for keeping your pet comfortable too. Barks!
Pawlease meet a few of my friends needing "Forever Homes!"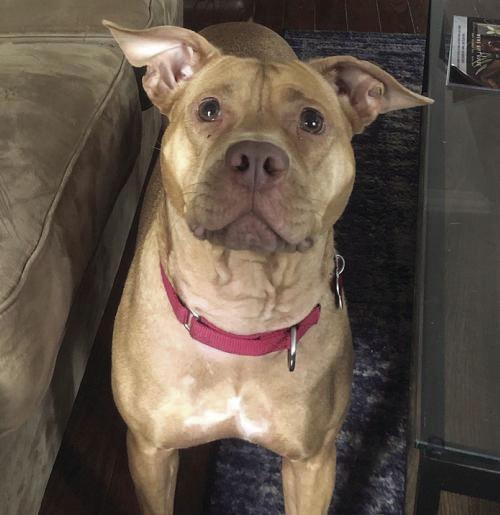 China is a 3-year-old petite, cute and cuddly Pit mix! She loves car rides, playing with toys, and snuggling! She loves humans of all ages but is picky about her canine friends. She is best suited to be your-one-and-only-dog-that-is or with an experienced dog owner! No cats in the home. 
She is house- and crate-trained, well-mannered, and needs a home with a fenced yard.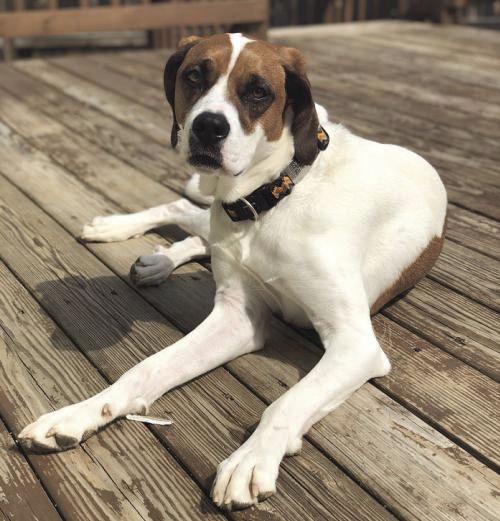 At 5-years-old, goofy and smart Goober, a Boxer/Hound mix LOVES humans! He enjoys walks, hikes, swimming, and cuddling with his humans. Needs a fenced yard. 
Barkingly, he prefers to be your-one-and-only-dog-that-is! Mini-humans ages 8 and older.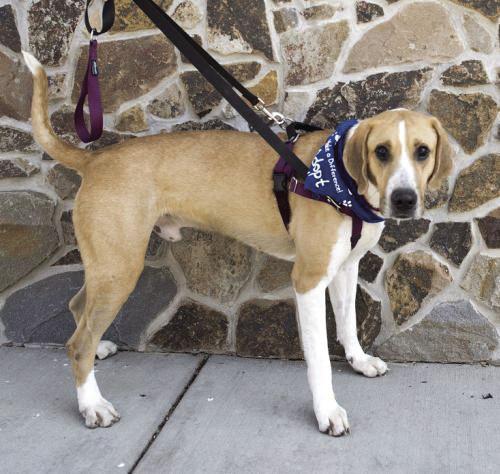 Skeeter, a 1-year-old Hound mix.  Though blind, he "sees" life's beauty with enthusiasm and zest. Barkingly, he prefers a home with older mini-humans. He has pawcellent house manners, house- and crate-trained, loves running, and playing! He needs a fenced yard!  
Barks, he needs another dog in his "Forever Home!" to help "show" him the ropes. 
Requires a patient adopter with an understanding of visually impaired dogs needs. 
PetConnect Rescue, www.petconnectrescue.org, email: info@petconnectrescue.org or  1-877-838-9171.
About us! 
WOOF! MEOW! Do you enjoy our articles? Barks and purrs, pawlease follow us at www.fromthedogspaw.com by email! We paw about dog and cat adoption, humor, dog and cat adoption and facts about dogs and cats. Noah is Dog, Samson is Cat-in-Charge, to their human, Allen Pearson, Dog Photographer and Writer, www.allenpearsonphotography.com, www.allenpearsonphotographyjournal.com  www.facebook.com/AllenPearsonPhotography,  www.instagram.com/fromthedogspaw, www.facebook.com/fromthedogspaw.