"Hey Samson, do you know what season this is?"
"Yes, Noah, it's the freezing cold, white stuff falls from the sky, everything closes, the mini-humans stay home from school and play in the white stuff... what is the white stuff?
"That's called snow. It happens every winter and it's fun to play in… it's a little early this year. But, no, it's the Thanksgiving season."
"Thanksgiving? What is that? My previous human didn't allow me to participate in family stuff, so I'm learning a lot from you."
"Samson, Thanksgiving is a season of the year set aside to remember to be thankful for the blessings we have in our lives. The Colonial Pilgrims set aside a day to be thankful for their harvest. Today, Americans still celebrate the holiday with tons of food, family, and football. Dad sometimes buys us turkey-flavored treats to celebrate. Mom has been known to 'accidentally' drop a piece of meat on the floor- so act surprised and go along with it."
"Meow, what does it mean to be thankful?"
"Barks, it means to thank God and family for the blessings of life. Paws, I am thankful for PetConnect Rescue (www.petconnectrescue.org) who rescued me from being a stray around 10 years ago, for my humans who give me a great place to sleep, delicious food, fresh water, blankies, pillows, toys, car rides, travels, pawlenty of good and fun times, cable TV, and all the music in our home! I am thankful for long walks with dad, which keep us both healthy."
"Meows, oh I get it, I am pawingly thankful for Saving Future Feral Cats (www.savingfutureferalcats.org) who came to my rescue when I was losing my home through no fault of my own! They gave me a place to stay, loved me, gave me delicious food and water and helped me to find my humans to love me and a 'forever home!' I am thankful for my mommy's lap that I climb into every night and stretch and get belly rubs and ear scratches. She is always there for my every 'meow' and 'purr!'I am thankful for my dad too -- though I am still a bit afraid of him, I know he is a good guy and has been so patient with me -- though he is a little weird! (WOOF! I know!) They give me delicious food and water, pawsome treats, allow me to sit by the window and watch the world go by, give me toys to play with - especially those wand toys. I am thankful for a backyard to watch every night.
WOOF! Samson and I are very thankful for the labor of love that humans put in every minute of the year rescuing thousands of dogs and cats who need humans to love. It's a challenging job and we're thankful to the humans who do it!
Barks! We are thankful for our pawsome readers who follow my column in this newspaper and at www.fromthedogspaw.com. (Meow! Oh, me too!) We enjoy making humans laugh and educating them about dog and cat adoption! BARKS! WOOF!
My friend "Lab Lady" from Lab Rescue brought a few friends for you to meet: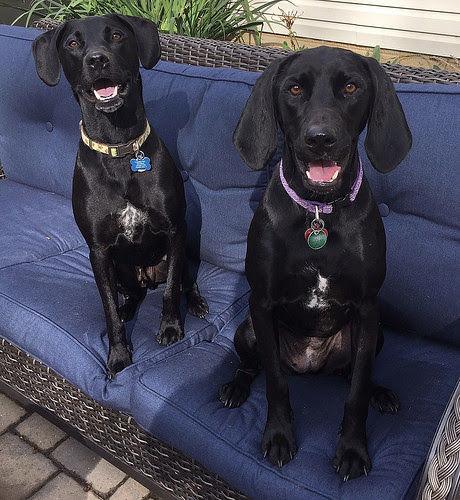 Ella and Otis love chasing each other, snuggling and hanging out together- they must be adopted -- together! These two are very intelligent, love car rides, know basic commands and love playing fetch. They need an adopter who will walk them or has a 6-foot fence! They aren't bothered by the foster's cat! Pawfect for the active family.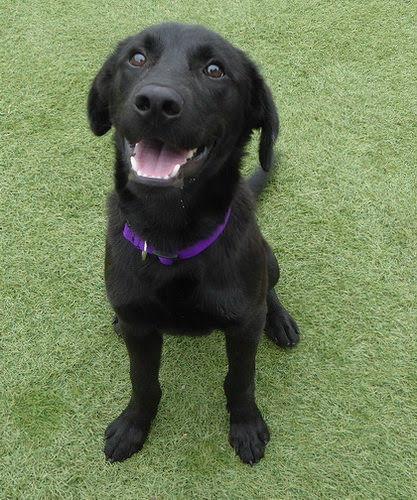 Gypsy is a handsome, smart, attentive, happy and playful fella who loves giving kisses and face licks! He is crate- and house-trained. He loves walks, learning commands and going for rides. He loves being with his humans. He wants an adopter who will continue his training and give him the exercise he needs!
Lab Rescue of L.R.C.P., Inc. www.lab-rescue.org; call the Lab Line: 301-299-6756 or email info@lab-rescue.org.
My friend "Cat Lady" from PetConnect Rescue brought friends for you to meet:
Bonnie and Clyde are bonded kittens who will steal your heart! Bonnie is social and will chat with you. She's peaceful and beautiful. Clyde loves playing with Bonnie. He is reserved. Both are purr machines! Must be adopted together. They are best in a home with older children or adults only, and no dogs.
PetConnect Rescue www.petconnectrescue.org, email: info@petconnectrescue.org or call 1-877-838-9171
About Me:
Noah writes about dog/cat adoption, humor, dog adventures and facts about dogs and cats at
www.fromthedogspaw.com. He is Dog to his human, Allen Pearson, Dog Photographer and Writer, www.allenpearsonsphotos.com, www.facebook.com/AllenPearsonsPhotos, www.instagram.com/fromthedogspaw, www.facebook.com/fromthedogspaw.