Woof!
Said with a shiver and shake with breath freezing in mid-air! It's cold outside; to a point of being very dangerous for dogs, cats and humans alike. Barks!
Back in 2009, I saw my first snowflakes! Dad got a laugh as I walked cautiously out of the garage where this white stuff falling freely from the sky! Strangest thing I'd ever! Barkingly, it was so cold too. I went outside to supervise humans shoveling snow when Dad noticed me shivering in the cold. Thus, began an event in my life which I loathe. It is truly embarrassing!
Since I am a short-hair dog, my coat doesn't keep me as warm as those of Husky's or the St. Bernards. So my humans bought me a coat. Of course, we tried a variety of styles which was embarrassing! Several times, I looked like the infamous "Mr. Rogers" and wanted to ask everyone "Won't you be my neighbor?" Finally, we found a coat designed like a horse's coat! It's stylin' and, keep this to yourself, I don't mind wearing it that much since it's makes me look quite dapper!
When winter comes around, my human brings out the winter coat so he'll see it during the cold days. He doesn't make me wear it every time it's cold outside as I do have an incredibly handsome fur coat of my own. He's determined the temperatures and conditions which really work best for me. Below 32, the coats coming on. Knowing your pets limits by learning about the breed and discussing with a Veterinarian is the safest way to enjoy the winter.
Not many humans think about the cold weather being dangerous for their pets. Winter weather temperatures can cause frostbite, hypothermia to any dog or cat left outside in pawfully cold weather. Many think their pets fur coats will keep them warm, it's simply not true. Like humans, animals have different levels of tolerance for the cold. A Husky or St. Bernard might tolerate the cold better than other dogs but that doesn't mean they should be left outside. Keep them inside!
In cold weather, shorten your dogs walks so they are not outside as long as usual. My human took forever to get ready to go for a walk, then could only walk me for 30 minutes! Barkingly, I have tons of energy and am really tired of this cold weather and not going out as often, so I got his attention to go out back and play too. We played a bit and came back in.
When you walk your dog, be alert for chemicals humans use to melt ice and snow on driveways and sidewalks. Some products can get in the dog's paws, between the toes, which they may lick off which could cause illness or death. My human uses "pet-safe" products so that's not a worry for anyone.
My friend "Lab Lady" from Lab Rescue has a few friends for you to meet!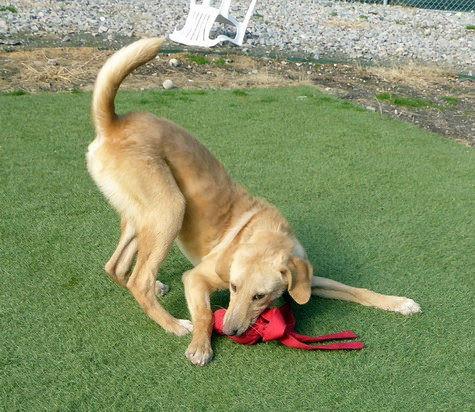 Meet Donner! A handsome 1-year-old Fox Red Labrador Retriever looking for a "Forever Home" in a rural or suburban single-family home. He needs a fence and wants a home with another dog.
This guy is a lot of fun! He still has a lot of puppy in him and is very loving. He wants to be with his humans and get attention. He is crate trained and knows some basic commands. He enjoys walks too. With his young age, he will have a train addendum with his adoption.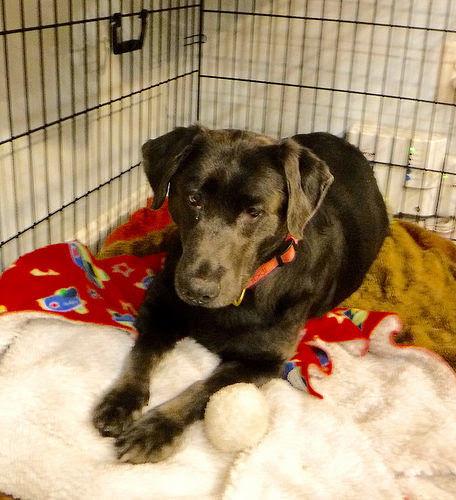 Ami is a stunningly beautiful 8-year-old Chocolate Labrador Retriever who wants a suburban or rural single-family home with a fence. She wants human(s) who will understand that she's still learning about living indoors!
Ami is a friendly, energetic and bouncy Labrador who is enjoys going for rides.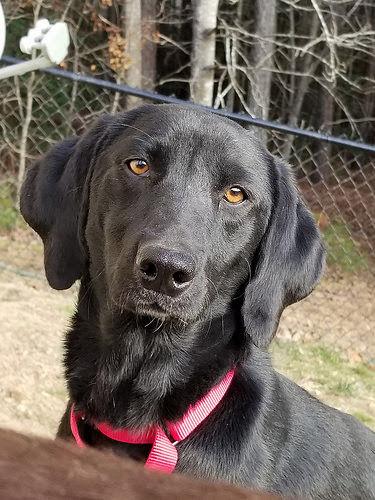 Jett is a low energy, sweet, and petite 1-year-old Black Labrador Retriever who is a bit timid. She is looking for a suburban or rural single-family home with a fence! She is crate and house trained and hasn't bothered anything that doesn't have "dog" on it.
Jett is cautious on a leash so her human will need to be patient as she explores and learns how fun walks are!
Donner, Ami and Jett are good with other dogs and recommended for mini-humans ages 10 and older. Jett is good with cats.
Contact Lab Rescue of L.R.C.P., Inc. www.lab-rescue.org, (301) 299-6756 or email info@lab-rescue.org.
About Me:
Noah is Pawthor of www.fromthedogspaw.com- A blog about dog/cat adoption, humor, dog adventures and facts about dogs and cats. He is Dog to his human, Allen Pearson, Dog Photographer and Writer, www.allenpearsonsphotos.com, www.twitter.com/AllensPhotos www.facebook.com/AllenPearsonsPhotos, www.instagram.com/fromthedogspaw.