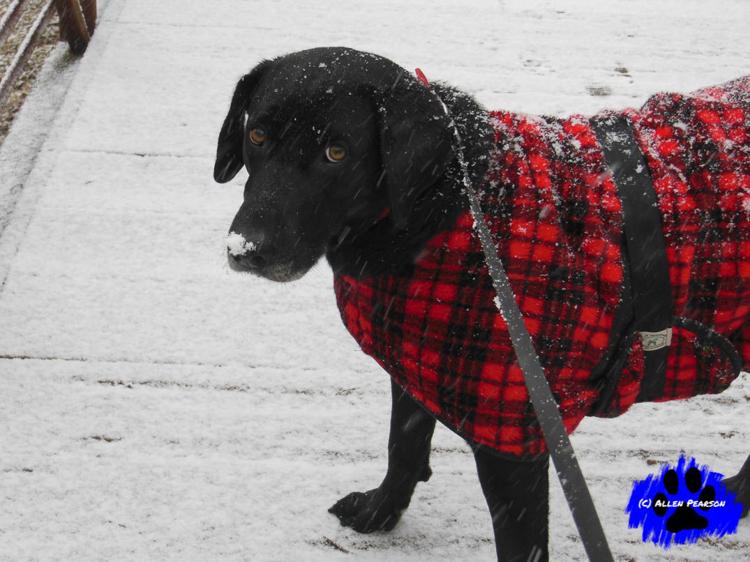 WOOF! Did you enjoy the snowstorm last weekend? WOOF!! I loved it! I like to get out and play in it throwing snow at my human. One year, I got tired of him throwing snowballs at me, so I knocked him over into the snow and covered him with it! BARKS!! It was so much fun when Mom came out and found Dad covered with snow! She left him there too! Barkingly, with cold weather, comes several dog safety items humans must pay attention.
WOOF! Though I look like a black Labrador and am incredibly handsome, I will say, I am mostly a Plott hound that has thinner coats than other dogs. When my humans adopted me, they learned during the snowstorms of 2010, that I get really cold when I am outside too long. I started shivering while supervising my human's snow shoveling work. Next thing I knew, he was buying me a sweater, then a pull-over and finally a nice winter coat, which I still wear when the temperatures get cold! I don't like it because I feel strange or look like a miniature horse! WOOF! But, it does the job!
Dog boots
Paws, there are products called dog boots. WOOF! Pawsonally, I find them really embarrassing and would not be seen outside in them for anything in the world! I would probably chew them off and I think that's why my human has not bought me a pair. Barkingly, the products are an excellent idea! These boots are designed to keep my paws from getting cold, getting chemicals all over my paws, which I might lick off, and they also protect me from getting ice between my toes. Basically, protect my paws!
When you shovel
Barks, speaking of walks, pawlease think about your dog and other dogs and their humans when you go out to shovel your walks and driveway. Some chemicals humans use are dangerous for pets and mini-humans. Why use anything that is considered dangerous? Pawlease use products like sand or ones created with safety in mind.
Bring your dog inside
Many humans seem to think that dogs place is outside, and not inside, even during the cold weather because they have fur coats and can handle the wintry weather. Barkingly, that isn't always accurate! WOOF! Some dogs, like me, have thin coats, while others have thicker coats. WOOF! A thicker coat doesn't always mean they can handle the cold. Bring your dog inside during the cold months. Give them a nice dog bed, or your bed is better, with a nice warm blankie, maybe warm it up in the clothes dryer, lots of the bestest treats money can buy, fresh water and a few of the newest and coolest toys on the market! They'll be warm and safe! WOOF!
The veterinarian
Barks! Be sure your dog has had a recent examination with the veterinarian. As always, you want to keep on top of any issues making sure they can play in the snow, ice and cold weather without any health issues. WOOF! Arthritic dogs may find it difficult to move around or play in the snow, so you do not want to pressure them into going out. WOOF! Know your dog's limits before going out in extreme weather conditions, whether cold or hot. WOOF!
Friends
My pawsome friend "Miss Sherry" from the Advocates for Abused and Abandoned Pets (A3P) brought dogs looking for "forever homes!"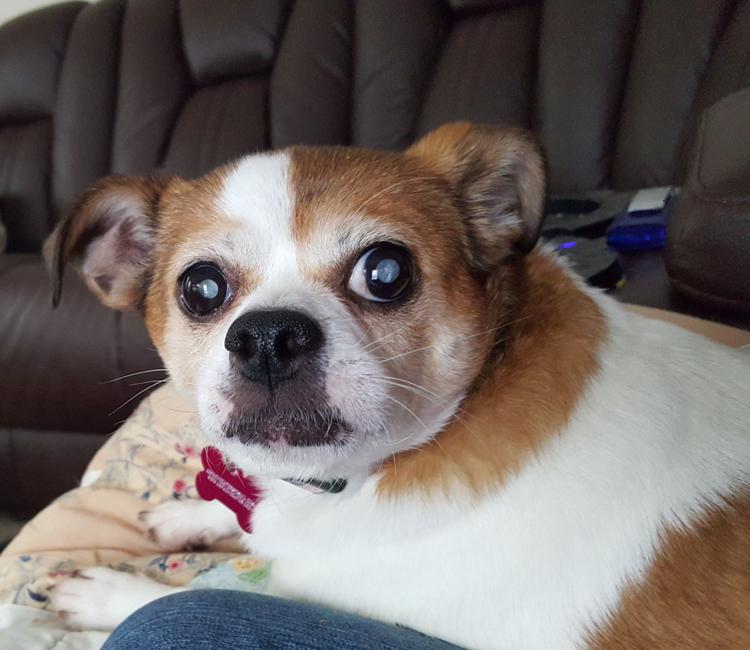 Choo Choo and Lucy (the Puggle- Beagle/Pug mix) are a senior bonded pair! Choo Choo is 11 years of cuteness and is affectionate! She has some vision problems, cataracts, but can see enough to get around! The vision doesn't stop her spirit, energy, or playfulness - she acts like a pup! Barkingly, she enjoys snuggling, giving kisses and hanging out!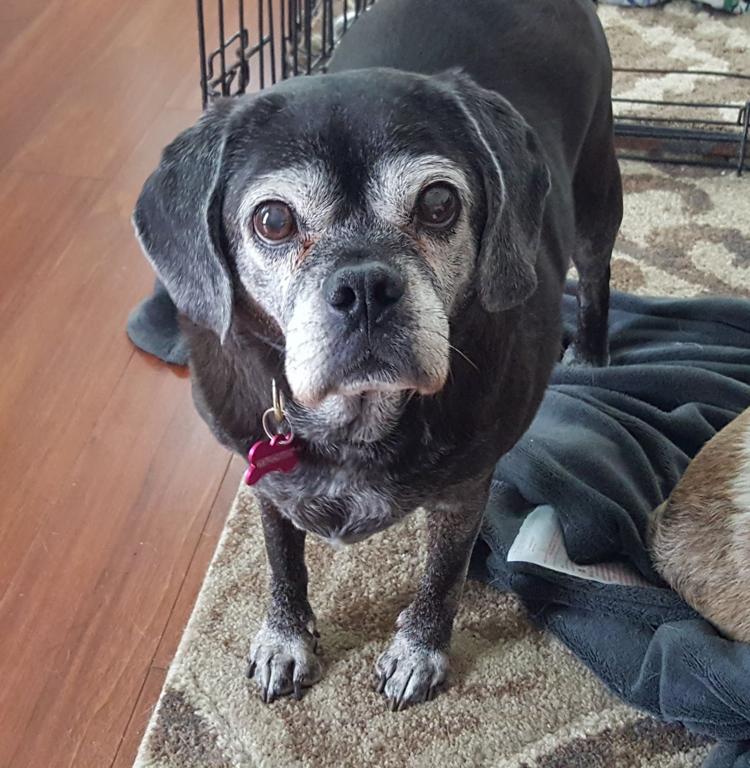 Lucy is a sophisticated lady at 15 years young! Though she is gray in the face, she is hearty and wise. She loves having her back scratched and her ears rubbed! She moves around really well for her age! Barks!
The girls make awesome pups and deserve a companion/family who wants to give a couple of old gals an exceptional life! WOOF!! Good with other dogs/humans. Not sure about cats.
Contact Advocates for Abused and Abandoned Pets (A3P), www.a3padvocates.org, 571- 408-0381, a3p.petlovers@gmail.com.
About Me:
Noah writes about dog/cat adoption, humor, dog adventures and facts about dogs and cats at www.fromthedogspaw.com. He is Dog to his human, Allen Pearson, Dog Photographer and Writer, www.allenpearsonphotography.com, www.facebook.com/AllenPearsonPhotography, www.instagram.com/fromthedogspaw, www.facebook.com/fromthedogspaw. www.twitter.com/fromthedogspaw.com.