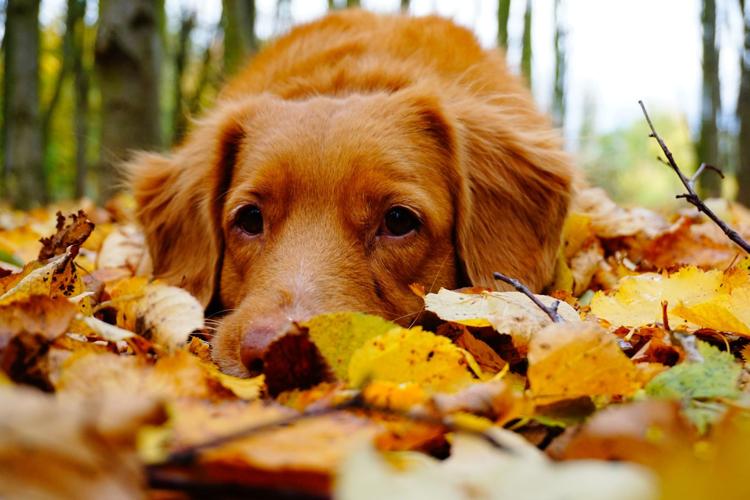 "I really don't like Halloween. It's too scary. And, meow, now that I am in a new home, I will be scared to death until it's over because I don't know what to expect," Samson says.
Noah replies, "Samson, I know what you mean. WOOF! Barkingly, our humans know that we don't like Halloween and they do several things to help us through the evening."
"Like what?"
"Barks, they usually do not answer the door, so we will not see any monsters, ghosts, goblins or Frankensteins; none of those scary creatures. If they do, Dad answers the door and Mom keeps us occupied so we aren't frightened. WOOF! Many dogs and cats will escape out the front door when they are frightened by trick-or-treaters. Paws, you'll notice they let me out early evening to do my business to keep tricksters from doing mean things to me "
"Meow, that will help me not to see a ghost or something else that is scary!" says Samson.
Noah continues, "WOOF! Typically, I stay in my crate. Paws, it's kept open so if I get scared, I can go in and curl up. Barkingly, for you, since you love to hide in the basement, they will make sure you can hide there or in a bedroom, someplace that's comfortable or happy for you. Mom will place your toys, food and water there too."
Samson states, "Purrs, so like a safe room, right?"
"Paws, yes, it's especially great if they plan a party! You can stay in your room and not be bothered. Oh, and, before I forget, if they have a party, some humans are messy and you might find food-stuff on the floor and even drinks within reach. Don't eat stuff or drink anything that Mom and Dad don't give you. Party favors, chocolate candy, hard candies, and other party type food and drinks can make you really sick, maybe even death, if you get into it," Noah shares.
"OH MY PURRS! I didn't know that" hisses Samson.
"WOOF! While you prowl around, keep yourself and that pawsome long-haired tail away from any candles and lit pumpkins! Barks! You could slip or your tail knocks over the candle causing a fire. Paws, I hope humans are aware and just don't set out candles. Barkingly, if any mini-humans play with those glow-sticks or glow-stick jewelry, don't go near it. It can be toxic to dogs and cats," Noah says.
"MEOW! You are one smart doggy, Mr. Noah!" Samson purrs.
"Barks, thank you Mr. Samson! One thing we do not have to worry about is our humans dressing us up for Halloween. Our humans do not like doing it because it could be really stressful on us and there are parts of many costumes which can come loose and we might eat them. Not good. They are always on the lookout for our good! WOOF! BARKS!" Noah says.
Barkingly, humans, if your dog or cat should get into something they shouldn't, call your Veterinarian immediately. If they are closed, contact your local Animal ER Hospital or contact the Pet Poison Helpline at the 24/7 Animal Poison Control Center, 855-764-7661.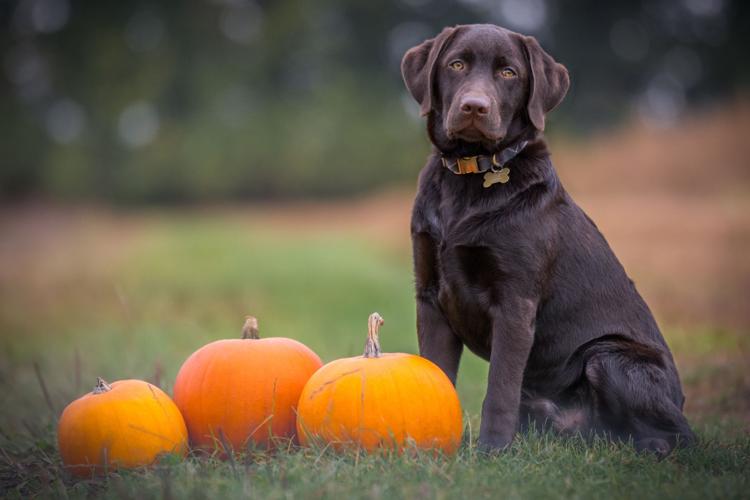 My friend "Lab Lady" brought by a darling of a dog for you to meet. Annie May!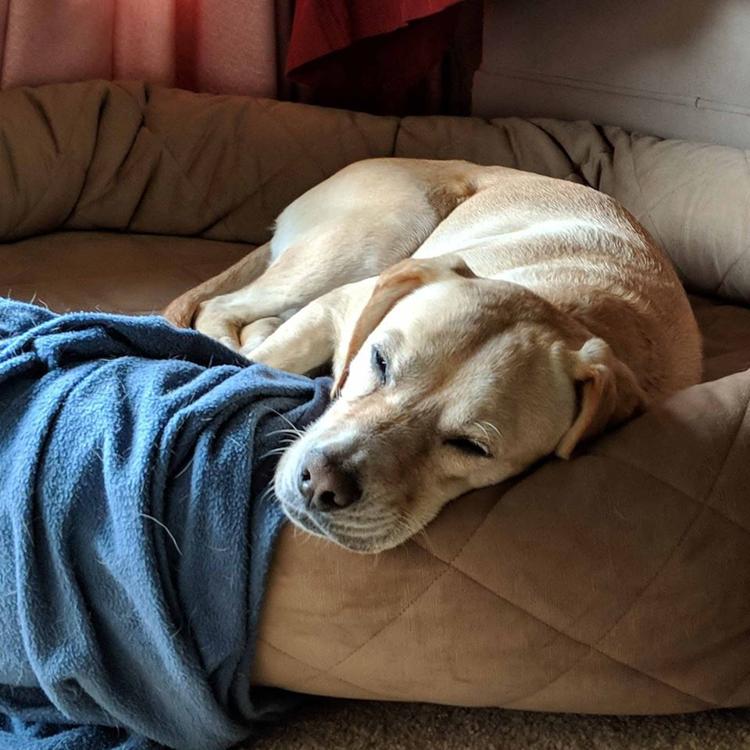 Annie May, a yellow Labrador retriever, made her way to Lab Rescue when she lost her home in North Carolina due to Hurricane Florence! Barkingly, she wants a "Forever Home" in a rural or suburban single-family home. Though friendly, she tends to be a little shy. She loves attention.
Annie May is good on a leash, enjoys car rides, is learning to play with squeaky toys and is good with other dogs! She would love to have other dogs in the home to learn from and to play with. She loves ear rubs and neck massages!
No known history with cats. She is approved for mini-humans ages 10 and up.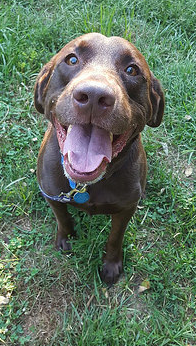 Bruce is a sweet 3-year-old chocolate Labrador retriever who chases bad moods away! His goofy personality and a bright sunny smile match his personality. He is very affectionate.
Bruce loves playing fetch and daily walks. He is housetrained and knows a few commands. He will need some training. He loves to be around mini-humans, ages 10 and older, and other dogs. No known history with cats.
All dogs are current with vaccinations and preventatives.
Lab Rescue of L.R.C.P., Inc. www.lab-rescue.org, call the Lab Line: 301-299-6756 or email info@lab-rescue.org.
About Me:
Noah writes about dog/cat adoption, humor, dog adventures and facts about dogs and cats at www.fromthedogspaw.com. He is Dog to his human, Allen Pearson, Dog Photographer and Writer, www.allenpearsonsphotos.com, www.facebook.com/AllenPearsonsPhotos, www.instagram.com/fromthedogspaw, www.facebook.com/fromthedogspaw.