MEOW! MEOW! I gave Noah the week off so he can go for a few adventures without having to worry about writing! Paws, I haven't written in a while and don't want you to forget me- Samson, or Sammy, the greatest cat ever!
Purr - my adventure moving in with my humans has been totally pawsome. They are pawsome and so is Noah, my dog brother. We have had quite a few conversations about living with humans and the like! Though I am a bit shy and skittish, I am adapting. Paws, I still wonder about some of the things happening around me.
MEOW! My humans bought me a cat tree condo! It is really pawsome. It has two rooms to curl up and four perches so I can climb up higher than anyone else! Purrs, it's next to a window where I sit and watch the world go by! P-P-P-U-U-U-R-R-R-R-R!
Oh, my cat paws! You should sit in my cat tree at night! I love sitting there and watching a big reddish furry almost dog-like creature walk around the backyard! He has a tail like Noah's but doesn't look as friendly. So far, he hasn't seen me, and I hope he doesn't 'cause he looks mean and I don't know what he might do! He appears to be looking for food or maybe a place to make a nest. HISS! HISS!
Not long after that come these large brownish creatures! A few of them look like they have trees growing on their heads! What's up with that? I wonder if they get headaches from having those things. The other creatures are younger ones but don't have trees yet- though one has these knobs, which I guess will be trees one day! "Hey guys! Quit eating plants in Dad's garden! HISS! HISS!"
After watching the backyard for a while, I patrol the house sneaking around to see what's going on- I never know what I will see! Sometimes I hear a few things like bumps in the night and I run to hide. One night I heard this really loud noise! Someone's chopping and sawing wood, like a buzz saw, sometimes it makes really scary noises. I tried to go wake up Dad and get his help- only to learn it was him! HISS! HISS! I relaxed a little after that! MEOW! Purr!
Purrs, by early morning, I make my way to my cat tree for my next adventure! I have learned the bright yellowish ball-like thing that rises on the horizon is the sun, which often puts on an incredibly beautiful light show that can only be seen in the very early morning! MEOWS!
As the morning unfolds, two hopping creatures come into the yard for breakfast! I love watching them hop around the yard. They are followed by this weird critter with a grey tail - Dad doesn't like them for some reason- they seem to really love Dad's garden too. Now I know why he hasn't grown many flowers in the yard!
The stars of the morning are the birds flying around the backyard. There are several bright red ones with head feathers going straight up! Then, there are a few birds with long thin beaks singing all the time, which Dad loves. And, the birds with dark coats and reddish chests are really cool as they hunt for worms all over the yard.
My day ends and I start my prowling again!
Looking for cat adventures of your own? Meet my friends needing adopting!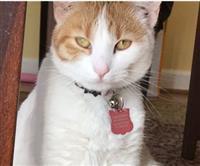 Tabitha and Trouble! These two 11-month-old sisters are dog, cat, and mini-human friendly. They are sweet and gentle kitties hoping to find a "Forever Home" together. They love playing together and sharing your lap!
Homeless Animals Rescue Team (HART), www.hart90.org, call: 703-691-HART, email: hart90office@hart90.org.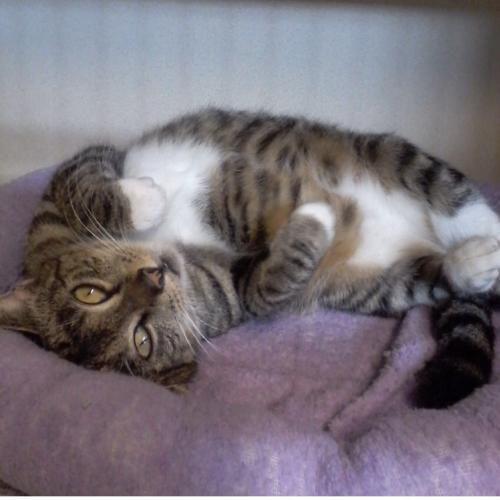 Cecilia is a friendly, confident, and social 2-year-old! With proper introduction to another cat, she may be okay but will be happy to be your one-and-only-cat-that-is too!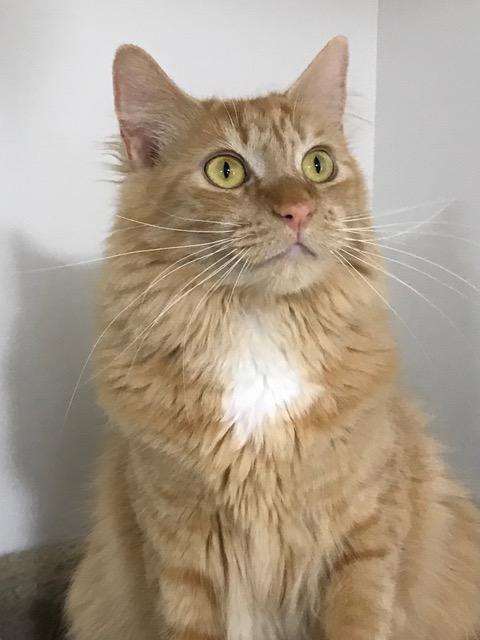 Celeste is a beautiful girl who is gentle, sweet-tempered, and loves lap time. She shares laps with her foster sister, no jealousy or resource guarding! As a young adult, she's the pawfect age- she doesn't do kittenish pranks but still likes playing! Gets along with other cats. She would be happy with another cat or your one-and-only-cat-that-is!
PetConnect Rescue
http://www.petconnectrescue.org, email: info@petconnectrescue.org, call: 1-877-838-9171
About Us:
Noah and Samson write about dog/cat adoption, humor, dog adventures and facts about dogs and cats at www.fromthedogspaw.com. Noah is Dog, Samson is Cat-in-Charge, to their human, Allen Pearson, Dog Photographer and Writer, www.allenpearsonphotography.com, www.allenpearsonphotographyjournal.com www.facebook.com/AllenPearsonPhotography, www.instagram.com/fromthedogspaw, www.facebook.com/fromthedogspaw.