WOOF! WOOF! Whenever I see my human gathering my canteen and leash I know something is up! WOOF! Over the years, we have enjoyed going hiking together. Hikes are more challenging than walks since the terrain is usually uneven and unpaved. If you have not taken your dog for anything further than a neighborhood walk, there are a few challenges to consider! Hiking is one of my favorite activities with my human since it means a lot of buddy-time! Paws, being outside is healthy for both of us.
Is your dog able to hike?
BARKS! Paws, since your dog will do its pawsitive best to keep up with you as I do with my human, it's impawtent to make certain that your dog is healthy and able to hike. Some smaller dogs, like pugs and terriers, are not necessarily able to go for long hikes of several miles while many larger dogs can go forever! Barkingly, their size isn't the only consideration; pawlease visit a veterinarian.
Barkingly, it is impawtent to know if your dog can handle the weather and length of time outside. Barks, my human and I go hiking early morning or late in the day since I, the most-handsome-ever-shiny-black Labrador retriever mix, don't handle the heat well. In winter, I need a coat to keep myself warm since I have short hair! WOOF!
Are dogs allowed on the trail?
Barkingly, be sure to confirm your dog is allowed on the trail. Most national and state parks do not even allow leashed dogs. It is a good idea to know the terrain you will be hiking and the surrounding areas. How steep are the inclines? How long is the trail? Can your dog hike the entire length? Are there snakes, bears, or other wildlife you could come into contact with? If so, are you prepared to assist your dog with a snake bite or other injuries?
Never allow your dog to go off leash
Tempting as it might be, I never recommend allowing a dog to go off leash even if he normally obeys your every command. Why? First, it's the law! Barks, off many trails, there are wildlife that could be a tempting chase for your dog. Paws, I was bred to chase and corner black bear! It's pawssible that if my human let me off leash, I would start following a scent and take off chasing it. Keep your dog on the trail as there are many ticks and plants that could cause problems. Also, there could be other hikers on the trail who are afraid of dogs.
What to carry
A few impawtent items to carry include fresh water, a collapsible bowl, an extra leash and collar, some treats or snacks, poop bags, first aid kit, cell phone, a list of emergency contacts, a copy of your dog's vaccination records (make sure the rabies tag is on the dog's collar), a towel designated to clean muddy paws or dry off a wet dog and pad protective dog boots. Barkingly, make sure your dog's ID tags and microchip and any preventatives are included and that vaccinations are current for the trip. Barks!
After the hike
Barks, you do not want to overestimate your dog's hiking ability. Be sure to talk with your veterinarian before embarking on any long hikes. Check your buddy for ticks after the hike. Preparation and planning are key to fun memorable adventure with your pawsome buddy!
Meet a few of my friends looking for their forever homes and humans to love!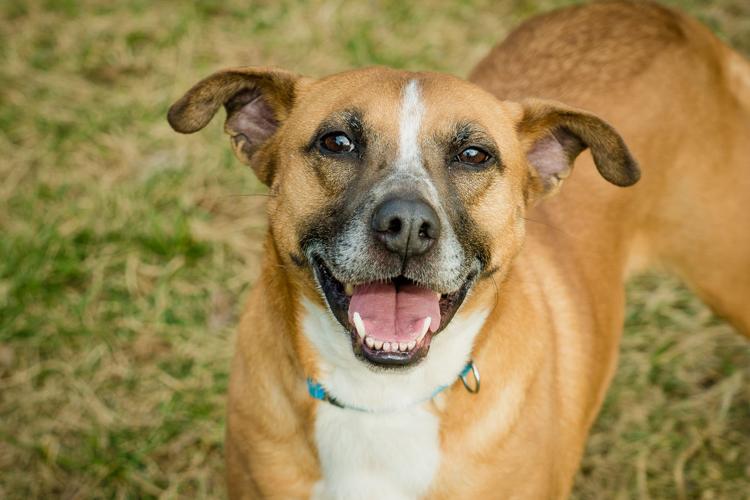 Bela is a 3-year-old boxer mix who loves being outdoors! She is playful, well-behaved and sweet. She loves attention from her humans. She has good house manners and is well-behaved crate free! She enjoys walks.
Bela gets along with most dogs she's met but prefers to be the queen dog. She is good with mini-humans, but due to her size, older is best. She must have a cat-free home!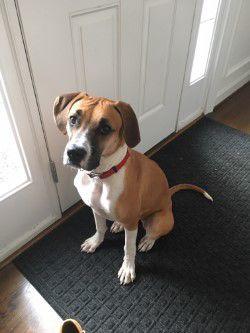 Fala Roosevelt is a hound/boxer mix and around 1 year old. She's full of energy. She loves long runs, walks and hikes. She knows basic commands, is great in the home crate-free and gets along with dogs she's met. Paws, she must have a cat-free home.
Fala enjoys going anywhere and everywhere with you! She loves car rides.
She prefers a home without small mini-humans, as they tend to overwhelm her. WOOF! WOOF!
Contact Operation Paws for Homes, www.ophrescue.org, or email: adopt@ophrescue.org.
About us!
WOOF! MEOW! We invite you to follow us at www.fromthedogspaw.com by email! Samson and I paw about dog and cat adoption, humor, dog and cat adoption and facts about dogs and cats. Noah is Dog, Samson is Cat-in-Charge, to their human, Allen Pearson, Dog Photographer and Writer, www.allenpearsonphotography.com, www.allenpearsonphotographyjournal.com www.facebook.com/AllenPearsonPhotography, www.instagram.com/fromthedogspaw, www.facebook.com/fromthedogspaw.