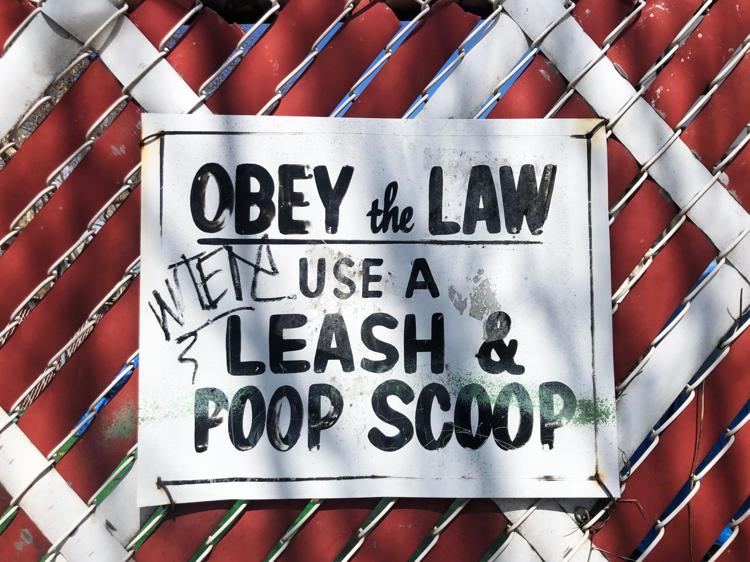 WOOF! WOOF! Lately, when I am walking my human, I have begun noticing a nasty habit which humans seem to be developing in our community. After I barked a few minutes with my human buddy Jason, I determined the issue is more widespread than what I thought. BARKS!
Arf?! What is the nasty habit? WOOF! Humans are failing to pick up their dog's poop, which makes us dogs look bad! Some humans do not want us around because they see these messes and blame it on us! BARK! As talented and pawsome as I am, and all of my dog buddies in the entire universe are, we are not able to pick up our poop- we weren't born with thumbs needed to do it! WOOF! We need our humans to pick it up and properly dispose of the "stuff."
While walking recently, I counted 20 locations where humans did not do their responsibility! Barks, why am I pawing about this? For many reasons! Barks, many of the spottings were where humans could step in it, it's disgusting to see, it's unsanitary! Paws, it's a Virginia law to clean up after your dog! Neglecting is a Class 4 misdemeanor!
I remember the story of Emma, a young girl who walked to the school bus stop and back home every day. One day, she was in a hurry and ran to catch the school bus. On the way, little did she know, but she stepped in a "pile" of poop and it got in on her shoes. She hurried onto the school bus and settled in for the ride. All of sudden, an odor became really apparent. The mini-humans on the school bus thought it was Emma. She began crying! The odor got worse and worse- it was a hot day you know! The bus driver pulled the bus over, mini-humans evacuated, and Hazmat Teams were called to determine what was creating the horrid odor! At the school, Emma had to have her shoes cleaned and the bus driver had to sanitize the bus.
Then there's the story of the neighborhood boys playing ball in a neighborhood park. The boys were playing and running when a few of them slid across the ground. No, not to kick the ball, but in an area full of poop. Unfortunately, there was no easy place for the boys to clean up their really gross mess so they called the game and headed home.
Barks! These stories are examples of what can happen when messes aren't cleaned up! There are stories about human's having to spend time cleaning their shoes and their homes because humans don't pick up after their dogs.
Woofs, I pawed a question to a few friends to learn what they use to clean up and received several ideas. One friend uses a scented product, which helps to mask the odor, another uses a product called OUT! from Amazon or Companion from Giant and wraps them in another plastic bag, masking the odor, another recycles newspaper bags. My human uses plastic grocery bags. Those are several easy and inexpensive ways to pick up after your dog. Paws, if they don't work for you, visit your local pet store for products which look like tools allowing a "hands-off" approach.
Barkingly, if you do not like carrying the poop around with you, there are products you can do to help with that too. My human and I reviewed a product called "Fifth Paw," which is a cool gadget you can tie to the leash. To read the review pawlease visit http://www.fromthedogspaw.com/2016/10/product-review-fifth-paw-extra-paw-to.html (Barks: no affiliation).
Meet my new friends from Advocates for Abused and Abandoned Pets (A3P):
Sadie is super shy, but wants to love a human. She hasn't had much time outside a kennel, so she's looking forward to enjoying a warm bed next to her human. She is around 3-4 years old and a beagle mix.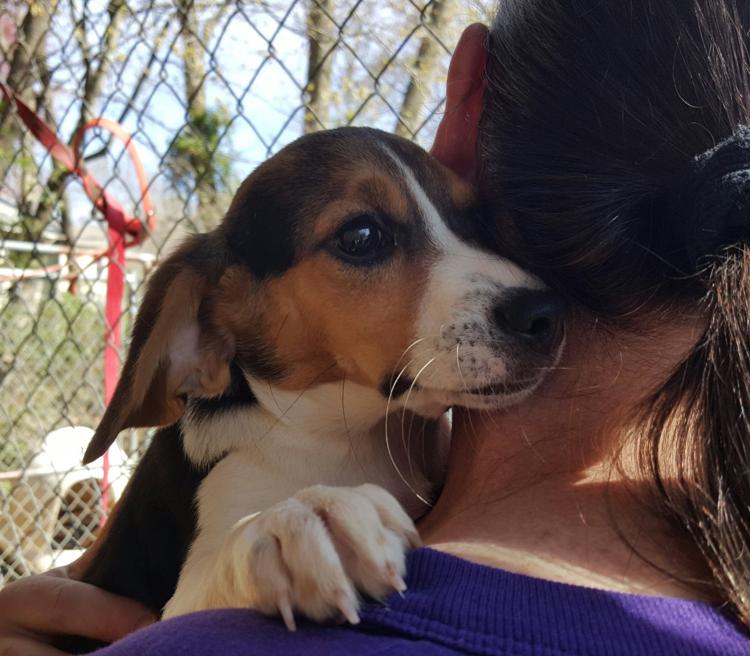 Trixie is Sadie's pup. She is around 4-5 months old. She loves her mama, but wants a human to love! She will need socialization and training to be all she can be!
A3P would love them to be adopted together! They deserve a yard full of soft grass, and the chance to play chase and enjoy the great outdoors on some awesome trails!
Advocates for Abused and Abandoned Pets (A3P), www.a3padvocates.org, 571-408-0381, a3p.petlovers@gmail.com.
About Us:
Noah and Samson write about dog/cat adoption, humor, dog adventures and facts about dogs and cats at www.fromthedogspaw.com. Noah is Dog, Samson is Cat-in-Charge, to their human, Allen Pearson, Dog Photographer and Writer, www.allenpearsonphotography.com, www.allenpearsonphotographyjournal.com www.facebook.com/AllenPearsonPhotography, www.instagram.com/fromthedogspaw, www.facebook.com/fromthedogspaw.