Poop happens. It is every creature's calling! Some of it is in forms that are really gross, too. So, how do you prepare for these unexpected, fun moments of provincial fun and delight? Supplies.
Barkingly, though, we dogs may try to prevent it from happening; sometimes we eat something that doesn't agree with us and you can guess what happens next. How do you prepare for these fun moments of life? Supplies.
Barks, as I have been pawing these weeks, there is a paw about preparation for adopting a dog. To paw through prior articles, pawlease visit http://www.fromthedogspaw.com/p/published-articles.html. This week, I paw about items you need to have handy as soon as you bring Barksters home. WOOF!
Yes, poop happens, barkingly, and it's usually outside. My human bought handled "poop bags" to pick up, well, large "gifts" that I create during our walks. These bags had long vinyl-like sleeves, pawfect for the squeamish human, so he could reach wherever, even in tall weeds, grab it and go. Sometimes, our walks take us into wooded areas where he could run nto poison ivy, oak or even a snake or two. Barks, if he saw a snake, he'd probably drop my "gift" and create his own as we run the other way. WOOF! These days though, he uses plastic grocery bags; just be sure there are no holes for obvious reasons, also, you can double-bag too. Grocery bags make pawcellent use of an everyday product. Remember, it is the law, whether in your backyard or on a walk somewhere, the human is responsible for picking up all "gifts" created by their dog(s). Barkingly, if you get grossed out carrying the "gifts" as you walk, products like the Fifth Paw, which I reviewed, http://www.fromthedogspaw.com/2016/10/product-review-fifth-paw-extra-paw-to.html are a great help.
Barkingly, indoor messes need preparation, too. My human has one of those small, portable vacuum cleaners and a larger one, too. The large portable vacuum allows him to easily clean up the hairs that I may leave behind in the house, but the small unit is perfect for the hair that congregates in a corner of a room, which is really obvious to guests. WOOF! Also, the small vacuum is handy when you notice the hairs just before the party guests show up.
A dog owner's favorite supply: paper towels. They are highly recommended by humans everywhere who love their dogs. Paper towels are pawsome for cleaning up spills, accidents and moments that will not be shared here as the gross-out quota is really high. Barks, trust me, buy some.
Barkingly, accidents in the house can happen, especially during potty-training or when you go to a new home for the first time. If you are prepared, it will not be as bad as it could be. BARKS! Not that I would know, as I am a pawfect dog, as many have said. WOOF! My humans have learned products like Nature's Miracle Enzymatic Formula Stain & Odor Remover and Resolve High Traffic Form are necessary products to keep around the house, too. Barkingly, read and follow instructions, as you do not want Barksters to be close when you are using these products. An easy application and paper towels are all what you need to be prepared, should a barf or something truly gross happen.
Disclaimer: Products mentioned in this article have been used by my human. Post is not an endorsement nor are we affiliated with them. Products are mentioned as a reference for a new dog owner.
My Operation Paws for Homes friends brought a few friends for you to meet!
Meet Scrooge, he's a cool guy-- unlike his namesake! WOOF! At 8-years-old, he is a friendly country gentleman who gets a little nervous if someone moves too quickly. He loves to snuggle in a warm, cozy spot and appreciates all the attention he can get! WOOF!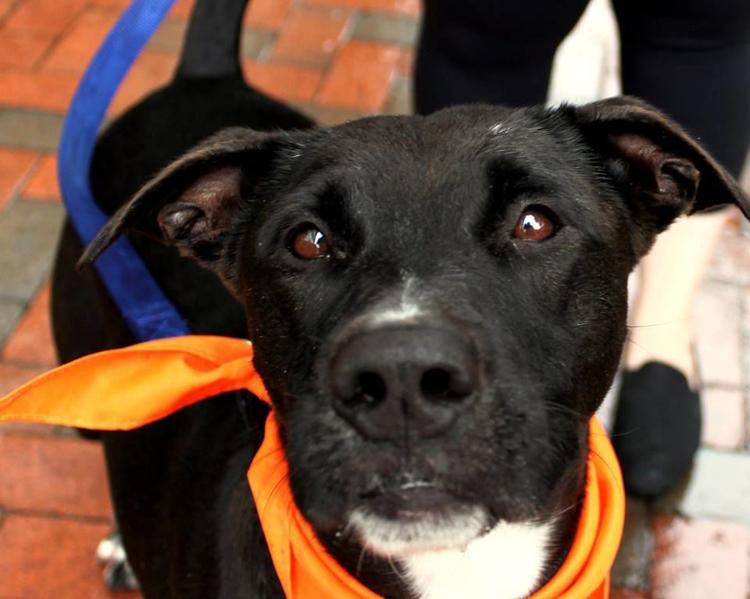 A pawsome sweetie, cuddler and adorable love bug is Glynda! She is a 3-year-old low-to-medium energy Labrador mix. She's gotten along with most dogs she's met. She loves going for rides. She loves humans and, pawssibly, those with older mini-humans. Pawcellent house manners!
Contact Operation Paws for Homes, http:// www.ophrescue.org, or email: adopt@ophrescue.org
About Me:
Noah is Pawthor of www.fromthedogspaw.com- writing about dog/cat adoption, humor, dog adventures, and facts about dogs and cats. He is Dog to Allen Pearson, Dog Photographer and Writer, www.allenpearsonsphotos.com, www.twitter.com/AllensPhotos www.facebook.com/AllenPearsonsPhotos, www.instagram.com/fromthedogspaw, www.facebook.com/fromthedogspaw, www.twitter.com/fromthedogspaw.