WOOF! Over the years, I have had the most pawsome adventures! Dad always takes me along on travels except when he takes a plane somewhere then my uncle comes to stay with me!
Barks, recently, Mom, Dad, and I took off on a road trip! Paws, most of the time, I do not ask where we are going, I just get in the car and go. WOOF! Not quite that simple really.
Before we go anywhere in the car, Dad makes pawsitively certain that I have my SleepyPod Click-It Terrain Harness on! I never leave home into the car without it! The harness protects me and my humans from getting seriously hurt should there be an accident! Barks! He makes sure I have some treats, toys and water too.
As we travel, Dad stops every few hours so I can have a break from being inside the car. I do my business, check the local peemail for any news, walk around a bit and stretch my legs! Paws, I get some fresh water in my bowl and we are off again! When we travel, my humans never let me stick my head out the window, but sometimes they let me sniff! I love it when they do that, as I've found different communities have different smells and it's fun trying to figure out what's going on! Barks!
WOOF! This trip was to go railfanning, one of Dad's favorite hobbies! Railfanning? It's when humans enjoy watching trains go by, watching train DVDs or streaming, reading about them in magazines such as Trains or Classic Trains magazines and participating in any event related to watching trains! I started going railfanning a few years ago when we would go to a few places in the Manassas area and wait and watch.
Taking a dog railfanning requires planning and preparation for you and your dog. The first and foremost concern is safety. According to Operation Lifesaver, Inc., (www.oli.org), which works on educating humans about railroad safety, accidents and fatalities happen at railroad tracks due to human inattention. Know the laws regarding watching trains. Railroad property extends quite a few feet on both sides of the tracks. Trespassing can lead to your arrest. Respect the trains! Paws, though train noises have startled me a few times, Dad says they are a lot quieter these days than when he was a boy, causing him to be surprised a few times.
Many humans have asked us about taking a dog railfanning. While I love going with my human, not every dog will. Sometimes the trains squeal and roar and make strange crazy bumping noises, which can be scary. For that reason, Dad never lets me out of the car when a train is coming! He keeps me in the car with the windows up enough to prevent me from climbing or jumping out when a train is going by but low enough to allow air in. Barkingly, keep the car doors shut. Pawingly, I am always harnessed in the car but I can move around to see what's going on. Barks, we pay attention to the weather too- sometimes it is too hot or cold for me to go. When a train isn't going by, and Dad is pawsitive that one isn't coming for a few minutes, he might let me out while leashed and held very tight to do my business. Then, it's back into the car! WOOF!
The railroad tracks are not a place to walk your dog or even play with him nearby. They should be respected at all times keeping a safe distance.
If your dog is startled easily by loud noises, doesn't obey your voice commands, or is the nervous-type, he shouldn't go railfanning. Consider all safety precautions before taking any dog.
Meet a few of my friends looking for "forever homes!"
Meet Remembering Casey Koffeekake, a sweet, low-medium energy and beautiful 4-year-old hound mix! She enjoys walks, meeting new humans, mini-humans and dogs. She would be best in a home with someone home most of the day.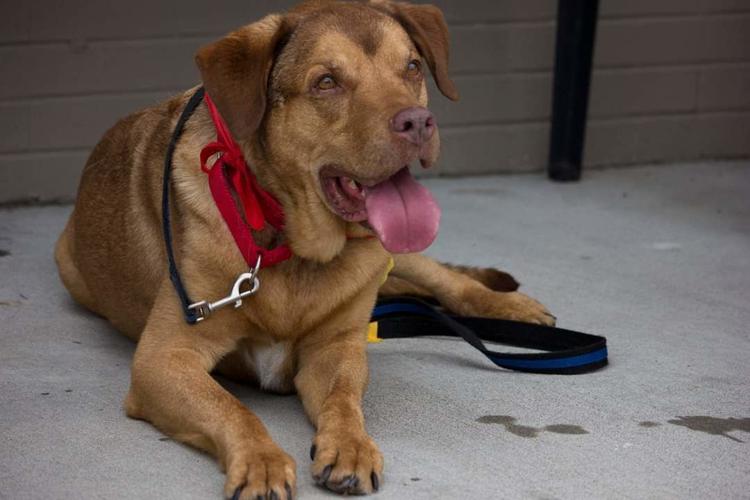 Tyson is an affectionate 7-year-old Labrador retriever/shepherd mix. He is crate- and house- trained, and knows basic commands. He loves humans and mini-humans he's met and chews toys!
Operation Paws for Homes, www.ophrescue.org, or email: adopt@ophrescue.org
About us!
WOOF! MEOW! Do you enjoy our articles? Barks and purrs, pawlease follow us at www.fromthedogspaw.com by email! We paw about dog and cat adoption, humor, dog and cat adoption and facts about dogs and cats. Noah is Dog, Samson is Cat-in-Charge, to their human, Allen Pearson, Dog Photographer and Writer, www.allenpearsonphotography.com, www.allenpearsonphotographyjournal.com www.facebook.com/AllenPearsonPhotography, www.instagram.com/fromthedogspaw, www.facebook.com/fromthedogspaw.