WOOF! Bark, this week, I had the pawsome oppawtunity to bark and paw with Kristen Hill, the Virginia Chapter coordinator for Mid-Atlantic Great Dane Rescue League (MAGDRL). Being involved with all of the day-to-day rescue tasks, she is a jack of all trades. Day-to-day tasks include: scheduling events, recruiting volunteers and fosters, evaluating Great Danes needing to come into rescue and looking for a foster home for them, answering all adoption inquiries, starting humans on the adoption application process, performing home checks and assisting in adoptions.
Paws, as I chatted with Kristen she shared with me a concern about the dogs coming to shelters and rescues. The chat was so interesting and concerning that I wanted to share it with you.
WOOF! Kristen, pawlease share about the shelters being full?
KRISTEN: Noah, summertime is a big problem for shelters and rescues. Humans want to go on vacation or have pets with behavior issues and don't want to deal with it anymore. Most of the shelters and rescues we have talked with are busting at the seams. Several other rescues have been forced to stop bringing in dogs as they don't have room.
Paws, how/why did this happen?
KRISTEN: Part of this is due to a lack of foster homes/space to place the dogs needing to come into rescue. The other part is lack of education or planning on the pet owner causing them to surrender their pets. A basic training course goes a long way in avoiding some of the common behavior complaints given when surrendering a pet.
What can be done to help with the problem? WOOF?
KRISTEN: Educating the public to help them train their pets to curb the behaviors they are having or even plan for the upcoming vacation ahead of time so the pet will stay in the household. For rescues, it means finding many more foster homes willing to take in dogs.
BARK! How can humans help with the issue?
KRISTEN: Become a foster home. Fostering save lives. Most rescues will work with you to find a pet that will fit your home and lifestyle so it's an easy temporary addition to the family. Most rescues pay for veterinary expenses as well so the cost to the foster is minimal. The foster provides love, attention, and a safe home while they are looking for their forever home.
Paws, is there anything else you would like to share?
KRISTEN: Noah, The key to good pet ownership is being prepared and willing to handle the issues the pet may have. Training goes a long way to help resolve many of the easy issues owner describe. You send your child to school so why not your dog? Help them to be the best they can be with basic obedience. If you are able to resolve the issues you are less likely to give up your family member which helps with the shelter and rescue overcrowding issue.
Barks, to learn more about being a foster or volunteer as a foster, visit http://www.magdrl.org/fostering-a-magdrl-great-dane/. Barking, rescues can use volunteers - especially fosters! Have a favorite breed? Like mixed-breeds? Visit their website and volunteer! Make a pawsome difference for a dog in need!
A few friends looking for "Forever Homes!"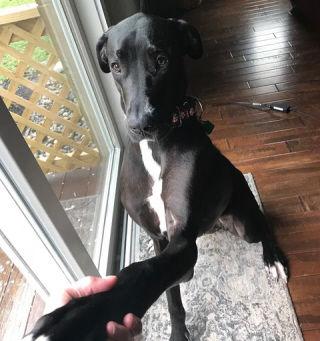 Bori is pawsome 10-month-old lovebug special needs natural-eared black Great Dane beauty! She was diagnosed with a diaphragmatic hernia, which is most likely congenital. A diaphragmatic hernia means there's a hole in her diaphragm and her intestines slipped into her chest cavity. The intestines can put pressure on her lungs and heart. If they twist, it would be a life-threatening and complicated surgery. The rescue has had some surgery performed.
The health issues haven't stopped her from being a playful pup! BARKS! At first, she's a bit shy but warms up to her humans. She knows "sit," "down," and "come." She is crate- and house-trained! She loves car rides. She gets along with other dogs and some cats.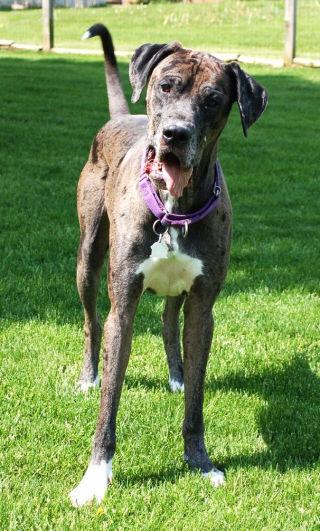 Blu is a goofy 1-year-old merle male with natural-ears who loves playing with his Jolly ball. He is house-trained. He would do best with an active female dog so he has someone to play with. He doesn't seem to have an interest in cats!
Mid-Atlantic Great Dane Rescue League
www.magdrl.org, call 703-644-8009 or email coordinators@va-magdrl.org.
About us!
WOOF! MEOW! We invite you to follow us at www.fromthedogspaw.com by email! Samson and I paw about dog and cat adoption, humor, dog and cat adoption and facts about dogs and cats. Noah is Dog, Samson is Cat-in-Charge, to their human, Allen Pearson, Dog Photographer and Writer, www.allenpearsonphotography.com, www.allenpearsonphotographyjournal.com www.facebook.com/AllenPearsonPhotography, www.instagram.com/fromthedogspaw, www.facebook.com/fromthedogspaw.