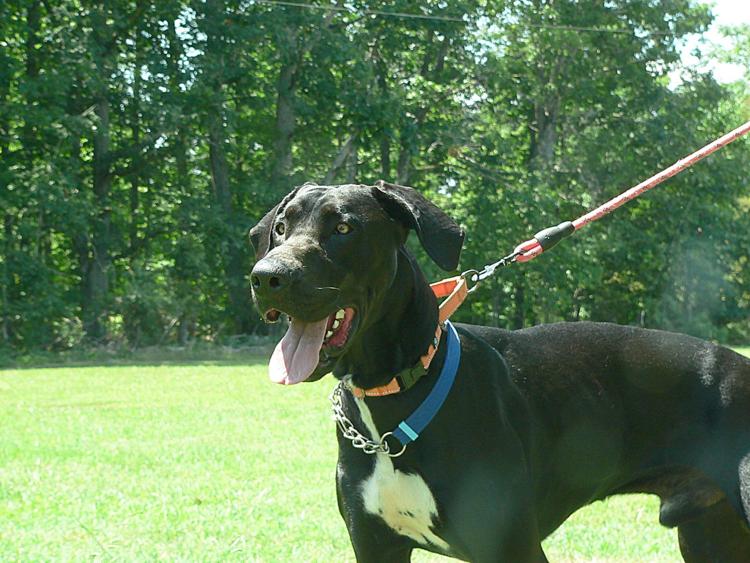 "WOOF! I love this time of year. The cooler temperatures. The fall leaves to play in, though Dad doesn't like it when I run messing up his piles! Barks! And, thanksgiving! A time to reflect on what we are thankful for! A time for Mom to 'accidentally' drop a piece of ham on the floor."
"Meows! The weather stays the same when you are an indoor cat, but it is fun to watch the leaves fall and you get into trouble with Dad, Noah! Purringly, if I was allowed outdoors, I'd be doing that too! MEOWS! Thanksgiving already? Purr, time flies! What are you thankful for this year, Noah?"
"BARKS! So many things Samson. The first to come to mind is Dr. Medici and all the veterinarians and veterinary technicians at Ohana Veterinary Care in Bristow, Va. I started not feeling too well last April. The veterinarians examined me and provided medications. Long story short, the medications helped, but my diet had to change too. So, a new diet with some meds and delicious treats really helped me feel better! WOOF! Not only that, when I walk my human, I give him quite an exercise routine as I am my old-self moving fast! Dad says occasionally, 'Slow down Noah!' I am thankful for that!
Barkingly, I am thankful for humans who take me everywhere! I get to go on walks, hikes, local trips and even these really long trips! WOOFS, I am very thankful for my humans adopting me and spoiling me to the best of their ability for nearly 10 years and all the pawsome adventures that came with it!"
"MEOW! So cool, Noah! I have a lot to be thankful for too! I am thankful my humans adopted me too. It's been a pawsome 17 months! The greatest and coolest blessing this year is that Dad and I are getting along much better! My skittishness and fears of being hurt again kept me from allowing him to get near me -- I can move faster than him! PURRS! I began head-butting and kneading him most mornings since September. He has not, and never will, hurt me and I love him so much! I know he's happy about this too.
PURRS - I am thankful they take you on really long trips so I can have the house to myself and enjoy some pawty time with my friend "Miss Glenda" who stops by to make sure I am alright and behaving myself!
I am thankful for a place to sleep, good food, water, treats and humans who love me!"
"Barks, I was pawing with the Great Dane Dame from the Mid-Atlantic Great Dane Rescue League this week. She said that "their rescued dogs are very thankful too. Often, for being out of an abusive situation with little TLC, for a nice warm bed and for humans who help them feel safe and love them."
Barks! Meows! Count your blessings this Thanksgiving and every day. What are you thankful for?
Barks, meet my friends who are looking for a "forever home!"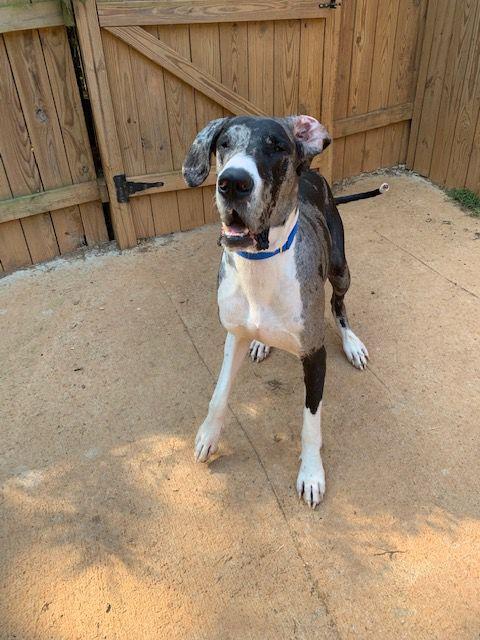 Bingo, around 1-2-years-old merle Great Dane with natural ears, will be a large fella. He is a puppy and does puppy-things, house- and crate-trained, and loves staying near his humans! He wants a fenced yard and pawlenty of exercise! He is learning to play. He can be your one-and-only-dog-that-is or have a dog buddy! He enjoys car rides and knows basic commands.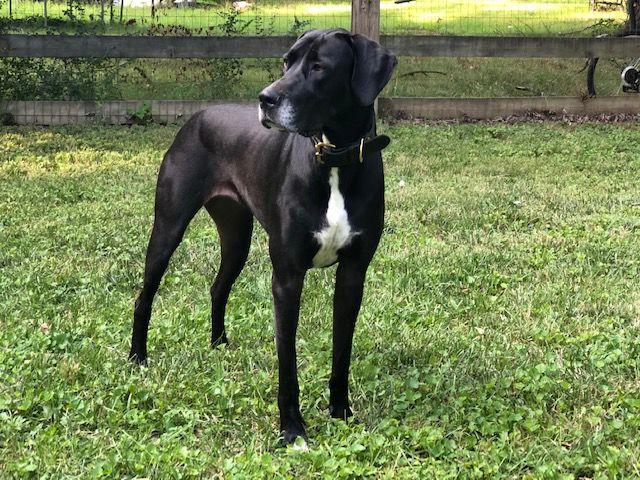 Violet, around 3-years-old petite black Great Dane, loves playing with other dogs, cuddling on the couch watching television, getting car rides and shopping at Petsmart! She is house-trained. She is good with other dogs and mini-humans ages. Unknown about cats.
Duke, around 1-year-old, is an energetic boy full of puppy energy! He loves going for walks, playing ball, and laying at your feet to rest! He will need exercise to burn off energy. He will need some work on manners such as not jumping up or pulling on his leash. Duke is good with mini-humans, other dogs and cats! He will make a great best friend for an active family!
Mid-Atlantic Great Dane Rescue League: visit www.magdrl.org, call 703-644-8009. It is a hotline where you can leave a message or you can email coordinators@va-magdrl.org.
About us!
WOOF! MEOW! Do you enjoy our articles? Barks and purrs, pawlease follow us at www.fromthedogspaw.com by email! We paw about dog and cat adoption, humor, dog and cat adoption and facts about dogs and cats. Noah is Dog, Samson is Cat-in-Charge, to their human, Allen Pearson, Dog Photographer and Writer, www.allenpearsonphotography.com, www.allenpearsonphotographyjournal.com www.facebook.com/AllenPearsonPhotography, www.instagram.com/fromthedogspaw, www.facebook.com/fromthedogspaw.