WOOF! Barks, 17 years ago, a beautiful, quiet Tuesday morning turned into a tragic day.
Sept. 11, 2001, went down in history as the worst terrorist attack on U.S. soil. Paws, to express sympathies to families, I bark a huge "thank you" to the pawsome first responders who risked their lives in Virginia, Pennsylvania and New York that day.
Paws, with that day in mind, and with the hurricane season starting, are you prepared to care for your pets during an emergency? WOOF! Paws, many dogs and cats go missing during natural disasters and tragedies because their humans aren't prepared and become separated. A few steps of preparation can save some heartache later.
Paws, update your pets ID collars and micro-chips! WOOF! My collar includes my name, address and phone number, which has aided in my safe return. My human loves to buy my collars with ID tags at www.dogids.com (WOOF! Not affiliated). If you have collars with ID tags, are they readable? A human can read mine, standing next to me. They do not have to get down near my face to do so; it's a great safety measure for someone I do not know.
Barks, make sure you have pawcellent photographs of your pets. Camera phones make this easy. WOOF! Make sure the photos include any identifying marks, headshots and full body shots. This will not be the time to leave anything to someone else's imagination or questions. BARKS!
Purchase "Rescue Alert Stickers" from a local pet store, (my human likes www.iheartdogs.com (Bark! Not affiliated)) and place at all entrances to your home. Barkingly, place them on windows of rooms, which may be passed to get to doors like a sunroom. WOOF! These stickers alert authorities to rescue your animals, should you not be able to do so yourself. If you leave the home with your pets, be sure to write "Evacuated" over the sticker.
WOOF! Be prepared by planning for an evacuation. BARK! Never leave your pets behind. Barks, they could get harmed in the home. Talk with your veterinarian about locating preferred kennels or boarding places. Locate several hotels within a reasonable distance from your home that accept pets and create a list of hotels out of the area, should you have to evacuate. Contact relatives and friends out of the area to pawssibly stay with them.
Barkingly, a designated caregiver, should you not be available, is impawtant too. Make sure it is someone your pet knows and likes. The human should be skilled in caring for pets and someone you trust! Provide them with a key to your home and a list of instructions for caring for your pet, which should include medications and feeding. Barks, I'm blessed with several humans who would come help me!
Paws, prepare an emergency kit and place it near an exit to your home. The kit should include all items necessary to barkingly care for your pet over a week's time. The items could include a first aid kit, a guidebook, 3-7 days of food (change occasionally), medications, disposable litter trays, scoopable litter or paper towels, liquid soap, disinfectant, garbage bags, food and water bowls, cases of bottled water, flashlight, blankets, travel crates, extra leashes and collars, and pillowcases (for cats).
WOOF! Barkingly, become familiar with the natural disasters that are prone for your area and plan accordingly.
My pawsome friends at PetConnect Rescue brought two friends for you to meet: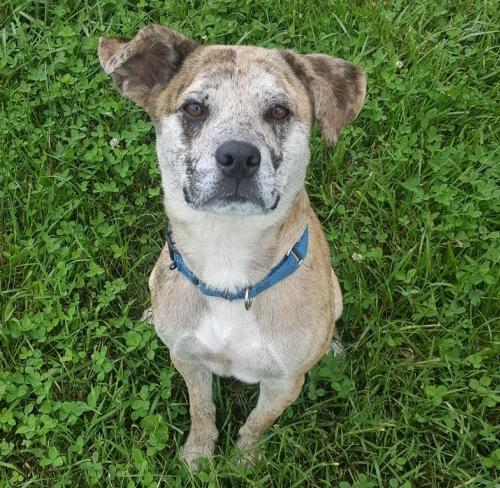 Sparky is an extremely happy affectionate 2-year-old Catahoula/cattle dog mix! He shows a zest for life in everything he does! He pawsitively loves cuddling with his humans on the couch and, especially, next to you in bed! WOOF! He loves life and wants to share it with humans who do too.
Sparky's very enthusiastic greetings, often being underfoot and mouthy when he wants attention, causes him to need an experienced dog owner who will set boundaries! He loves mini-humans and he is recommended for ages 8 and older.
Sparky walks nicely on a leash; he is house- and crate- trained.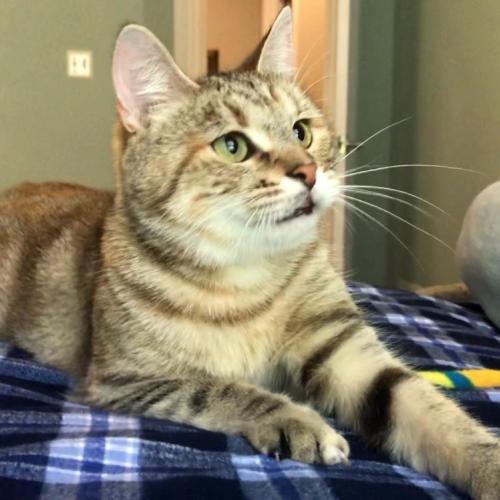 Meow! Sweet Cameo is a beautiful 2-year-old, athletic girl. She quickly warms up to human visitors, and has been pawsome with her foster's dog, cat and mini-humans. She is an interactive lady who loves chasing her laser toy, catching wand strings and hanging out with her humans!
PetConnect Rescue
http://www.petconnectrescue.org, email: info@petconnectrescue.org, call 1-877-838-9171
About Me:
Noah writes about dog/cat adoption, humor, dog adventures and facts about dogs and cats at www.fromthedogspaw.com. He is Dog to his human, Allen Pearson, Dog Photographer and Writer, www.allenpearsonsphotos.com, www.facebook.com/AllenPearsonsPhotos, www.instagram.com/fromthedogspaw, www.facebook.com/fromthedogspaw