Barks! I am pawing several articles to prepare you for a successful dog adoption. To read my prior articles, pawlease visit http://www.fromthedogspaw.com/p/published-articles.html.
Whether you are bringing home a puppy, an adult or a senior dog for the first time, there are pawlenty of items you need to have on hand. WOOF!
Barkingly, food and water bowls come first. Ceramic bowls are my preference as they aren't known to cause allergic reactions or other health issues.
BARKS! Obtain a small bag of dried dog food and bags of treats. My rescue, PetConnect Rescue, supplied a list of recommended food! Choose the healthiest and best food you can afford and a convenient place to purchase from. Dog food shouldn't break the bank or send you to the poor house, which doesn't help you or your dog. Convenience is also impawtant as you purchase food often. Local pet stores and online services work!
Have a collar and a leash with you when picking up Barksters! Ask the rescue what size collar is best. Too tight or too loose isn't useful. Purchase an ID tag to attach to the collar! One with your name and phone number and it can be purchased at the local pet store. Once you finalize the dog's name, buy an ID tag for him too; one (made of gold) with his name (written in diamonds), address and phone number. WOOF! I am just kidding about the gold and the diamonds.
For the leash, obtain one that is 4-6 feet long. Going for a walk with Barksters will be a priority! Be careful saying W-A-L-K!
Paws, a crate waiting for him would be pawsome! Before purchasing one, ask the rescue what size to get, or ask if you can rent one. Know the breed as you do not want a crate that is too small. My crate is my man cave, a place to go during thunderstorms, to nap or to spend the night. My humans placed pillows and comforters in mine, too!
Barkingly, I love a dog bed next to my human's bed, by the fireplace, in his studio or wherever I will be hanging out. Be sure to have one ready for Barksters. He will appreciate it. WOOF! Use baby gates to block off rooms or areas you do not want Barksters to enter and do not have doors to close.
Next week, I will paw about items to obtain before, or soon after, you bring Barksters home.
My friends at PetConnect Rescue have brought a few friends for you to meet.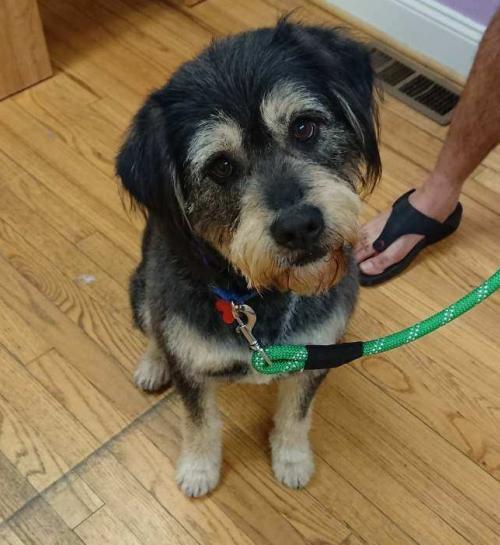 Meet Bojangles! A sweet 2-year-old Schnauzer terrier mix, he loves humans and gets along great with other dogs. He's so human-oriented; he needs a home with someone who isn't gone an entire work-day.
Barkingly, this fun guy has one quirk. He sees fences as a challenge -- he can scale a 6-foot fence! Barks, he wants someone who will include him on hikes and will provide lots of cuddle time, too. House-trained.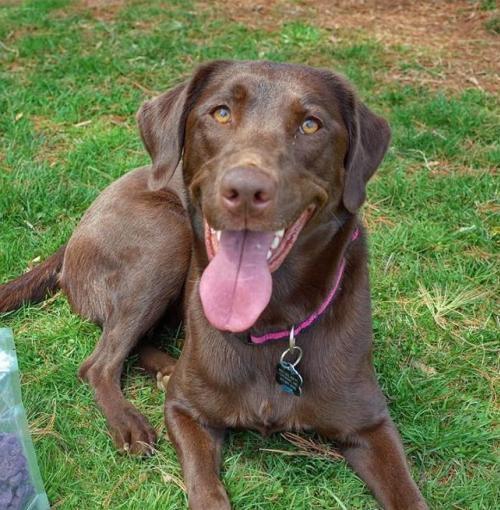 BARKS! Meet Bailey! A pawsomely sweet 2-year-old chocolate Labrador retriever, she is a bit shy at first, but warms up quickly and will be your best friend! She is house and crate trained and knows a few basic commands.
Bailey has tons of energy! She loves to run and play, so daily walks and a fenced yard are a must! She loves getting her humans to play by dropping toys in their laps until they throw them! WOOF! With her energy level, she will do best in a home with another young, playful, similar-size dog.
Bailey is very interested in cats! A cat-free home is a must! With her energy level, she is recommended for mini-humans, 8 years and older.
Meet Romeo, a meowly handsome 4-year-old Siamese tabby mix! His handsome self has a pawingly grand personality! He's very smart, inquisitive and a little mischievous! He loves playing and cuddling.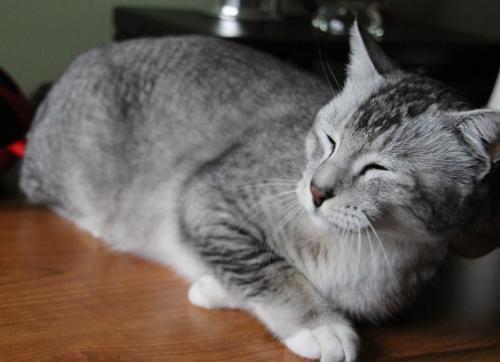 Romeo loves chatting to share his opinions. Conversations can be loud, so he isn't suited for apartment or condominium living. He loves attention and playtime! An active family with older mini-humans will be pawfect! Romeo prefers to be your one-and-only-cat!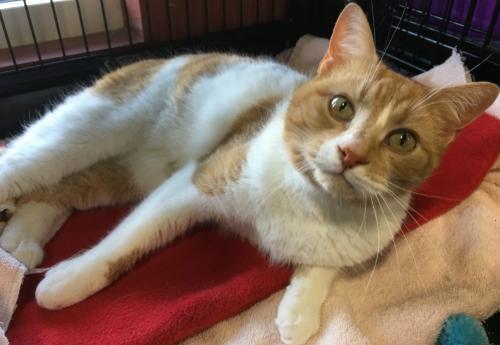 All Sheldon wants is a simple life: hugs, gentle squeezes, belly rubs, warm blankets, a soothing hand, food and water.
Sheldon wants a "forever home" with a human who will not be gone all day or another like-minded, kitty with a chill personality.
Contact PetConnect Rescue, http://www.petconnectrescue.org, email: info@petconnectrescue.org or call 1-877-838-9171.
About Me:
Noah is Pawthor of www.fromthedogspaw.com! He paws about dog/cat adoption, humor, adventures and facts about dogs and cats. He is Dog to his human, Allen Pearson, Dog Photographer and Writer, www.allenpearsonsphotos.com, www.twitter.com/AllensPhotos www.facebook.com/AllenPearsonsPhotos, www.instagram.com/fromthedogspaw, www.facebook.com/fromthedogspaw, www.twitter.com/fromthedogspaw.