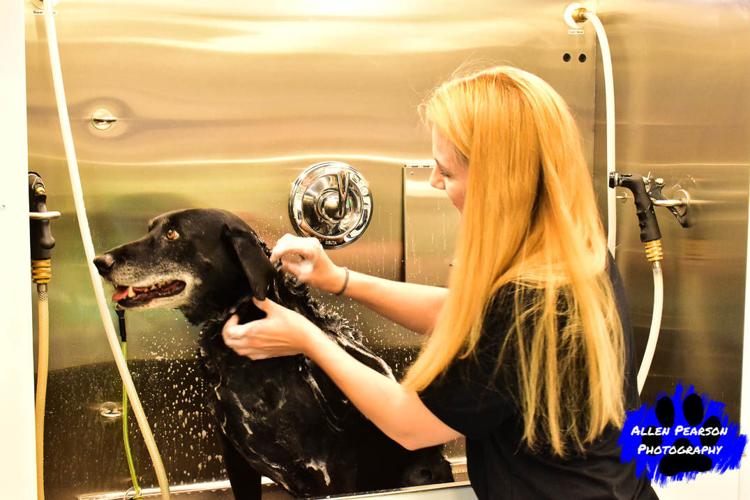 WOOF! WOOF! This getting groomed and slicked up isn't so bad after all! Barks, my human was contacted by Woofies to review their product, a mobile grooming spa. I was not paid, as I have no use for human money, nor was I given any delectably delicious treats ever to write this review. I was treated to a spa grooming at no charge. My opinions are my own, woof, and some are my humans.
Paws, I do not like going to the groomer. After I get my handsome self all covered with dirt and grass and have just finished digging a huge hole halfway to the other side of the world, I'm looking really handsome! Barks, I couldn't be happier but my humans aren't- at least not always! WOOF!
WOOF! Grooming is an impawtant aspect of a pet's life. Barkingly, you can do this task at home yourself, but if you are like my human was when he worked full-time and lived in northern Virginia, time is pawfully limited. My paws is to contact Woofies! They come to your home and take care of the grooming needs in their pawsome mobile spa.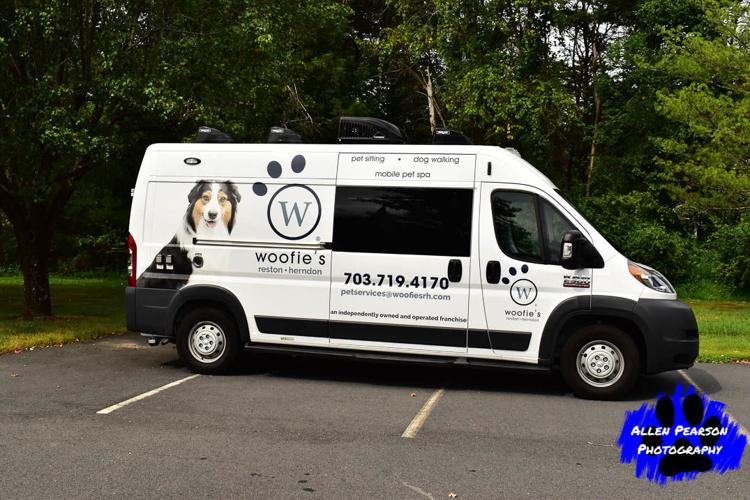 At first, I was a bit hesitant to getting into their mobile spa. Though the van is incredibly clean and the ladies welcoming me were so friendly, I had never been in a van like that. Barkingly, they allowed my human to come in and stay with me!
Woofies must know my human or read his mind. He was concerned about my safety getting in and out of the van and within it to get groomed. He was impressed to learn safety is a huge priority of Woofies! A few times, the groomer said, "Relax Dad, he's ok, he is secured, cannot get away or get hurt." WOOF! Dad and I were barkingly impressed!
Woofies gave me a pawsome grooming and bathing. They pawed with me from combing to checking my nails, and trimming a few- embarrassingly enough, and giving me a sudsy bath with this pawsome smelling shampoo! I never looked handsomer than at that moment. Mom said "Wow! Handsomest dog I ever saw!"
Paws, I prefer to have my own groomer- not just whoever happens to be working. With Woofies, I can do that. Whether I purchase a package or individual sessions, I can have the same groomer- so impawtant! Barks.
Barkingly, grooming isn't the only service Woofies offers. They offer pet-walking and pet-sitting too. How more pawsome can you get. You can customize the services you want however you want. Barkingly, a great experience for your dog and for you is their goal.
Woofie's, founded in 2004 and franchising since 2018, is the first to offer the combined services of personalized pet sitting, dog walking and mobile pet spa services. They are set apart by their customizable services and their focus on customer service. The pawsome franchise serves the communities of Reston and Herndon and is owned by Tanya Lee.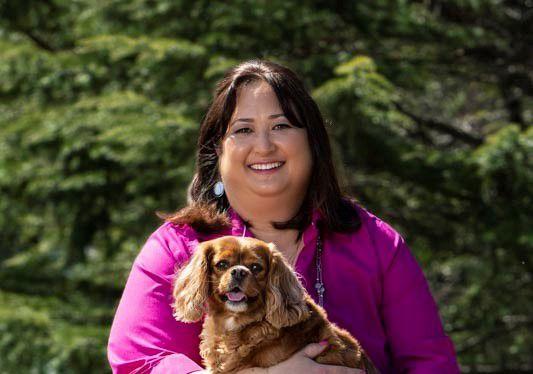 Woofie's Ashburn will celebrate its 15th anniversary by hosting a charity dog wash at Friends of Homeless Animals (FOHA) to spiffy up the dogs, helping them to get adopted. Woofie's "Wash-a-Thon" will be at Friends of Homeless Animals (FOHA) on Sunday, Sept. 15, from 9a.m.-2p.m.
Barks, you can contact Woofies at 703-719-4170, petservices@woofiesrh.com, www.woofies.com/restonherndon, www.facebook.com/WoofiesRestonHerndon, www.Instagram.com/Woofiesrestonherndon. Meet my friends who are looking for "Forever Homes!"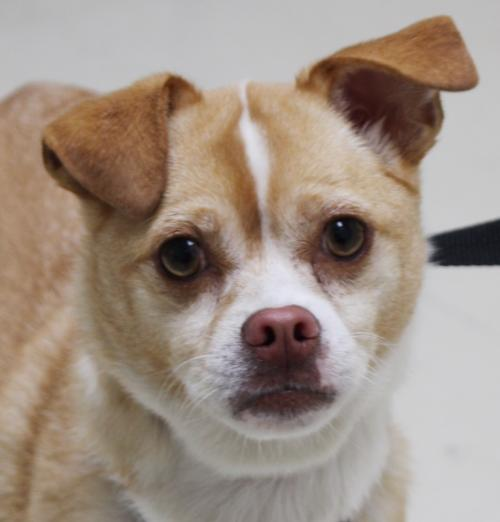 Bentley is around 4-year-old. He's a sweet, loving fella and pawsome cuddler! He loves humans but his cat history isn't known. He gets along with other small dogs. He does great on a leash, loves running around the backyard, playing fetch and with toys! He's healthy, energetic, and playful.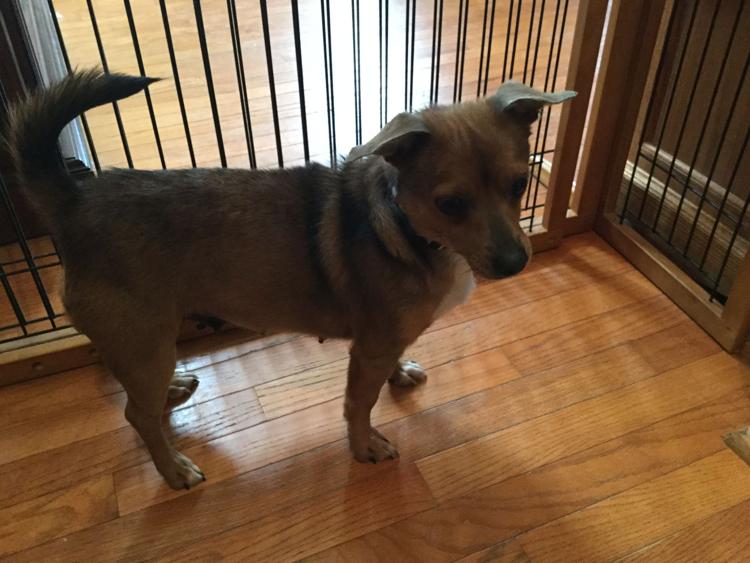 Betsy is a 4-year-old chihuahua mix. She is a little shy and apprehensive around new humans but does warm up. She would like an adult-only household with a human who will have patience letting her settle in. Once comfortable, she's your best friend for life!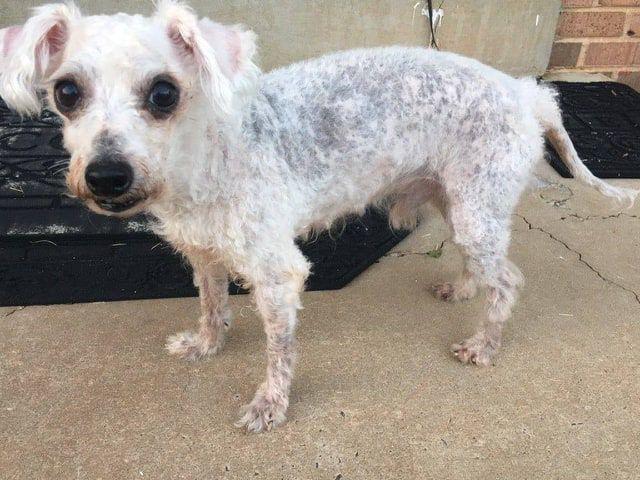 Fred is a 10-year-old poodle. He has always lived outdoors and is one of the sweetest dogs ever! He has learned to walk on a leash, use a doggie-door and is almost fully house-trained! Gets along with other dogs!
Healing Hearts Animal Rescue Group (HHARG), https://hharg.rescuegroups.org/ email: hharginfo@gmail.com.
About us!
WOOF! MEOW! We invite you to follow us at www.fromthedogspaw.com by email! Samson and I paw about dog and cat adoption, humor, dog and cat adoption and facts about dogs and cats. Noah is Dog, Samson is Cat-in-Charge, to their human, Allen Pearson, Dog Photographer and Writer, www.allenpearsonphotography.com, www.allenpearsonphotographyjournal.com www.facebook.com/AllenPearsonPhotography, www.instagram.com/fromthedogspaw, www.facebook.com/fromthedogspaw.