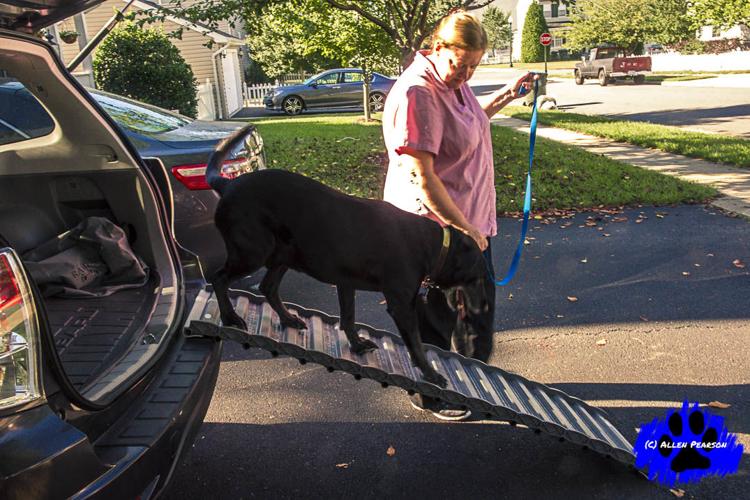 Pawlease note: Barks, I was not paid (as I have no use for human money), given treats, delicious bones or steaks to write about Ramp4Paws. The opinions are mine. No affiliation. WOOF! I received a free product to test and review.
WOOF! Barks, I love going places with my humans. Especially when they go on long vacations and we all pile in the Subaru Forester! Paws, as I age, it's getting harder for me to get in and out of the car and it's not easy on Dad to help me either. WOOF! BARKS! He could injure his back or arms or whatever!
A few months ago, Catharine Trauernicht of www.Ramp4Paws.com contacted me to review a product! Barkingly, it met with my requirements, and I am so pawsitively happy she contacted me.
Barks, the first thing I noticed about my Ramp4Paws is that it stores in a nylon bag with the instructions attached in a vinyl pouch. The vinyl pouch stores instructions so you will not forget how to use it when needed. WOOF! This is pawsome for Dad - he forgets everything. Barkingly, it is impawtant to follow the ramp instructions, so having them handy is a barkingly grand benefit.
My human found Ramp4Paws to be easy to assemble. It lifts right out of the bag and you roll it out on the ground or wherever to attach the textured strips for added traction, which provides added safety. Take the Ramp4Paws to the vehicle you want to use and follow instructions to set it up. Once done, it's ready to use. Pawsomely easy and handy!
A concern my human had was its bulkiness, weight and how handy it would really be. These concerns were unfounded. The vinyl case straps make it portable. Its size makes it easy to store in the car if desired. The product doesn't weigh too much either.
Barkingly, the foremost concern was how easy I would adapt to using it. Would it work and do the job as stated? Mom put a leash on me and used a few treats to orient me to what I'm supposed to do. I went along with it to be polite, but I'm one smart dog, so I already knew what they were doing! Paws, it was easy to use going in and out of the Forester!
Another pawsome use for this product is going in and out of my house. It can be placed over steps to help me in and out of the home after a surgical procedure or pawssibly assisting those with arthritis! Barks.
The product is available in two sizes. A 10-link product designed to work with vans with sliding doors, two-door cars and small sets of stairs. An 18-link product, which works with many of the SUV-type vehicles! Paws, check their website for specifics. Though we didn't have the ability to test this, some products can be used for entry to the side door of a vehicle.
To learn more about Ramp4Paws or purchase one for your pawsome dog, pawlease visit www.ramp4paws.com. WOOF!
My pawsome friend "Great Dane Dame" from the Mid-Atlantic Great Dane Rescue League brought two friends looking for their "forever homes!"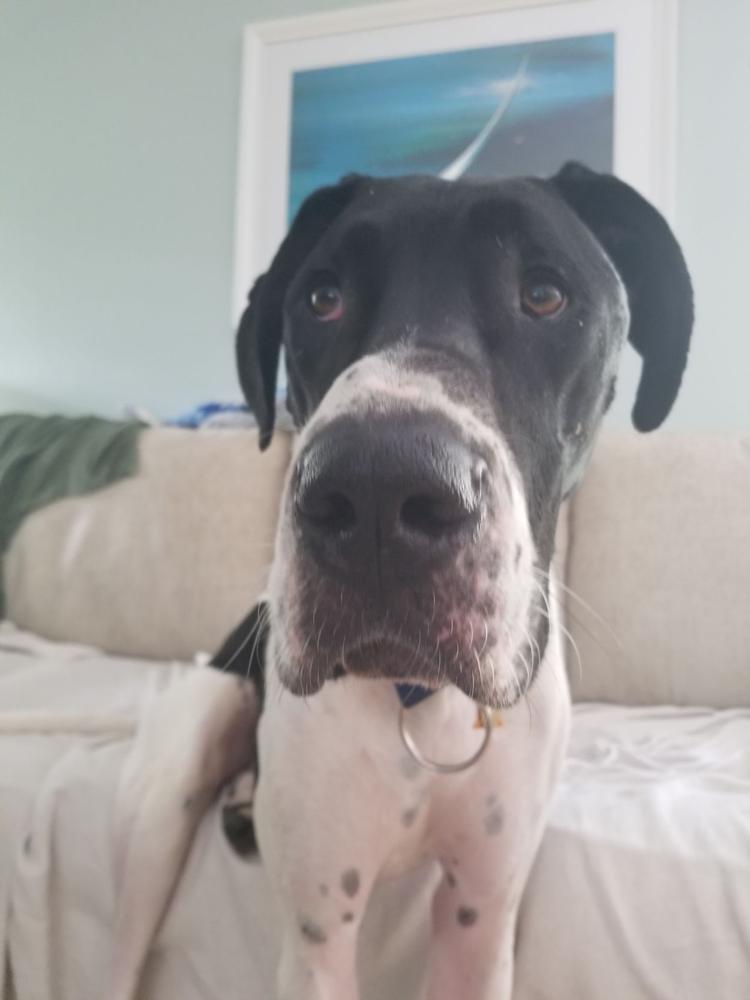 Scooby is a pawsomely handsome and healthy 2-year-old Harlequin. He is gentle and a Velcro-kinda-guy. He enjoys playing tug-of-war and fetch, chewing on bones, playing with other dogs, being outside running around the backyard and going for walks.
Scooby is working on his house- and crate- skills. He knows basic commands, doesn't seem to have a high prey drive.
Scooby will do best in a home with someone home most of the day, another confident dog, older mini-humans, and a large yard to play!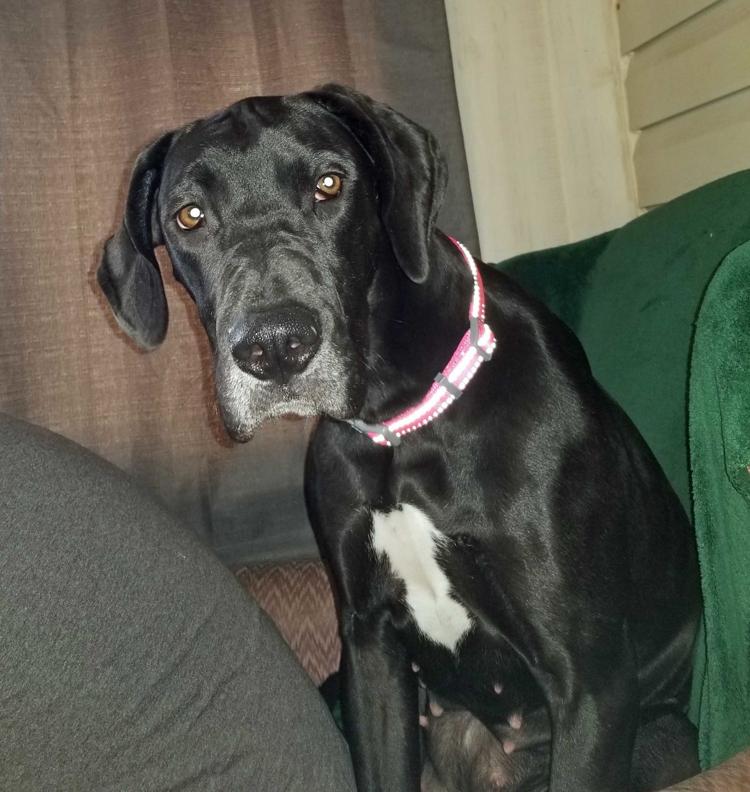 Shy is a 13-month-old Black Dane with natural ears. She is considered a pocket Dane as she will not get much bigger! She is house- and crate- trained, but will need patience settling into a new home. Shy is a Velcro Dane who loves being near her humans! She loves cuddling with humans!
Shy is cautious with new humans, but once she knows she's safe, she warms up.
Shy does well with other dogs, has no known history with cats and is recommended for mini-humans, ages 5 and older. No apartment or condo life.
Mid-Atlantic Great Dane Rescue League, www.magdrl.org, call 703-644-8009 is a hotline where you can leave a message or email coordinators@va-magdrl.org.
About Me:
Noah writes about dog/cat adoption, humor, dog adventures and facts about dogs and cats at
www.fromthedogspaw.com. He is Dog to his human, Allen Pearson, Dog Photographer and Writer, www.allenpearsonsphotos.com, www.facebook.com/AllenPearsonsPhotos, www.instagram.com/fromthedogspaw, www.facebook.com/fromthedogspaw.