"HISS! HISS! F-F-F-F-F-F-T-T-T-T-T-T-T-T-T! HISS! Why is it that Dad gets so frustrated with me when I follow him out to the garage? You go with him all the time. HISS! HISS! I want to go along too!"
"WOOF! Well, it's not quite as simple as that! It's not that Dad or I don't want you to go with us. It's that the garage and a few other areas around the house have items that are dangerous to us and he's watching out for your best interest. If you notice, Dad pays really close attention to me as we go through the garage! He doesn't allow me to stay out there exploring! If I start sniffing something, he's right there!"
"MEOW! But, why is that? I love exploring dark places with all kinds of places to hide and snoop. You never know what you will find!"
"Barks, that's the problem. In the garage, there are pawlenty of hidden dangers. Anti-freeze that humans use in their vehicles has a sweet smell to it, but it can be toxic. Paws, there are yard fertilizers, pesticides, household cleaners, gasoline cans and mouse poisons that could harm you if you got into them. Not to mention Dad's tools like saws, nails, the lawnmower and others that could hurt you too."
"HISS! I could catch the mice though!"
"Barks, true. But, it's best you stay inside. Though there are dangers and poisons inside the house that we need to know about too!
If you see a bag of cough drops, do not eat them, not even one! I did and they induced vomiting. It was not fun. Humans should be sure to keep any medications, dietary supplements, vitamins and over the counter products that contain acetaminophen out of their pets reach! Many pets are very curious and will get into stuff to satisfy their curiosity. The cough drops are a good example-bark."
"Meows! I heard some foods are not good for us either like raisins, grapes, macadamia nuts, garlic, onions, yeast-based dough and table salt to name a few. HISS! HISS! And chocolate can be very toxic! HISS! HISS! Just the smell of chocolate drives me insane- purrs! Sugar-free foods which include xylitol are a problem too.
Some house plants can be toxic too. Purrs, including Azalea, Creeping Charlies, Lilies,
Ivy, Mistletoe, Philodendron, Poinsettia to paw and meow a few!"
"WOOF! Some poisons will result in an immediate reaction. Paws, others may take a few days to show any symptoms. Barks, while there isn't a set of symptoms that indicates a pet has been poisoned, but here are a few general ones such as drooling, vomiting, loss of appetite, diarrhea, lethargy, weakness, pale or yellowish gums, excessive thirst or urination, nervousness, hyperactivity, muscle tremors, seizures and coma.
We've covered a good bit of toxins and poisons. Humans should keep informed by researching, reading, and talking to their veterinarian.
Humans should be aware of poisons in the home that could cause their dog or cat to become very sick or even die. Should your pet ingest or get into something that causes concern, be sure to contact your veterinarian or call the 24/7 Animal Poison Control Center: 855-764-7661. Having the packaging and all related items handy will save time. Paws, there will be a slight fee for the service, but it's pawsitively worth it. Learn more at https://www.petpoisonhelpline.com."
"Meow! So much to learn!"
"Barks, meet my friends from Operation Paws for Homes who are looking for their "forever home:"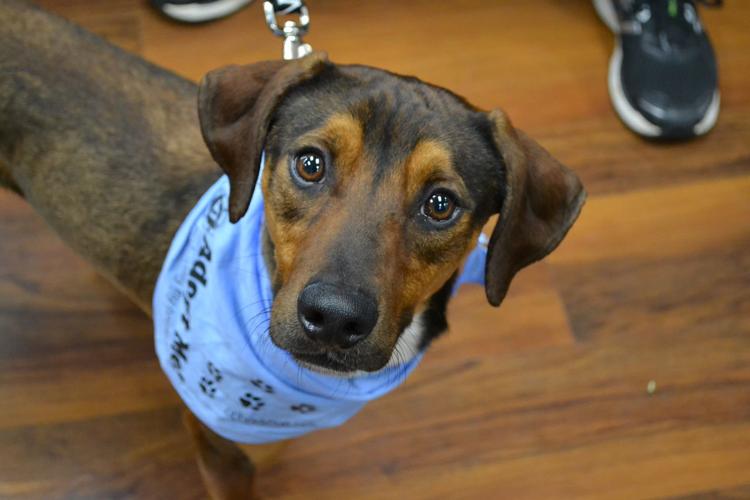 Diglett is around 1-year-old and a sweet hound mix! He is very friendly, loves time with humans and gets along with other dogs he's met. He loves giving kisses and has lots of energy to run and play. He's a good cuddler too!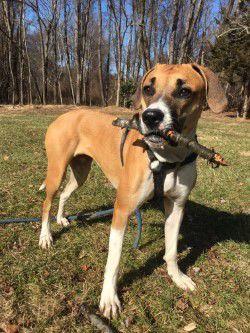 Fala Roosevelt, AKA Peppermint, is around 1-year-old sweet hound/boxer mix. Are you an avid runner looking for a dog for long runs? Fala might be it. She is house- and crate- trained and knows some basic commands. She plays well with other dogs, but not with cats! She loves to travel and loves car rides! She enjoys playing at a dog park where she can run! She prefers a home without young mini-humans as she tends to get overwhelmed by them.
Contact Operation Paws for Homes www.ophrescue.org, or email: adopt@ophrescue.org.
About Me:
Noah writes about dog/cat adoption, humor, dog adventures and facts about dogs and cats at
www.fromthedogspaw.com. He is Dog to his human, Allen Pearson, Dog Photographer and Writer, www.allenpearsonphotography.com, www.allenpearsonphotographyjournal.com www.facebook.com/AllenPearsonPhotography, www.instagram.com/fromthedogspaw, www.facebook.com/fromthedogspaw.