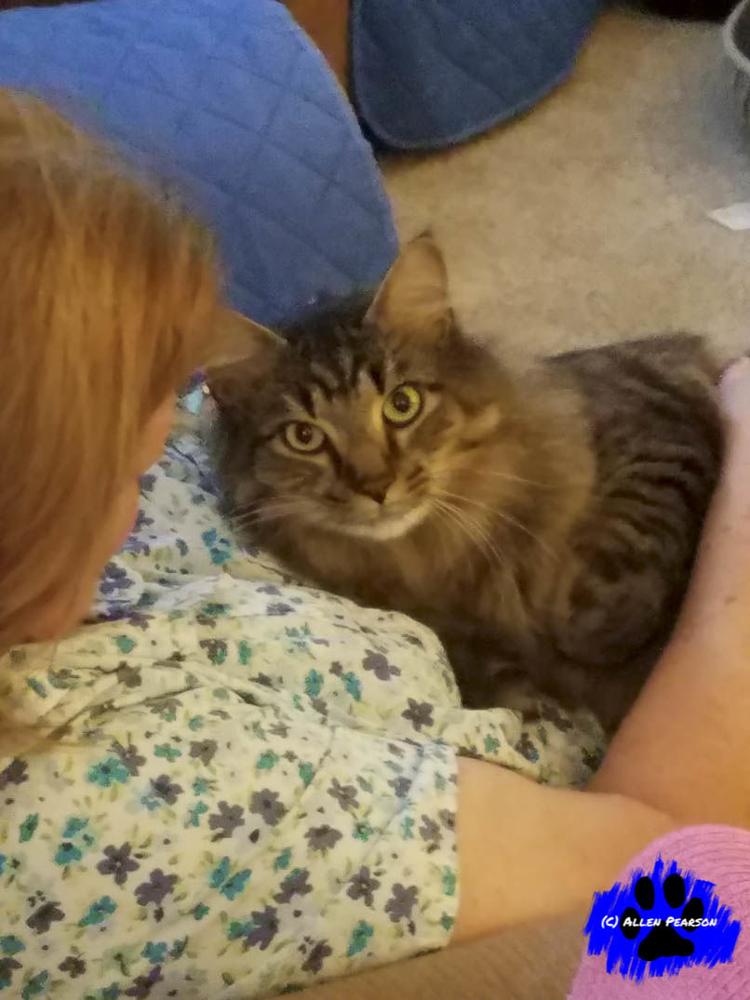 MEOW! I am Samson! Noah's new brother! I know you were expecting Noah to paw for you this week, but I hissed and he let me write. Yes, a cat who knows how to write! Of course, what do you expect me to do? Meow, but only when I feel like it!
The story of how I became Noah's brother purringly begins a year ago. My human mom grew up with cats, my human dad didn't. Soon after she married Dad, they adopted a cat from her mother's friend who needed to re-home a cat! This cat was the first one my human Dad ever lived with. Years after adopting this cat and it's passing, the pawsome young couple adopted another cat.
This cat lived with my humans for many years. When Noah was adopted, he was pawsomely surprised to find that he had a cat brother! They became the bestest buds! They hung out together, checked on each other during the day, played games while the humans were working, and, most impawtently, they would check on each other after veterinary appointments- had to make sure the other survived, you know. MEOWS!
Paws, sadly, the cat passed away at an early age. My humans didn't adopt another cat as mom was looking for the pawfect one! MEOW! And, I wasn't born yet to become their bestest cat ever!
Mom had been looking for a cat on http://www.petfinder.com for a while. She didn't find one that would fit the pawingly ridiculous requirements of my human Dad until she came across me! Uh, what does that say about me? MEOW! She knew that I would be the pawfect fit.
Mom drove to the foster's house to meet me. My foster mom decided I was the pawfect fit, so I came to live with these crazy humans three months ago … somehow seems longer.
At first, I hid every place I could find! Every nook! Every space! This place was scary! And, the dog was this huge black monster that I knew was going to eat me. I was scared to death. My humans gave me my own bedroom, which was so cool because I could get used to everything!
One day, I left the room and found a bazillion other places to hide, nap, play and enjoy my day! It is pawsome, and the big black dog can't get me. One evening, I snuck out and visited my new Mom! WOW! She is so pawsomely meowingly great; I can hardly believe it! She is incredible. Not long after, I met my new brother Noah! Though I'm still a bit afraid of him, he's a pretty good guy. MEOW. I've never met a dog who writes a newspaper column and blog posts, much less one who could read and write. Meowingly, I'm still not too sure about the skinny guy yet. I need more time to get to know him.
I have learned how to tell when Mom is home from work, so I give her a minute or two before sneaking into her lap. Then, it's my time. MINE! I TELL YOU! ALL MINE! Excuse me … sorry; I get carried away when I'm cuddling with Mom - she is awesome. She scratches my belly, my ears and my head. I LOVE mom!
Every once in a while when everyone's out, I sneak and curl up by the windows to watch the Hummingbirds feeding. These big grey critters that look like mice who overdosed on steroids with fuzzy tails scare me! MEOW! Noah likes to chase them, but I stay away!
MEOWS more later. "Cat Lady" from PetConnect Rescue has a few friends for you to meet!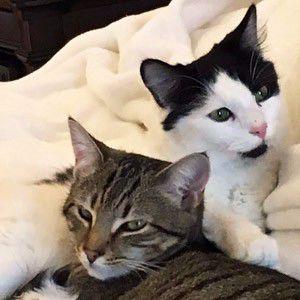 Butter Bean and Oscar came to PetConnect Rescue separately, but became bonded buddies! They even take turns grooming each other! These sweet kitties must be adopted together.
Butter Bean is a sweet, playful, easy-going kitty. She loves looking out the window at the birds. Meowingly, she loves playing chase with Oscar.
Oscar is your typical young boy! He's playful, curious, and rambunctious. When he wants to snuggle, he SNUGGLES! Oscar plays hard, and loves hard!
Butter Bean and Oscar will do best in a home with older mini-humans or just adults, other cats or a cat-friendly, low-key dog.
Contact PetConnect Rescue, http://www.petconnectrescue.org, email: info@petconnectrescue.org or call 1-877-838-9171.
Pawlease visit PetConnect Rescue's website to learn about rescued dogs and cats during Hurricane Florence.
About Me:
Noah writes about dog/cat adoption, humor, dog adventures and facts about dogs and cats at www.fromthedogspaw.com. He is Dog to his human, Allen Pearson, Dog Photographer and Writer, www.allenpearsonsphotos.com, www.facebook.com/AllenPearsonsPhotos, www.instagram.com/fromthedogspaw, www.facebook.com/fromthedogspaw.