"WOOF! WOOF! WOOF! Now that we've got all the halls decked with boughs and holly, Christmas presents wrapped and laid by the tree with care, we are ready!"
"Ready for what, Noah?"
"To PAWTY! We'll have chestnuts roasting on an open fire, whatever that is; we'll do our Christmas apparel and enjoy ourselves for the season."
"Meows, really? This sounds like fun! I'll bring the catnip! We'll all have fun rolling all over the place."
"Samson, humans like to celebrate the holidays with pawties and we get to go if we behave ourselves!"
"Oh, I can do that. I always behave and I'm just the best pawsome cat you ever met!"
"Samson, you may want to save that until after Christmas! At the pawty's we have to be on alert to avoid certain things so we will not get harmed. Sometimes the humans remember to be careful, but there is always someone who forgets."
"Paws, purr, what do you mean, Noah?"
"Paws, pets should be kept away from chocolate, rich holiday foods, grapes, raisins, nuts, candy, chewing gum, anything with the sweetener xylitol in it (it's been linked to liver failure and death in dogs), table scraps, yeast dough, turkey and turkey skins. These items are not healthy for us to eat. Even a little bit of turkey can cause a life-threatening condition in pets, known as pancreatitis. Barks!
WOOF! That goes for alcohol too. It smells sweet and looks delicious! Barks, while toxicity cases with pets and alcohol aren't common, it is important to know that at parties, sometimes things aren't in a human's control so we must be on alert to stay away from it."
"Meow! Sounds like it might be safer for me to hide in my room!"
"Barks, our humans should alert those attending the party of our presence and not share their food or drinks with us. Paws, it's a good idea to put the pets in a safe room with food, water, toys, with the best treats they can pawssibly afford while the pawty is happening. That way everyone is safe. WOOF! Humans don't have to worry about us running out the front door each time it's opened."
"Paws, meow, should you become concerned about your pets for any reason during or after a pawty, contact the Veterinarian or the Pet Poison Helpline 855-764-7661 immediately!
My friend "Lab Lady" from Lab Rescue has three Labradors looking for forever homes!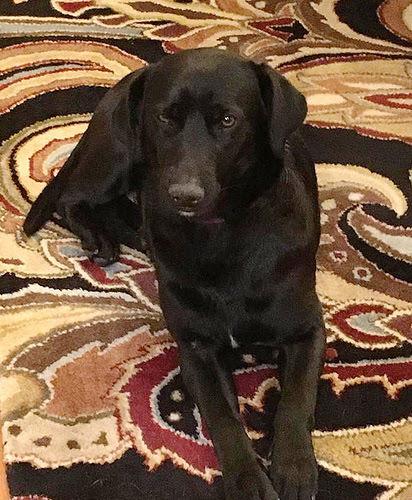 Shorty is a strikingly handsome, much like me when I was 2 years old, uh, still am; black Labrador retriever looking for a forever home in a rural or suburban single-family or townhouse with a yard and a fence.
Shorty is a pawsome fella who enjoys walks with delight, loves playing fetch, knows basic commands, is starting to play with toys, is house- and crate- trained, likes playing with his Nylabone and enjoys the dog park.
Shorty is looking for an active family that will provide love and training.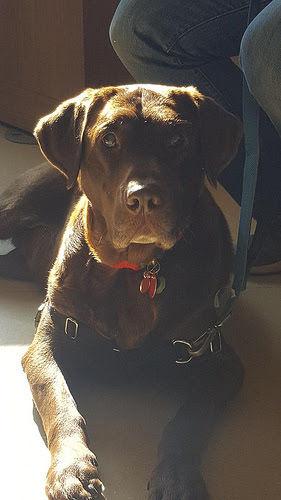 Pilgrim, a 4-year-old chocolate Labrador retriever, is looking for a forever home in a rural or suburban single-family home with no fence requirement. Barkingly, he suffers from a congenital disease and vision cannot be restored. He sees some light, but is blind. Paws, he still has a positive and friendly attitude. He will need daily eye drops for life.
Barks, Pilgrim is pawsomely sweet, friendly and affectionate. He enjoys playing outside and going for walks. He takes his time getting to know and trust people. He needs a warm home with loving humans with patience and guidance to help him learn about indoor living.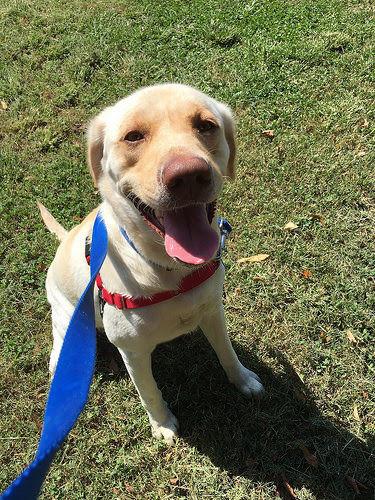 WOOF! Yellow is an 18-month-old yellow Labrador retriever. He's looking for a forever home in a rural or suburban single-family with a fence!
Barks, Yellow loves playing with other dogs and running around the yard! He plays hard, snoozes then plays some more. Soccer balls are a favorite! He enjoys hikes and walks.
He is 100 percent house trained, but cannot be crated. He has had no "accidents" nor does he get into stuff!
Shorty, Pilgrim, and Yellow are good with dogs, unknown with cats and approved for mini-humans ages 10 and up.
Barks! Though we cannot guarantee it will be delivered by Christmas, if you need a great gift for the dog lover in your life, visit https://lab-rescue.myshopify.com.
Lab Rescue of L.R.C.P., Inc. www.lab-rescue.org, call the Lab Line: 301-299-6756 or email info@lab-rescue.org.
Merry Christmas!
About Me:
Noah writes about dog/cat adoption, humor, dog adventures and facts about dogs and cats at
www.fromthedogspaw.com. He is Dog to his human, Allen Pearson, Dog Photographer and Writer, www.allenpearsonsphotos.com, www.facebook.com/AllenPearsonsPhotos, www.instagram.com/fromthedogspaw, www.facebook.com/fromthedogspaw.