MEOWS! MEOWS! It's me, Samson! Meows! Befriending a new cat in your home is challenging at times! Just ask my human dad!
When I was adopted 14 months ago, I was scared to death! I had just gone through quite a bit of transition. For some odd reason, my previous male human decided to give me away though mom loved me! His giving me away confirmed that he didn't love me. HISS! HISS! Little did I know, I was in for some transition and adjustments and learning along the way.
Paws, my new human mom found me on www.Petfinder.com, applied to adopt me, drove to Annapolis to meet me, and then waited for the news of adoption or not. When they visited, I was terrified especially of the guy. Not only was he funny-looking, he was a bit weird too. But, the lady was beautiful, smart and pawsome! Meows.
My journey began. I was adopted and brought to these humans' home. I was terrified. Paws, my new humans gave me a great room to stay in! Paws, I have food, water, a litterbox, toys and more toys, a pillow and a blankie! I was all set except I was terrified and I didn't understand why I am here instead of with my mom. What did I do? HISS!
I stayed in my room for the longest time, as I had everything I needed! One night, I escaped to the basement where I found all kinds of really cool places to hide!
Within three months, I was liking my new mom! I curled up with her and snuggled for hours. She loved it and so did I. Hiss! I was still afraid of my new dad though. Every move he made sent me to the basement to hide. He wasn't mean to me, but kind and funny-looking. Paws, but I still ran to safety.
Meows, I noticed he didn't get mad at me for being afraid! He didn't pressure me to love him or to allow him to pick me up. When I was afraid, he let me run to the basement. He let me be me and let me explore the house and new environment as I pleased. When I slowly began warming up to him, we played with my wand toy. This was a great distraction from my fear. We played every morning and every evening. Slowly,he was winning me over.
As time went on, Dad tried being quieter around the house. You do not want to ever hear him sing! Trust me. He was careful about approaching me, often saying "It's OK Samson; it's just me!" I noticed he filled my food and water dishes- even sometimes "on-demand!" When I wanted to take off running to hide, he let me! Purrs! I was learning that he is a good guy… still a little weird!
After 17 months of living with this guy, and his patience, I finally decided to love on him! He was so surprised! He came down to his office one morning and I meowed until he came to me. When he did, I head-butted his chin, purred and loved on him! Paws, now we start our day with morning greetings!
Paws, sometimes it takes a while for a cat to learn to love members of a family. With patience and learning about the cat's needs, it's pawssible to win a cat to loving you!
Pawlease meet a few cat friends looking for "forever homes!"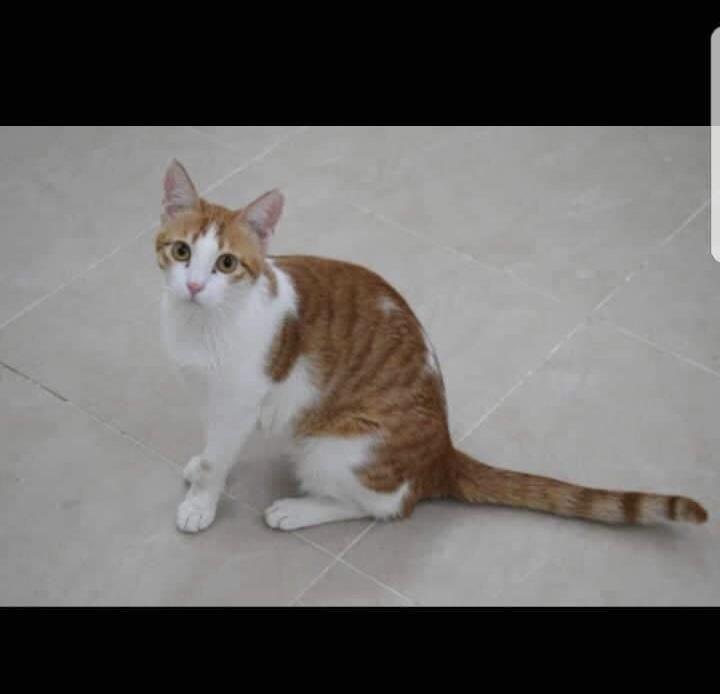 Goldie, a 2-year-old from Kuwait has high hopes of finding a pawsome family! She is not declawed, is friendly with other cats and mini-humans. She prefers to be your one-and-only-cat-that-is! She's fine with cat-friendly dogs!
Homeless Animals Rescue Team, www.hart90.org, 703-691-HART, hart90office@hart90.org.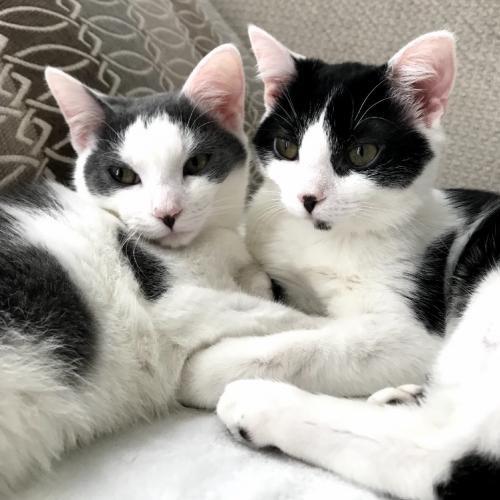 Betty and Boop are a pawsomely sweet adorable pair of bonded 10-month-old sisters who must be adopted together. Betty's black and white, Boop is gray and white.
These girls are looking for humans who will allow them time to settle in and learn about their new good life! They love playing with the cat wand toy and snuggling next to their humans. They are not lap cats but don't mind being picked up!
PetConnect Rescue, www.petconnectrescue.org, email: info@petconnectrescue.org, or 1-877-838-9171.
About us!
WOOF! MEOW! Do you enjoy our articles? Barks and purrs, pawlease follow us at www.fromthedogspaw.com by email! We paw about dog and cat adoption, humor, dog and cat adoption and facts about dogs and cats. Noah is Dog, Samson is Cat-in-Charge, to their human, Allen Pearson, Dog Photographer and Writer, www.allenpearsonphotography.com, www.allenpearsonphotographyjournal.com www.facebook.com/AllenPearsonPhotography, www.instagram.com/fromthedogspaw, www.facebook.com/fromthedogspaw.