WOOF! Over the past few weeks, I've been pawing about things to consider in dog adoption! To read my previous paws and articles, pawlease visit - http://www.fromthedogspaw.com/p/published-articles.html. WOOF!
Before you adopt a dog, take a good look at your finances to determine if you can afford the expense. WOOF! Many humans wonder why adopting a dog isn't usually free, especially that they are giving a home to a pawsome dog. Barkingly, they ask about the costs associated with dog adoption and why it costs so much.
Bark, while it's pawssible to adopt a dog at next to no costs, it is also pawssible to pay hundreds or even more. Barks, and it isn't always "you get what you pay for" either! So, why is this difference? Costs vary due to the age of the dogs and to where you adopt or purchase from. Should you purchase from a pet store, your costs could be 2-3 times as much and pawssibly not the quality or services you'd receive from a rescue.
Another factor in costs is: "what is included?" Adopting a dog from a rescue seems expensive because the rescue has done quite a bit of the care required before allowing the dog to be adopted. These expenses include: A veterinary examination and any needed medical treatment, spaying/neutering, vaccinations, preventatives, and pawssibly any expenses related to obtaining the dog from its shelter. Barkingly, at many rescues, you may receive some training, a crate to take home, toys, a collar, a leash, just about anything which the dog will need to make the transition from a foster's home to their "forever home." Paws, you have the support of the rescue volunteers; you can contact them if you have questions. Barks, for me, my humans didn't need anything because they'd had a dog before, but they were supplied with my "Moosie!" Without "Moosie" I would have been nervous.
Everyday expenses for a dog include fresh water, food, treats, treats for training (woof, there is a difference), toys, a crate to call home, a collar, a leash and a supply of items to clean up any accidents-- just in case. These items are pawsitively needed for a dog and the expenses can vary depending on the size and breed of the dog adopted. My human uses the theory of purchasing the best he can afford. He believes that investing upfront can save money in the long run.
Barkingly, dogs are like humans that you can't predict accidents, or when a trip to the doctor, ER or hospital will be required and an expense is incurred. Arf. Most dogs like to explore, which can lead to accidents. Attentive humans can prevent most of these. Consider looking into dog health insurance to help with these expenses.
It seems many humans do not consider what's involved with dog adoption, and, often, it is the dog who loses. My point is to share tips and thoughts to help everyone succeed and be pawsomely happy.
My friend "Lab Lady" from Lab Rescue brought two friends for you to meet!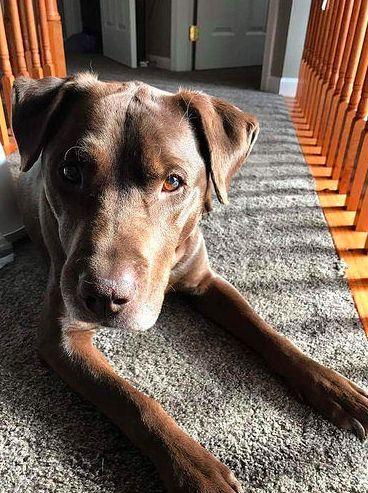 Meet Pokie, a chocolate Labrador retriever who looooooooves toys! He has one in his mouth all the time. Pokie loves to run around the backyard and to hang out with his humans. He is housebroken and trustworthy! Barkingly, though you'd never know it, Pokie is partially blind and has diabetes. He takes his insulin like a champ -- barkingly -- a tasty treat is involved, too. He chases toys by seeing shadows and listening for the bounce! WOOF!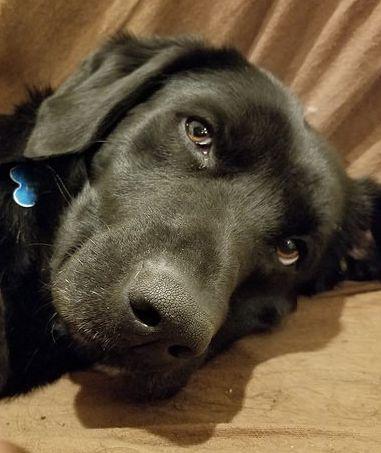 Meet Gilligan, a black Labrador retriever who loves getting ear scratches, belly rubs and baths from his humans! He will stay by your side on walks, too! He is pawsomely loveable!
Gilligan recently received a diagnosis of fluid on his brain from the veterinarian. His symptoms are mild; he prances a little, runs around in circles sometimes and tilts his head to the side, but it doesn't slow him down from being his happy-go-lucky and loving self!
Contact Lab Rescue of L.R.C.P., Inc. www.lab-rescue.org, call the Lab Line: (301) 299-6756 or email info@lab-rescue.org.
About Me:
Noah is Pawthor of www.fromthedogspaw.com- A blog about dog/cat adoption, humor, dog adventures and facts about dogs and cats. He is Dog to his human, Allen Pearson, Dog Photographer and Writer, www.allenpearsonsphotos.com, www.twitter.com/AllensPhotos www.facebook.com/AllenPearsonsPhotos, www.instagram.com/fromthedogspaw, www.facebook.com/fromthedogspaw, www.twitter.com/fromthedogspaw.