WOOF! Are you considering adding a furry companion to your life? A pawsome idea, since dogs add pawsomeness to a human's life! A few months ago, I shared my thoughts on adopting a cat. To read those articles, pawlease visit http:// www.fromthedogspaw.com/published. Visit the articles about rescues for the most pawsome way to find your next furry companion! WOOF!
Barkingly, there is quite a bit to consider when adding a dog to your home. It's not just doing an online search at http://www.Petfinder.com or http:// www.adopt-a-pet.com, then selecting a dog, signing forms and paying the money. Nope.
WOOF! Before you begin searching for a dog, discuss with family members who will come into regular contact about what they want in a dog. Paws, maybe you are single. Does your lifestyle allow time for a dog? Dogs make pawsome companions for singles, but they do require time and attention. If marriage plans are in your future, you will want to be sure that your partner likes dogs too! Married? Are you considering children in your future? Some considerations on this topic should be carefully researched. Too many humans give up their dogs once the mini-humans arrive, yet it isn't always necessary. Do you have extended family coming to your home, maybe Grandma or Grandpa? If so, they need to be part of the dog adoption discussions from the start so there are no surprises! Barkingly, you don't want to adopt a huge Great Dane only to learn that little Susie is terrified of it or the opposite!
Dogs are the most pawsome critters and the best part of life is adding one to your family. Do you have the time in your life for a dog? With many dogs, it's more than feeding, letting your dog out to do its business, petting, belly rubs, and a few minutes of attention and repeat tomorrow! For me, my human makes sure that I have pawlenty of fresh water all day, as sometimes I want more water than other times, that I am fed twice a day, taken for walks twice a day, if not more, and in my younger years, I had games of fetch and running around the backyard as often as pawssible. Daily petting and scratching my belly are required. When he cannot go for a walk, I'm alright with missing a day, but not much more, so mom takes me out. Barkingly, if this sounds like too much for you, yet you want a dog, consider laid-back and mature dogs, even seniors. WOOF! When an energetic dog doesn't get proper exercise it can lead to problems with chewing and destruction of stuff.
When my humans adopted me, dad wanted a young dog that he could train and with energy to play! I gave him more energy than he expected, but he learned to work with it and taught me to be the best dog I can be! And, of course, you know that I am. How many dogs write a newspaper article and a blog? WOOF!
Barks, over the next several weeks, I will be pawing about dog adoption and things you should consider.
My friends from PetConnect Rescue brought a few pawsome friends for you to meet!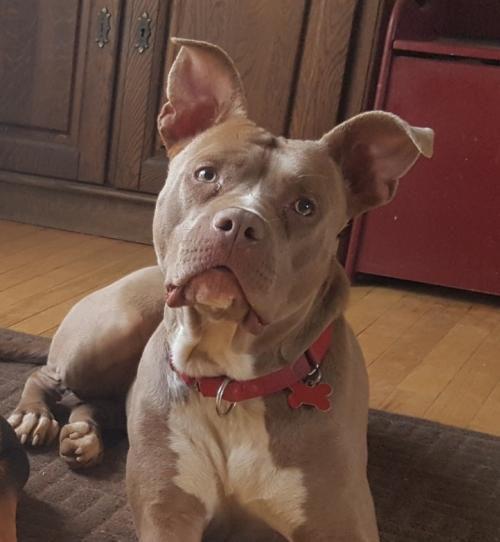 Justice is an affectionate, outgoing, and friendly 3-year-old Staffordshire terrier mix! She spends her days running around with her foster dog friends, but wants her own forever home. She is doing pawsome learning crate and house training. She has tons of doggie kisses to share and her pawsomely beautiful hazel-green eyes will melt your heart. Wait until you hear her snore -- it's priceless!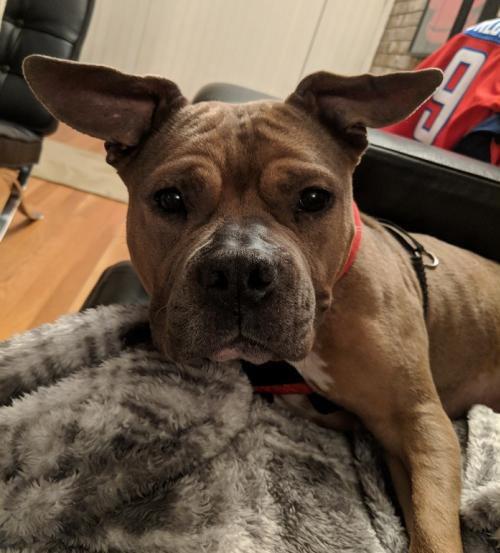 Mindi, a 5-year-old English Staffordshire bull terrier with tons of love to share! Barkingly, she's good with other dogs and hasn't met a human she didn't like! Her beautiful smile matches her awesome, loving personality! Mindi enjoys cuddling, and is learning house manners quite well!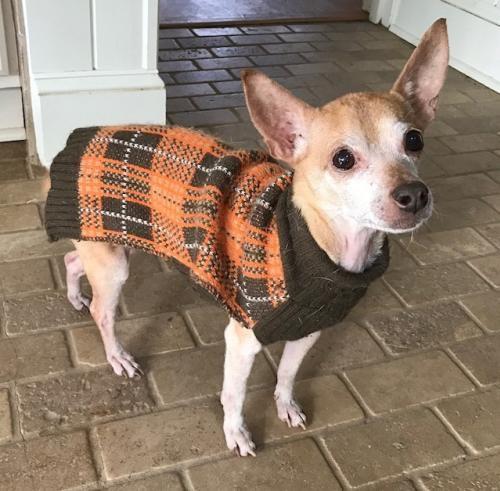 And this dapper guy is 13-year-old Quincy, a Chihuahua mix. He gets along with dogs and cats! He's house trained, but needs to go out every few hours, so he needs a home where he will not be alone for long periods! He loves cuddling and sharing conversations -- though he doesn't bark much. He'll be your one-and-only dog.
All dogs are spayed/neutered and up-to-date with all preventatives.
Contact PetConnect Rescue http://www.petconnectrescue.org, email: info@petconnectrescue.org or 1-877-838-9171
About Me:
Noah is Pawthor of www.fromthedogspaw.com- A blog about dog/cat adoption, humor, dog adventures and facts about dogs and cats. He is Dog to his human, Allen Pearson, Dog Photographer and Writer, www.allenpearsonsphotos.com, www.facebook.com/AllenPearsonsPhotos, www.instagram.com/fromthedogspaw, www.facebook.com/fromthedogspaw, www.twitter.com/fromthedogspaw