Barks! I have been pawing articles over the past few weeks about adopting a puppy. Pawlease visit http://www.fromthedogspaw.com/p/published-articles.html to read my work! Bringing home a new puppy can be a great experience or total terror, both you would never forget. Paws, with preparation, you should be able to enjoy this exciting time! 
As I pawed last week, the first night with your puppy can be challenging. If taking your pups out to do his "business" didn't settle pupsters to go to sleep, there are a few tricks to help. Try pawlacing a hot water bottle with warm water wrapped in blankets among the bedding for the pups to snuggle up with! Barks, the age-old trick of leaving a wind-up clock near the pups crate so that it mimics its mother's heartbeat may work. WOOFS! Just remember to turn the alarm off or you might be surprised with a loud alarm at o-dark-hundred! Barkingly, remember that this is not the time to give in to the cries and whines to cuddle. Keep the training consistent! During these first few weeks, you may not get much sleep, but patience and perseverance will get you and pups through.
Barks, my first morning with my new humans was a beautiful winter Sunday. I was greeted cheerfully by my humans.  We did not take time to play or jump around or celebrate with extreme excitement that he is my human and I am his dog because he doesn't know if I need to go out or not. Barkingly, he puts my leash on to take me out back to do my infamous business. The leash is to prevent me from jumping the fence and escaping! Paws, after all, this yard is new to me.
My human chatted with the rescue about my food, what I have been eating, and my eating habits. Paws, though I tried my bestest to slip in a list of foods, including scrambled eggs, bacon, shrimp, steak, lobster tail, fresh vegetables, fresh fruits, and delicious cookies, the rescue's suggestions won out. For the first week, Dad fed me a diet of the food I'd been getting. This way, I would be less likely to have digestive issues that could clear the house of anyone able to sniff and smell. He slowly worked in a new food by gradually giving me less of the old and more of the new. Barks. No gas issues- humans thankful- yup! Before serving me my breaky, Dad had me sit and wait. Barks, when the food was served and placed for me, he gave me an "ok" command to enjoy my meal. Barks. It's become a pawsome way for mealtime.
Barks, we took a nice short walk my first morning. I was so curious I nearly took off down the street. Paws, he stopped me and got me settled before that could happen. Barkingly, Dad gave me time to sniff and take in all the exciting smells in my new neighborhood. I didn't meet the neighbors yet. Maybe soon. 
After my walk, I rested a while. All the excitement tired me out. Barkingly, before long, my humans want to cuddle and play and cuddle some more. Dad begins to handle me, my feet, my toes, my paw pads, my hands, my fingers, my neck - basically all over. GROWLS! I do not like this. Noticing my reaction, he stops but returns later. Barkingly, it is a good thing for him to do because it prepares me for my visits with a groomer or Veterinarian. Not doing it could cause me to be reactive when others try to do it too. Paws, it is a pawsome way to discover any issues that a Veterinarian should address.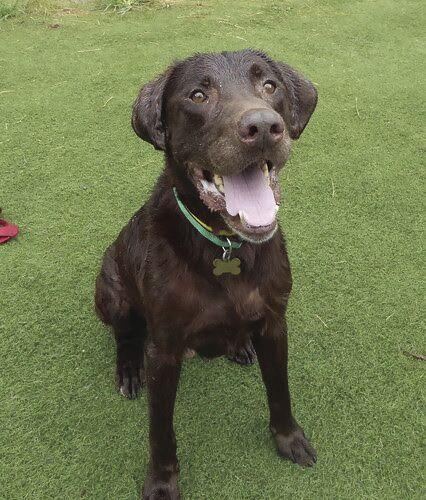 Pawlease meet my friend looking for his "Forever Home!"
Salty, a 9-year-old Chocolate Labrador, is a sweetheart who loves humans, paws, but isn't a fan of staircases! He is learning his leash skills. He loves playing in the backyard, going for car rides, and exploring new pawlaces! Barks. Knows basic commands. No cat history. Good with dogs. As a senior, he is eligible for a $50 savings off the adoption fee.
Lab Rescue of L.R.C.P., Inc. www.lab-rescue.org, (301) 299-6756, email info@lab-rescue.org.
About us! Barks! Meows! Using humor with facts, Samson and I write about dog/cat adoption, humor, pet care tips, and entertaining stories about life with pets! Enjoy our articles? Pawlease follow us at www.fromthedogspaw.com by email. Samson is Cat-in-Charge, I am Noah, Dog to our human, Allen Pearson Dog Photographer and Writer, www.allenpearsonphotography.com, www.allenpearsonphotographyjournal.com  www.facebook.com/AllenPearsonPhotography, www.instagram.com/allen_pearson_photography  www.instagram.com/fromthedogspaw, www.facebook.com/fromthedogspaw.